Student-led efforts aim to improve environment for minorities at UCLA School of Law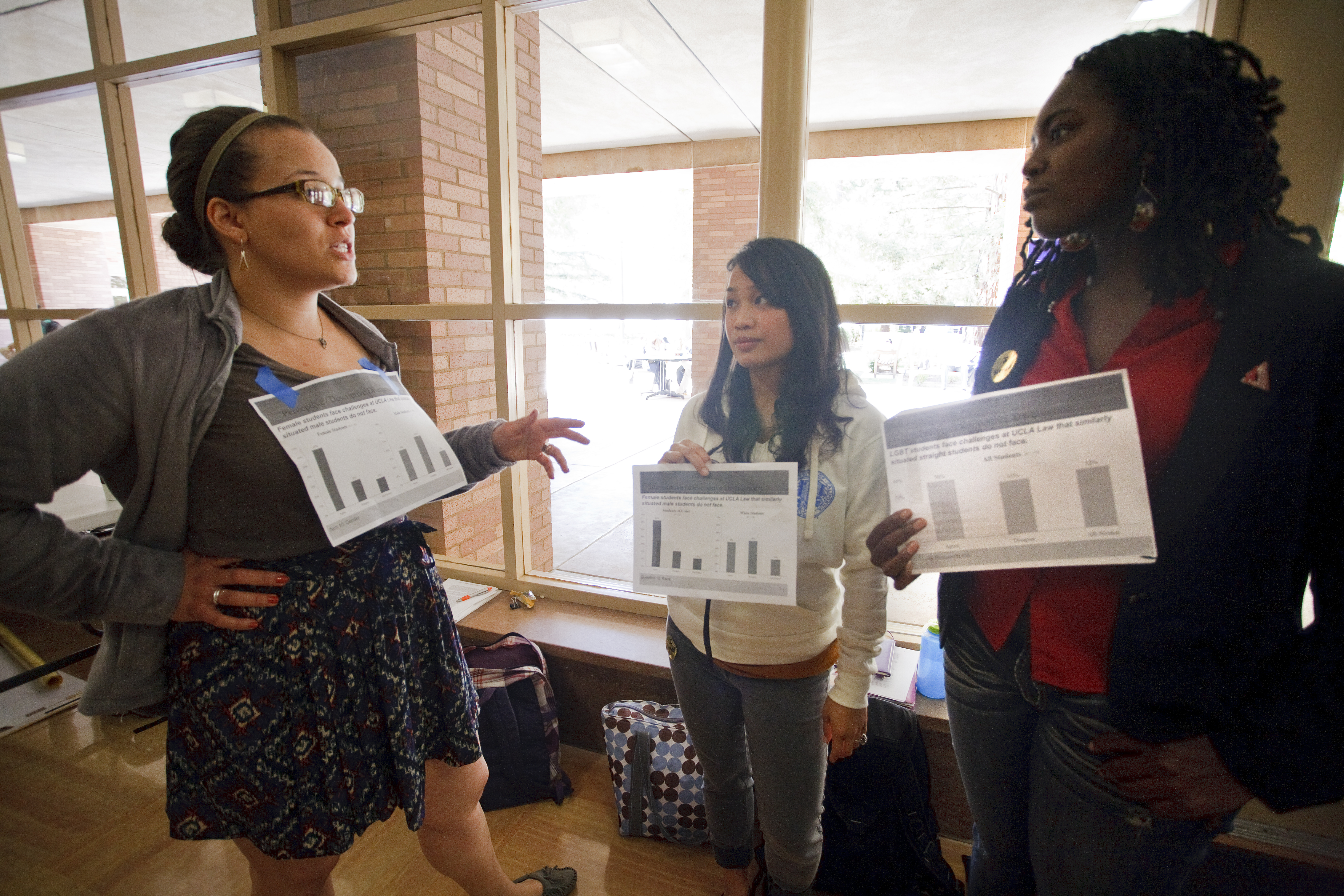 Second-year law students Daedra Staten (left), Christina Manalo (center) and Mickheila Jasmin discuss a recent survey by the law school.
Graduate students at the UCLA School of Law are vying to draw attention to efforts to improve the campus environment for minorities at the law school.
A recent student-led survey focused on the differences in how students perceive the law school environment based on their gender, race or sexual orientation, said Douglas Souza, a law student and one of the survey creators. The survey was conducted in coordination with the Empirical Research Group, a research center at the UCLA School of Law.
The survey was sent electronically to 300 random students from the law school, of which 178 responded. According to the survey, minority law students said they felt unwelcome or disrespected based on their race. In addition, women and minority law students reported facing challenges that their white male counterparts did not, according to the survey results.
At a four-hour event on Tuesday, graduate students sported bright yellow stickers reading "Talk to me" and held posters of bar graphs illustrating the survey results. The event was an effort to increase dialogue between students, organizers said.
At one point, about 80 students were in the hallway on the ground floor of the law school, viewing the materials and talking to organizers.
Students plan to meet with administrators in the next few weeks to discuss the survey. In an interview, Dean Rachel Moran acknowledged the survey, saying it highlighted room for improvement in the context of campus climate.
"We have a longstanding commitment to developing diversity, and we're always working to improve," Moran said. "At any institution in America, there's always room for improvement."
Moran said the survey also yielded positive results. She noted that most students did not feel disrespected by professors or administrators, according to the survey results.
That suggested to administrators that programs already in place to promote diversity have been having an impact, Moran said. The law school is also working on restructuring the student orientation program, she said.
But graduate students who conducted the survey said another goal was to engage administrators, whom they feel have largely ignored student concerns, said Jonathan Feingold, a law student who helped organize the event.
In some past meetings, he said administrators told students there was not enough evidence of student discomfort to warrant a response. The survey was designed to provide the administration and students with more tangible evidence of perceived problems.
Although not all of the students' concerns were addressed in past meetings, Moran said that student discussion about diversity and campus climate have always been welcomed.
She cited constraints relating to the budget, academic freedom and the institutional history of law as occasionally conflicting with attempts to address students' concerns.
"We can't say yes to everything, but it's our job to be accessible and reasonable when meeting with students," she said.
Event organizers have also started a petition to create a system for students that would allow them to bring concerns about law school climate to the administration, Souza said.
At the end of Tuesday's event, 223 students, who represent roughly a quarter of the total law school student body, had signed the petition, Feingold said.
These issues will be discussed at the upcoming meeting scheduled between the student event organizers and members of the administration, he said.
Some students said that some aspects of the law school curriculum can increase differences between the way white male students and minority students perceive their experience.
Because many legal precedents were established at a time when law was dominated by white males, a large portion of the material taught in class relies on this specific perspective, said law student Madeline Morrison. Law student Alex Pauley said she has felt that the female perspective is not taken into account during some class discussions.
Moran said some classes may be taught from a more academic perspective, which emphasizes learning the rules without discussing the underlying issues of race or gender, but other classes do engage and discuss this material.
"You'll see many different approaches that lead to different kinds of discussions (in class)," she said. "We expect that after the three years, you'll have a diverse classroom experience."
Several students said they do not perceive a hostile environment at the school, but acknowledged the perspectives reflected in the survey.
"I don't find myself relating to these struggles," said graduate student Sam Griffel. "But I can imagine that it would be frustrating to sit in a room and feel (disrespected)."