Fiberglass makes architecture debut in UCLA students' project for the Pacific Design Center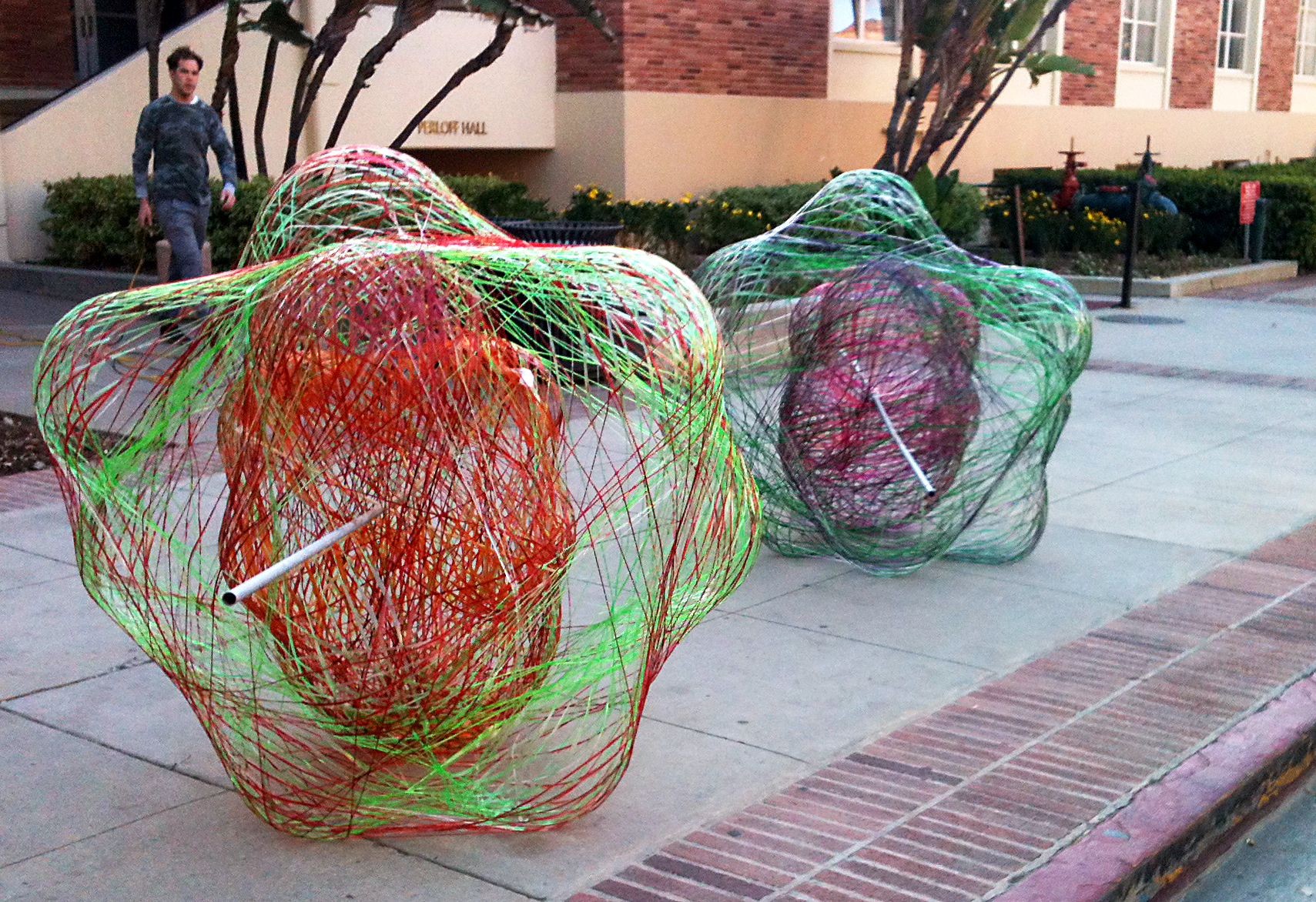 Courtesy of HADRIAN PREDOCK
Jon Burton and Matthew Corbitt, graduate students in architecture, created a project (above) using string made of fiberglass filament.
Students walking past Perloff Hall last quarter stopped often, intrigued by what looked like neon strings wrapping themselves around beach balls.
Jon Burton and Matthew Corbitt had different answers for what they were doing. But mostly, the two graduate architecture students told people they were creating a series of sculptures for display at a prestigious art studio in West Hollywood, Burton said.
The project was about six months in the making. Corbitt and Burton began working together in a class last spring, and over the summer, their professor Hadrian Predock invited them to help him prepare an art installation for the Pacific Design Center, a West Hollywood venue that showcases innovative interior design.
What made their project special is that the string was made of fiberglass filament, a material that has not been explored in architecture, Corbitt said.
Strength and flexibility make fiberglass an ideal building material, but it's usually been used to make rocket fuselages and oil drums, he said.
To create the piece, Corbitt and Burton dipped fiberglass filament in color-infused toxic chemicals, wrapped the string around a beach ball and waited for it to harden.
They then popped the beach ball out of its frame and attached a new ball to the outside, repeating this process to form layers. Each of five pieces took about 18 hours to complete, Corbitt said.
Predock said he has gotten a lot of positive responses to the project.
"I think it appeals to a broad audience "" people from very specialized disciplines in architecture and the general public as well," he said. "We got a lot of people saying things like, "˜Wow it looks like a giant piece of cotton candy.'"
The finished pieces are on display at the Pacific Design Center for a year. This was exciting for Burton and Corbitt, both personally and professionally.
"(The Pacific Design Center) is like a shopping mall for designers," Corbitt said.
Corbitt, who originally came up with the idea to use fiberglass in the sculptures, has come a long way from his pre-college background as a boat captain. He tried a number of professions before landing on architecture.
He earned his undergraduate degree in chemistry, and after attending a year of medical school, Corbitt dropped out, moved to Los Angeles and started work as an underwater photographer.
An experienced surfer as well, Corbitt built a makeshift studio in his garage and began creating surfboards. That's where he first started working with fiberglass "" a common coating for surfboards, which makes the wood sturdy enough to resist cracking under pressure.
The beach ball project is their jumping-off point, Corbitt said. The two graduate students and their professor have plans to work on an inhabitable ball, 20 feet wide, in addition to creating a fiberglass chandelier.
Corbitt hopes to open a studio to pursue this work after he graduates, and Burton wants to have his own design firm.
And fiberglass, the students said, has potential to make much larger structures than beach ball art "" houses, even.