UCLA Gymnastics set on landing first place at NCAA Championships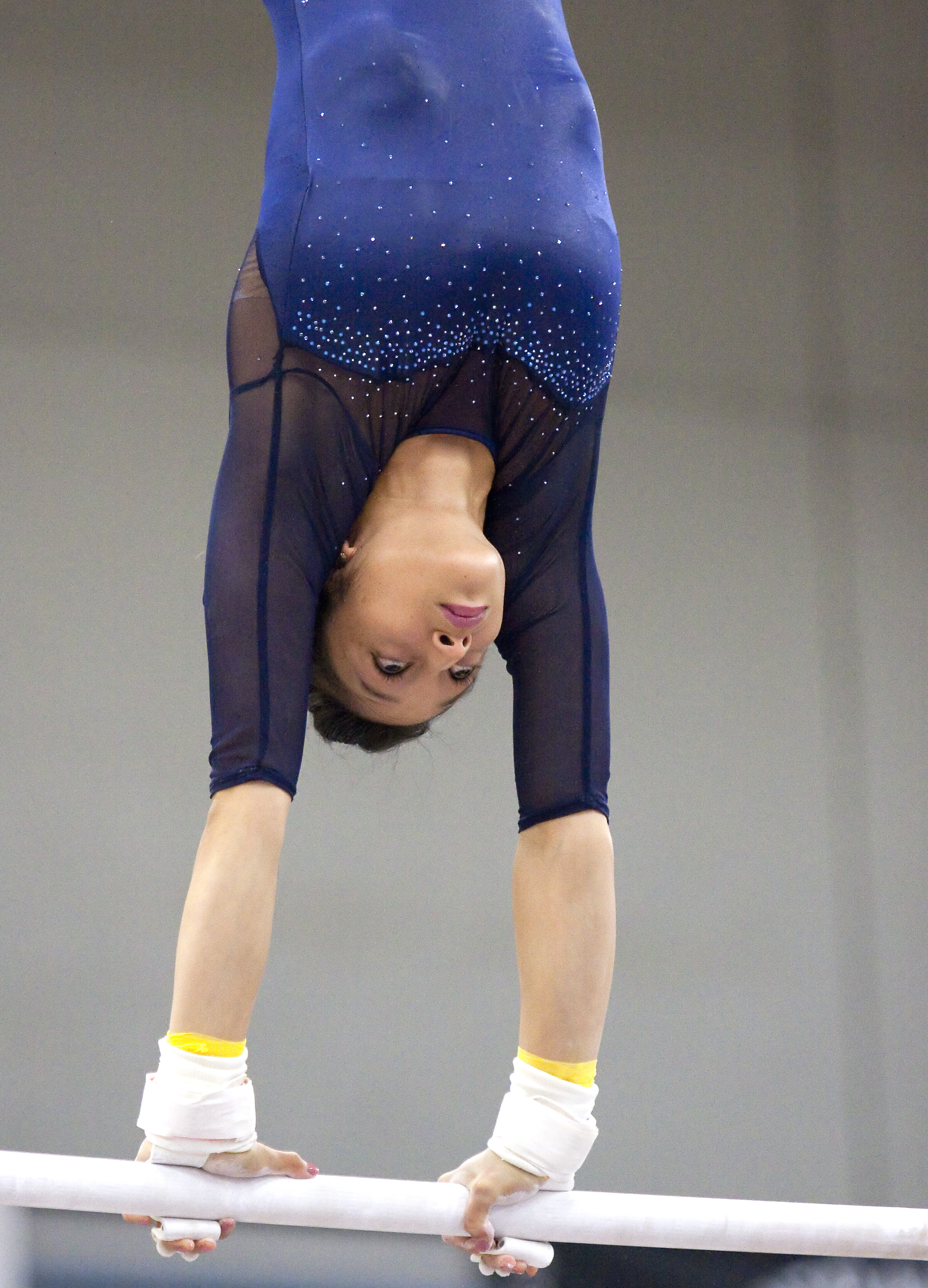 Redshirt junior Vanessa Zamarripa competes against San Jose State.
Regional and national qualifying scores
The seedings for the NCAA Championships are determined by combining each team's regional score with its Regional Qualifying Score.
A Regional Qualifying Score is determined by taking a team's top-six scores, dropping its highest score, and then averaging the rest.
UCLA's Regional Qualifying Score at the end of the regular season was 197.270, and its National Qualifying Score is 394.495.
No. 1 seed Florida had an impressive Regional Qualifying Score of 197.445.
Compiled by Mansi Sheth, Bruin Sports senior staff.
The UCLA gymnastics team, which is set to compete at the NCAA Championships on April 20, has one thing in mind heading into the meet: stick the landing.
In gymnastics, "sticking" means landing a dismount without wobbling or taking extra steps, which can incur heavy point deductions.
In a sport where tenths and hundredths of points can mean the difference between gold and silver, the Bruins know the importance of hitting their routines perfectly from start to finish.
"We've been focusing on the little things (all year)," said redshirt junior Vanessa Zamarripa.
Zamarripa, who is ranked first in the nation on vault going into championships, said that stuck landings and attention to detail helped UCLA win the Pac-12 title a few weeks ago by a fraction of a point.
"The little things are half-tenths, and it's really important to take those things seriously because it all adds up," she said.
UCLA focused on its landings leading into NCAA Regionals over the weekend, and the team's hard work paid off.
The Bruins stuck five dismounts in a row on beam, the event they struggled with most at the beginning of the season.
"We've been working really hard on being able to stick our landings on all four events, and we did that really, really well," coach Valorie Kondos Field said.
After beam and floor, UCLA headed to vault, where sophomore Samantha Peszek earned a career-high 9.95 and landed the first stuck vault of her college career.
"Finishing on vault and having so many sticks made the coaches really happy," she said.
With an impressive showing at the NCAA Regionals behind their backs, the Bruins head to Georgia, hoping to perform with the same finesse and polish in their routines.
"This is what we train for," Kondos Field said.
"Going into the national championships, I know this team is going to be able to handle anything that comes its way."
Semifinals set
Second-seed UCLA heads to Duluth, Ga., on April 20 to compete in the first session of team semifinals at the NCAA Championships. The session will begin at noon.
The Bruins will compete against No. 3 Oklahoma, No. 6 Nebraska, No. 7 Utah, No. 10 Stanford and No. 11 LSU in the same session.
UCLA will have the Olympic rotation order, which begins with vault and finishes on floor.
The evening session includes No. 1 Florida, No. 4 Alabama, No. 5 Georgia, No. 8 Arkansas, No. 9 Oregon State and No. 12 Ohio State.
The top three teams from each session will advance to the Super Six team finals to compete for the national title.