2012 Thurgood Marshall Lecture celebrates the life and works of Martin Luther King Jr.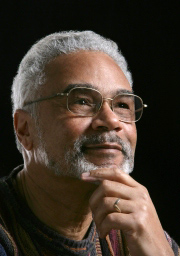 UCLA NEWSROOM
Clayborne Carson, a scholar of Martin Luther King Jr.'s work, delivered the 2012 Thurgood Marshall Lecture at UCLA on Wednesday.
Correction: The original version of this article contained an error. The Ralph J. Bunche Center for African American Studies hosted the 23rd Thurgood Marshall Lecture.
Clayborne Carson saw Martin Luther King Jr. give a speech on the UCLA Janss Steps in 1965.
"That was the last time I saw (King) alive," said Carson, who was studying history at UCLA at the time.
Years later, in 1985, the UCLA alumnus was chosen by Coretta Scott King, King's wife, to edit and publish his work.
Carson, a professor of history at Stanford University and director of the Martin Luther King Jr. Research and Education Institute, delivered the 23rd Thurgood Marshall Lecture put on by the Ralph J. Bunche Center for African American Studies Wednesday night.
The annual public lecture features a distinguished scholar, legal practitioner or activist who has a strong record of civil rights advocacy and who has made significant contributions to the struggle for civil rights.
About 100 people attended this year's event in the Covel Commons Grand Horizon Room, which took place on the same day as the 44th anniversary of Martin Luther King Jr.'s assassination.
"(Carson's lecture) couldn't be more timely," said Darnell Hunt, director of UCLA's Bunche Center.
The lecture focused on King's life and how the global struggle for freedom continues to maintain contemporary relevance and the urgency of King's message.
Carson has devoted most of his professional life to the movements of King. He has written six volumes of speeches, several sermons and correspondence publications, along with numerous books based on King's work. During his lecture, Carson said his purpose in researching and interpreting King's work is to understand why King was the leader of the civil rights movement.
He stressed that social movements start at the grassroots level "" an interest that began as an undergraduate at UCLA.
"Part of what I'm trying to do in terms of my life is trying to bring forward the way I understand how social movements actually operate," Carson said.
Tierra Moore, a fourth-year global studies and political science student who attended the event, said she appreciated that Carson talked about topics that aren't typically discussed on campus.
"One of the key things that (Carson) pointed out was the power of student organizing and the role that students had in grassroot organizing in the new whole civil rights era," said Moore, who is also co-chair of the Afrikan Student Union. "That was really big for me as a student leader."
At the end of the lecture presentation, Moore presented Carson with an award on behalf of the Bunche Center for his scholarship, activism and commitment to social change.
Carson said he thought that King would want to be remembered by both the work he did and the work that remains unfinished.
"If (King) were still here he would be the one asking us if all our struggles today really give purpose to our lives," Carson said.