Jessica McGuire, captain of the women's rowing team, maintains high spirits while surviving a tumor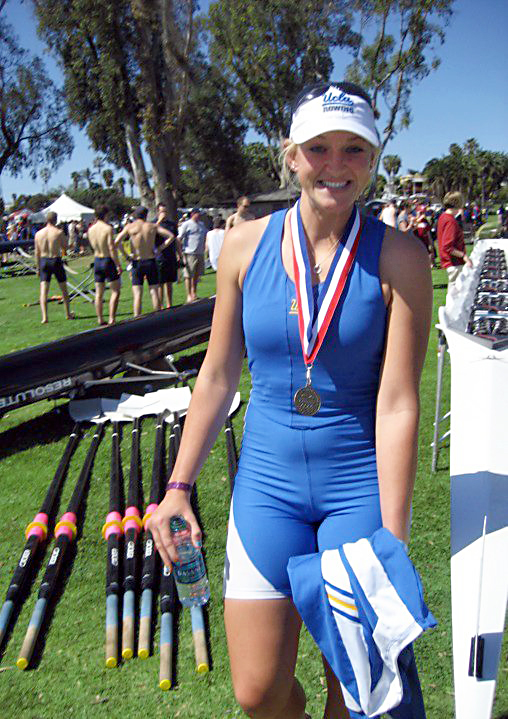 Jessica McGuire, the captain of the UCLA women's rowing team, had an operation last year to remove a football-sized tumor from inside her chest. McGuire has maintained her tenacity and sense of humor in the course of her recovery.
Courtesy of Jessica McGuire
Jessica McGuire grinned and asked, "Want to see it?"
She lifted her shirt, showing a foot-long pink scar that snaked around from her back to just below her sports bra. Underneath were marks left behind by two half-inch incisions.
About a year ago, doctors told McGuire, a third-year psychobiology student, that she had a football-sized teratoma "" a type of tumor "" inside her chest. Before McGuire was born, a part of her embryo broke off and attached to her lung, she said. Undetected, it grew inside McGuire all her life, compressing her lung and developing teeth, hair, brain tissue and even what looked like a foot.
Doctors didn't know if the tumor was benign or malignant.
Even as McGuire, who is captain of the UCLA women's rowing team, saw her life hanging in the balance, she maintained her audacity and sense of humor.
"My younger sister walked into my hospital room and said, "˜Oh my God, I'm so hungry, I think I'm going to die. … Oh whoops, I'm so sorry!'" McGuire said, laughing. "But I just thought it was really funny. … I had so many family and friends around that it was easy for me to remain positive and work through it."
Doctors at a Pomona hospital were planning to perform a major operation, a thoracotomy, which is typically followed by a painful and prolonged recovery. During surgery, they could have had to break one of McGuire's ribs or cut through her muscle, she said.
The teratoma had already ended McGuire's rowing season halfway through, and the operation had the potential to finish off her career.
"For rowing, if you get a rib injury, you're done," McGuire said. "But I really don't think it crossed my mind that I wouldn't be able to row again. I always expected to come back."
That expectation eventually became reality "" after McGuire underwent a less invasive operation. She was transferred to Cedars-Sinai Medical Center, a UCLA training hospital, where she was treated by Dr. Robert McKenna, chief of the division of thoracic surgery.
Instead of slicing through McGuire's muscles, he used electrocautery to detach them from her ribs and fat tissue, McKenna said. He then spread open her ribs and extracted the teratoma, which turned out to be benign.
Teratomas are rare, but their formation is hardly a phenomenon, McKenna said.
"It's remarkable when you think about it, that an egg and sperm can get together and start making fingers and hair and heart muscles and blood vessels, the complex organisms that our bodies are," McKenna said. "It's such a convoluted, crazy process, it's surprising that this sort of thing doesn't happen more often."
***
The removal surgery was the final thread in a series of events and chances that wove together to preserve her health, McGuire said.
If she hadn't taken up rowing at UCLA, walking onto the team in her first year, the tumor would not have been caught until later on.
McGuire pushed herself, becoming one of the team's top rowers, and the stress of the sport caused irritation between the tumor and her lung. As a result, the lining of her lung started secreting large amounts of fluid.
"I thought rowing was the hardest thing, but really, I just wasn't breathing all the way," she said. "I remember freshman year, over Christmas break, I didn't know how I was going to go back. But there was no way I was going to quit."
Last spring, McGuire started to feel strange "" her back hurt, she was losing weight, she threw up "" and then one night, she stopped being able to breathe.
She also felt a sharp pain that would come and go every few seconds, and she could barely talk. In the car, on the way to the hospital, she described what she was feeling and asked her mother to write it down for the doctors.
Christa Czer, a UCLA alumna and McGuire's best friend, remembers visiting her in the hospital the next day and being struck by the intense physical agony her friend was experiencing.
"I've never seen her in so much pain before in my life," said Czer, a former member of the UCLA women's rowing team. "I just remember feeling like I needed to do whatever it took to save her life. … She's my best friend."
Czer contacted her father, Dr. Lawrence Czer, who is the medical director of the heart transplants program at Cedars-Sinai. After hearing about McGuire's situation, Lawrence Czer spoke to McKenna, a renowned lung surgeon at his hospital, and asked him to take her on as a patient.
"If Christa weren't there, Jessica might never have had this surgery," Lawrence Czer said.
In all of this "" the beads of life that lined up for the discovery and successful removal of her tumor "" McGuire said she sees the hand of God.
"When I'm having a bad day, I think about how when I was in the hospital, life stopped. I looked at life completely different," said McGuire, who is an active Christian. "I just have to actively keep a bigger vision of how things can work out even when I feel most overwhelmed."
McGuire returned to UCLA a week after the surgery. She thought about dropping her classes, since she'd missed three weeks, but decided to play catch up instead. In the end, she received two As and one B .
Her recovery, hard-won, is still incomplete.
This rowing season, McGuire clocked in a personal best, but said her left side remains weaker than her right.
"She is a quiet leader by example," said Amy Kearney, UCLA women's rowing coach. "She really holds a very high standard for herself. It's noticeable in everything she tries to do, from schoolwork to athletics."
When thinking about her future, McGuire has both medical school and the Olympics in mind. Both goals may seem daunting, but McGuire said she has learned to never give up.
Czer worked out with McGuire the summer after the surgery and watched her friend slowly build up her strength.
One morning, they set the clock for a 40-minute run along a beach at San Clemente. Halfway through, McGuire stopped, and Czer told her she could turn around.
"She said, "˜No, I'm not turning around. You go ahead, I'll go a slower pace but still do the whole run,'" Czer said.