Shakespeare at UCLA's staging of 'Romeo and Juliet' puts new spins on classic play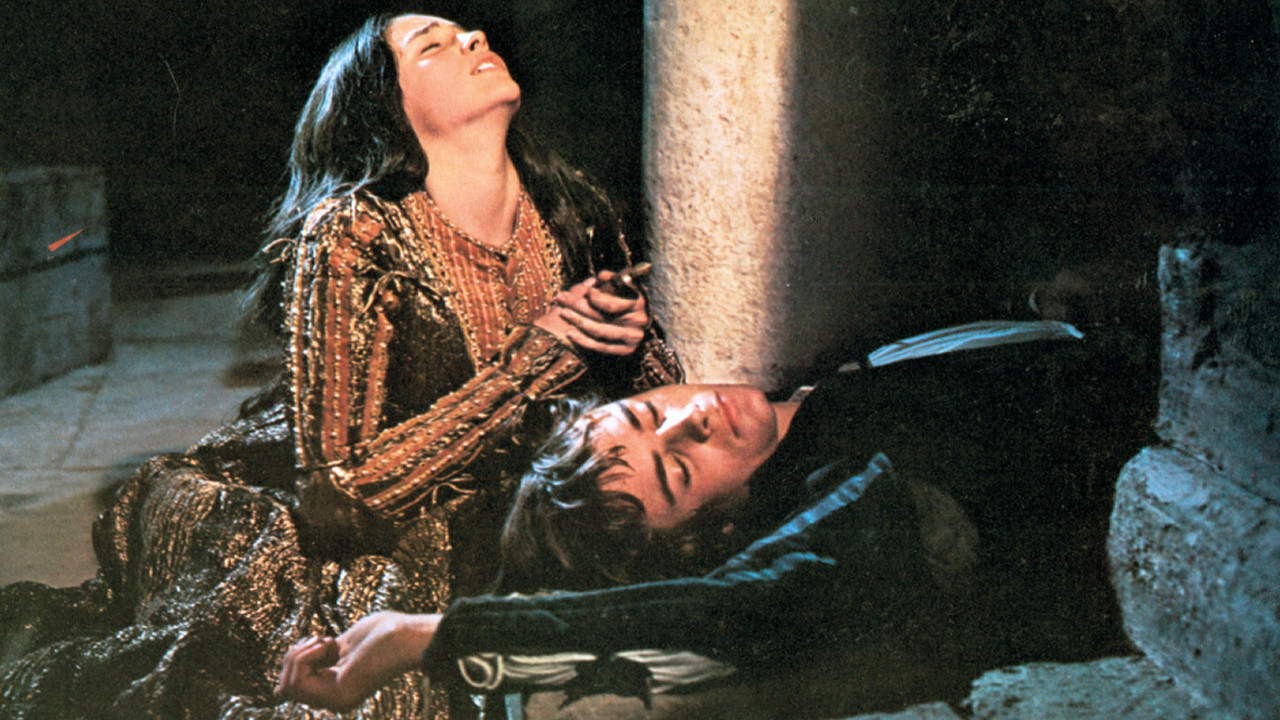 Paramount Pictures
A 1968 film still from director Franco Zeffirelli's adaptation of Shakespeare's "Romeo and Juliet." Shakespeare at UCLA will perform a Prohibition-era performance of the classic tragedy on March 16 and 17 in Kerckhoff Grand Salon at 7:30 p.m.
March 14, 2012 11:10 p.m.
Shakespeare at UCLA presents "Romeo and Juliet"
Fri., March 16 and Sat., March 17, 7:30 p.m. (doors open at 7:00)
Kerckhoff Grand Salon, FREE
It doesn't take an English major to recognize the names of Romeo and Juliet. Their names are nearly synonymous with love itself.
History's favorite star-crossed lovers will return to the stage this weekend in Shakespeare at UCLA's latest production of the classic Shakespearean tragedy "" this time with a Prohibition-era twist.
The 1920s setting was something that Natalie McDermon, fourth-year English student, director and fight choreographer for the production, said she envisioned from the beginning of her interpretation of "Romeo and Juliet."
"I always kind of saw the play as a mafia-era with two fighting Italian mafia families and I thought the Prohibition era would work with that and a time period where everyone was so desperate," McDermon said. "It ends up coming out on stage."
Lonisha Green, fourth-year psychology student and Shakespeare at UCLA president and stage manager, said that she was intrigued with McDermon's less romantic vision for "Romeo and Juliet."
"A lot of people perceive "˜Romeo and Juliet' as a romance," Green said. "But Natalie wanted to play it up as a little bit darker to show the negative aspects of Romeo and Juliet's relationship and really emphasize less of their relationship and more of the families' conflict, which is potentially what the play is really about."
McDermon said the Prohibition era allowed for a few subtle modern changes to the story "" a speak-easy flapper masquerade party and the introduction of revolvers alongside traditional sword fighting, an anachronistic nod to the enduring feud between the Montague and Capulet families.
However, perhaps the greatest departure from popular productions is Shakespeare at UCLA's casting of Romeo as female.
Gender- and color-blind casting is something that Green said the club prides itself on "" allowing anyone to audition for any role based solely on skill.
"We want good actors in our show," Green said. "We don't want to cast someone in our show just because they're a man."
Third-year English student Devon Balsamo-Gillis, who plays Romeo, said that learning to play a male character was a significant departure from her previous acting experiences.
"In all the other plays I've done, I've been the pretty girl, so this has been an entirely new perspective for me," Balsamo-Gillis said. "Learning the physicality is the hardest part, and kissing a girl "" but I had to get past that pretty fast."
Balsamo-Gillis said that she looked to Bruin Walk for inspiration on how to portray Romeo.
"It sounds creepy "" but I would watch people and try to mimic them as they were walking down Bruin Walk and follow guys," Ballisimo-Gillis said. "I decided to play Romeo as more effeminate because he is so sensitive and almost bi-polar because he has such heightened emotions."
Green said that Balsamo-Gillis' portrayal brought forth a boyish quality and vulnerability that stood out.
"Devon makes him so much more vulnerable than I feel a lot of men could. And when you read "˜Romeo and Juliet,' Romeo is such a vulnerable boy "" he's on an emotional roller coaster," Green said. "In the times of Shakespeare, all of the roles were played by men, so why can't we do the reverse?"
Ultimately, Green said that she found the 1920s period an era close to home for audience members to relate with Shakespeare's universal story.
"I think the reason why people keep coming back to this play is because Shakespeare really wrote it well. He appealed to what people like," Green said. "People like comedy, people like drama, but what people really like to see is conflict. They like to see relationships at their best and relationships at their worst, and this play has all of that."