UCLA student hopes to construct a school in Kenya through his organization, Fill and Build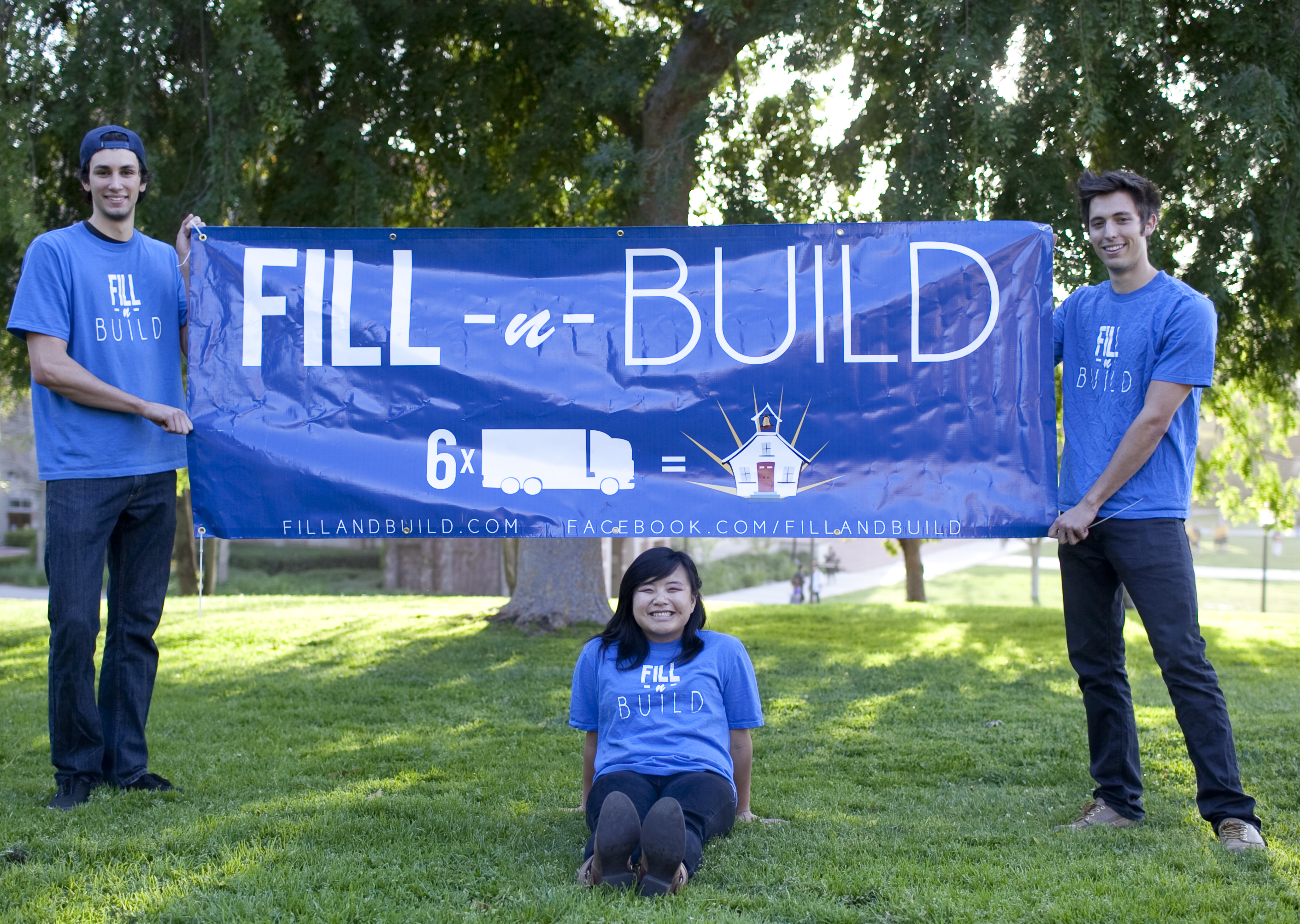 UCLA student Spencer Handley (right) and his friend Austin Peck (left) are co-founders of Fill and Build. Jacklyn Yen (middle) is a volunteer for the group.
Spencer Handley wants to make a big impact "" he wants to help build a school in Kenya.
But to do it, he needs $8,500 first.
So Handley, a third-year music student, got to work. He brainstormed with his friend Austin Peck to find a way to raise funds for the project. They also wanted to come up with a way to address local and global problems at the same time.
In November, they decided to found an organization called Fill and Build to raise funds to support developing countries and empower American youth to volunteer. When it came time to begin a donation drive, Peck turned to Goodwill of Southern California, after hearing that Goodwill hosted a fundraising drive through his brother's high school soccer team.
The two have collected furniture, clothing articles and other objects to donate. In return, Goodwill donates $1,500 to their organization for every truck they fill with items.
So far, Fill and Build has filled one truck, earning $1,500. The organization has also received $1,500 in donations from corporate sponsors.
Once they raise $8,500, they will give the money to Free the Children, a nonprofit organization that raises money locally to help children overseas. Members of Free the Children will then begin construction on the school.
Handley started the project to escape being labeled as part of the "me generation," a term that refers to those born in the 1980s and '90s who take their life of comfort for granted. He chose to use the money to build a school because he said education leads to empowerment.
"If you give people literacy, suddenly they have access to infinite knowledge," Handley said. "Just a few years of education can change a person's life forever."
Handley chose Kenya as their first destination for the school because it's an affordable place to build, and the country is in need, he said.
In February, Handley and Peck held their first Fill and Build donation drive in Santa Clarita Valley, and about 70 people came to donate furniture and other items. The organization plans to host a donation drive every month, Handley said.
"The donations don't just go to a warehouse, they go back to the community and towards building a school, which is why people really want to donate to us," Peck said.
The two friends have used many different methods to spread the word about their organization. The team has created a website, a blog, business cards, T-shirts and corporate sponsorship packets.
They also constantly email possible partners, which is how they found Free the Children, an organization that has raised more than $4.5 million, and has provided more than 650 schools in developing countries, said Helen Ma, program coordinator for Free the Children and a mentor to the Fill and Build organizers.
"(Handley and Peck are) constantly thinking about the project, approaching others for partnerships, pitching new ideas and exposing themselves to different audiences," Ma said. "I see this going way beyond their current successes."
If Handley and Peck reach their initial goal of $8,500, any additional money will be used for another Free the Children program called Adopt a Village. Through Adopt a Village, Free the Children will help a village in Kenya become self-sufficient by providing clean water, health care, jobs and education to its people, Ma said. The start-up cost of helping a Kenyan village is $28,000.
Since starting the project last November, Peck said he and Handley have given up their weekends for the project.
"Friday, Saturday, Sunday nights "" we're working on this because we really want to see it happen," Peck said.
Despite the work, Handley said the payback is rewarding and hopes others start similar groups.
"Being able to contribute validates us as people, and it's a shame that more people don't engage," he said.
Jacklyn Yen, a first-year neuroscience student and a Fill and Build volunteer, first heard about the program from Handley, who lives on her floor. She said she aims to move young people away from the concept of the "me generation."
"I think that's the next step for Fill and Build," Yen said. "We want to inspire younger kids to help people in need."
Handley and Peck are working with three elementary school principals to organize a donation drive competition between schools. Peck said he wants more kids to take action and be leaders, using the reward of a school dance as an incentive to donate more.
Ma said the team's genuine and passionate personalities are contagious.
"They have an amazing idea and project that they are genuinely passionate about," she said. "They're the example of what we want our youth to be."
If Handley and Peck are successful, they hope to write a step-by-step guide for other young students who want to adopt the method they used to fundraise.
"We want more kids getting out and doing similar projects," Peck said. "It's about being young, having crazy ideas and wanting to make them happen."
Handley said he wants to visit Kenya eventually to see construction progress on the school.
He also hopes to travel to other parts of Africa to see where else Fill and Build could provide assistance. He and Peck are currently working to make Fill and Build a nonprofit organization.
But whatever Handley's and Peck's futures will be, Handley said Fill and Build will be a part of it.