An elite team: UCLA gymnasts' shift to collegiate competition means change from isolation to Bruin family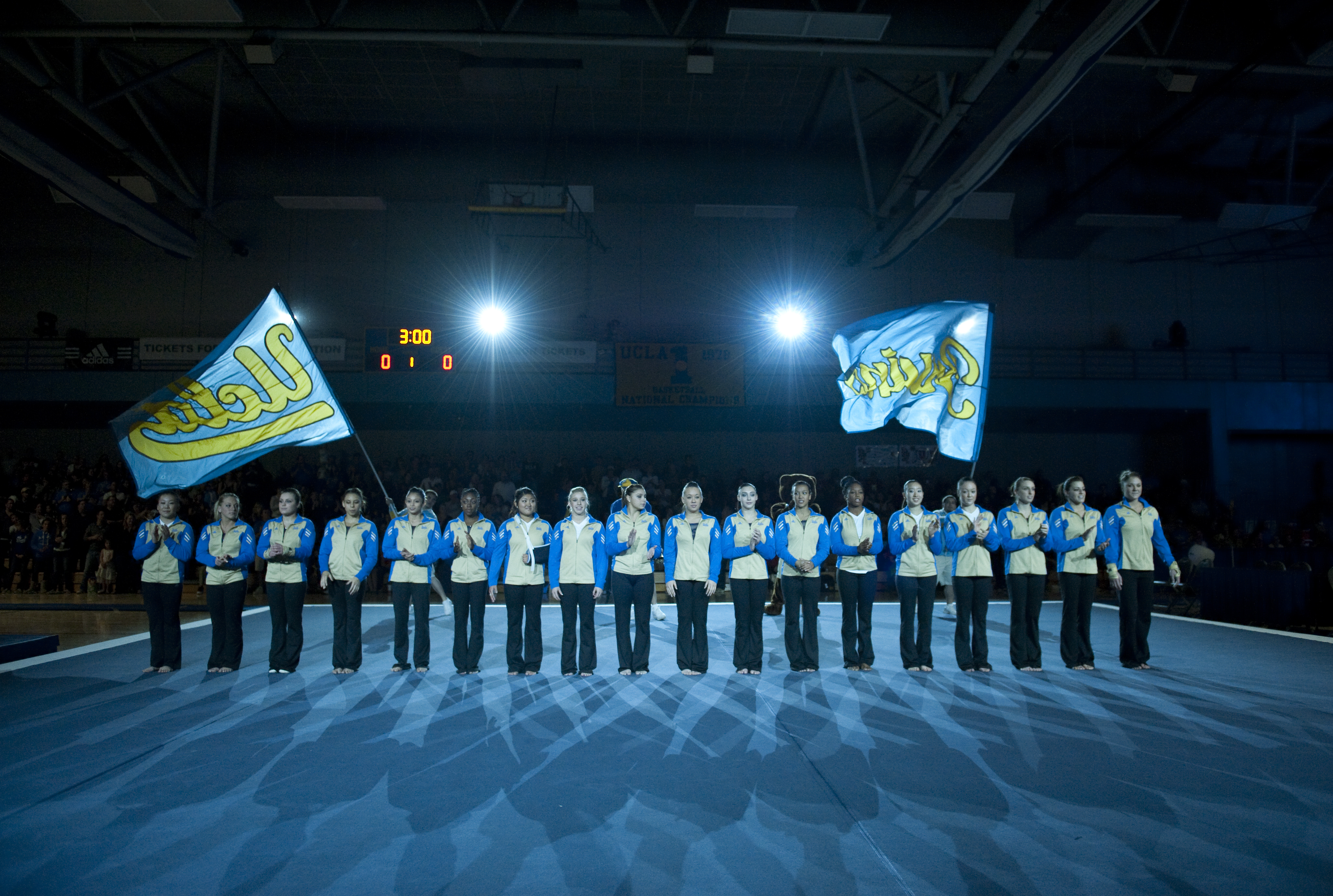 The UCLA gymnastics team lines up for introductions during the team's meet against Utah. Members of the team who have transitioned from the elite system to the NCAA system have adopted a team-focused mindset that has been paying off for the Bruins, who have finished first in their last three meets.
Four years ago, sophomore Samantha Peszek stood atop the podium during the medal ceremony at the 2008 Beijing Olympic Games.
With cameras flashing in every direction and the spotlight on her and her five teammates, Peszek held up her silver medal and smiled, soaking in the feeling of winning a medal at the Olympics while wearing the United States' letters on her leotard.
Peszek, along with many of her fellow UCLA teammates, was a senior international elite gymnast long before coming to college.
For most gymnasts, attaining elite status takes years to achieve; one must rise through 10 levels of gymnastics first, then add on additional hours of training and harder skills to begin competing on the elite circuit.
The career of an elite gymnast is often a lonely road, where arenas are filled with gymnasts who isolate themselves from the crowd and their competition.
Each girl stays in her own "bubble," conserving her energy and willing herself to perform for her own personal growth.
There is no team-centered atmosphere, none of the familiar loud cheering heard at so many collegiate meets.
In competition, elite gymnasts are expected to perform at the highest caliber possible.
Difficult and often risky skills are considered normal in the sport, even if performing those skills comes with wobbles, falls and deductions.
"Getting to the top in elite is all about going for the hardest skills you can possibly do," junior Lichelle Wong said.
Wong, a former elite gymnast from Ossendrecht, Holland, is a two-time Dutch national all-around champion and competed at the 2006 and 2007 World Championships. She came to UCLA in 2009, where she first struggled with transitioning into collegiate competition.
"In elite, my coaches always tried to push us by saying, "˜Well, you can't do this skill, you're not good enough,'" Wong said. "It kind of got ingrained into my system that if I couldn't do (a certain skill), I just wasn't good enough. That was normal for me to say in elite."
The negative mentality to which Wong was accustomed at the elite level was not acceptable to coach Valorie Kondos Field.
"The first two years that Lichelle was here, she had a pretty negative attitude and was really hard on herself and refused to change her mindset," Kondos Field said.
"Last year, when it all blew up in her face toward the end of the season, we didn't know if she was coming back or not."
At her lowest point, Wong had to make a decision.
She could keep her elite mentality, which brought her and the team down, and leave gymnastics behind "" or she could stay, focus on adopting a positive attitude and change her mindset to one that was team-oriented.
"We sat her down and we said, "˜Lichelle, you have a choice. The choices you've made up till now have put you in this position. Change the choices you make, which starts with the way you think about things,'" Kondos Field recalled.
Wong chose to work on her mentality day by day, and has since earned the right to lead the team off on beam and compete in the all-around.
"Literally, since that day last spring "¦ she's changed her mentality and has chosen to be a more positive person," Kondos Field said.
"It's affected every aspect of her life, and it's showing in her gymnastics."
Wong and her teammates agree that one of the major differences between collegiate and elite competition is the mindset with which they perform.
In such a team sport, mentality can make or break even the most talented of gymnasts.
"Here, things are completely different. If you believe you can do it, it will eventually show in your gymnastics," Wong said. "Our coaches tell us, "˜You are good enough.' In college, it's all about being positive; that's what makes you better."
Peszek agreed with her teammate, saying that the team atmosphere is what fuels each gymnast to power through 10 to 13 meets every season.
"It's kind of almost two different sports because the focus points are so different," she said.
"In college, perfection is the key, and the performance quality of a routine weighs more heavily than in elite routines, where it's all about difficulty. It's more of the team aspect that motivates you and inspires you."
Peszek said she believes comparing elite and collegiate competition is like comparing apples and oranges.
Collegiate gymnastics, for instance, uses a "perfect 10″ scoring system, as opposed to elite gymnastics, which uses an open-ended scoring system to evaluate each gymnast's performance.
Additionally, individual results matter less in NCAA competition, and gymnasts feel more pressure to stay consistent so as not to burden the team.
"In elite, if I didn't feel well, it only affected me," said freshman Mattie Larson, a 2010 World Championship silver medalist.
"Here, if I don't feel well, I feel guilt because it's for my team, and my team needs me to go out and hit. Getting used to that and being more consistent was a big change for me."
The one thing Larson and her teammates all miss about elite competition is the chance to travel around the world to compete. NCAA competition only encompasses collegiate teams in the United States and Canada.
Sophomore Sydney Sawa remarked that even though she misses traveling, the group atmosphere from UCLA was one that she had never experienced in elite.
"Traveling was my favorite part about being an elite, by far," she said. "But having this kind of family, and training with a big group of people, it's something that can't be replaced."
Larson, who traveled to Rotterdam, the Netherlands, to compete in the World Championships, felt similarly.
"Traveling is great, but you're not going to get the same team bond in the elite world that you get here. You're not going to create the same sisterhoods," Larson said.
Larson takes those words to heart every time she competes. Two years ago at the World Championships, she stood on the silver medal podium just as Peszek had years before, sporting the same three letters on her leotard: USA.
This time around, four letters have replaced those three from her elite days.
As she steps out onto the competition floor each week, the letters "UCLA" sparkle on her and her teammates' backs in unison.
Larson and her fellow Bruins all compete knowing both their triumphs and stumbles will count toward a bigger goal.
That lesson, Kondos Field says, is the biggest reason gymnasts should experience NCAA gymnastics after being elite.
"That is the biggest life lesson an elite gymnast coming to college takes with her," she said. "She understands the rewards and values of being part of something greater than herself."