UCLA gymnasts outscore Stanford despite late adjustments to the lineup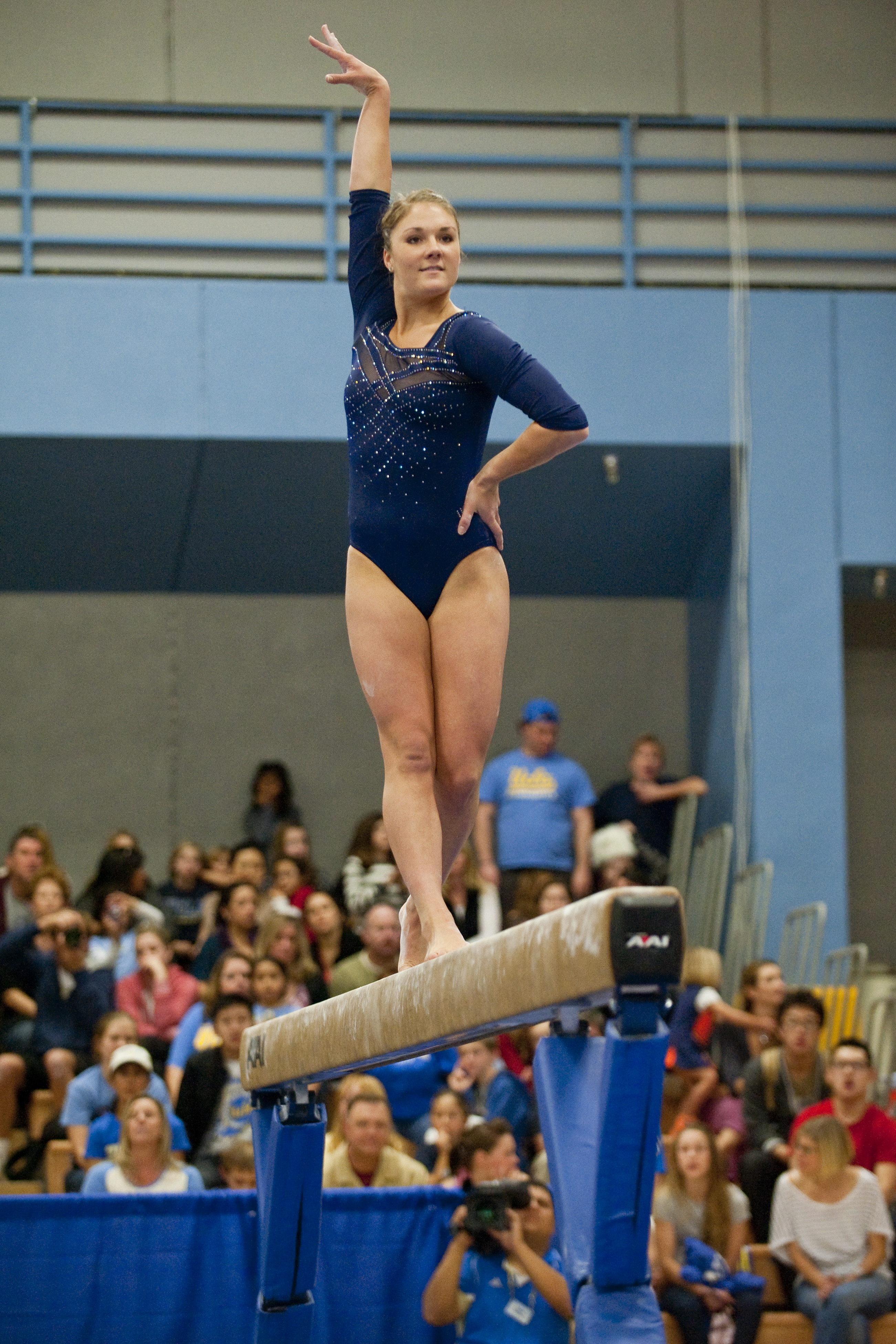 Senior Kaelie Baer posted a 9.85 on beam this weekend to help UCLA edge past Stanford. Baer bounced back from a subpar performance on bars to earn a career-high on beam.
See highlights from the meet at dailybruin.com/video
For the UCLA gymnastics team, Sunday's meet against Stanford was a story of replacements.
After an ankle injury earlier in the week took senior Aisha Gerber out of the competition, UCLA found themselves in need of three routines to make up for her absence.
Then, the morning of the competition, sophomore Olivia Courtney came down with a bad case of the flu, adding another routine to the deficit UCLA faced.
But the Bruins wouldn't let their team fall apart with the absence of two of their strongest competitors. Instead, UCLA (4-1, 3-1 Pac-12) bounced back from their predicament and won in a dual meet against the Stanford Cardinal (4-2, 1-2) in a 197.250-196.450 finish.
Coach Valorie Kondos Field was pleased with her team's win and especially praised her gymnasts' ability to post high scores after changing the lineup on short notice.
"I felt great with how the team did knowing we didn't have Aisha. That was a big deal; she sprained her ankle on Thursday so we had three routines we needed to replace," she said.
"Olivia came down with the flu this morning, and that was another routine we had to replace. It was great that we replaced them so seamlessly."
Sophomore Samantha Peszek placed first in the all-around with a career-high 39.550, marking her fourth all-around win of the season. Junior Lichelle Wong and freshman Mattie Larson tied for second place in the all-around with scores of 39.325.
Redshirt junior Vanessa Zamarripa's 9.95 vault highlighted the first rotation, and the Bruins opened the meet with a strong 49.475 finish on vault. UCLA counted two scores of 9.90 from senior Tauny Frattone and Peszek.
Zamarripa brought in another 9.95 one rotation later on bars, where UCLA met its only stumbling block in the meet. Senior Kaelie Baer broke form toward the end of her routine and had to take a few extra swings to regain her composure after the mental error.
After sitting out of competition for two years because of nagging injuries, Baer wouldn't let one hiccup on bars stifle her confidence. She powered through her mistake to post a career-high score of 9.85 on beam in the next rotation.
"Bars was a little bit of a mishap, but I know I'll do better next time. I moved on and did my normal gymnastics on beam, and it felt great," Baer said. "My team did a great job accounting for my mistakes. For me, that's what champions do. That's what we train to do."
Kondos Field commended Baer for her performances during the meet, but remarked that she has even more potential for the rest of the season.
"Kaelie is such a tough competitor. She's one of the best competitors we've ever had," she said. "I feel great about her, and that's not even the best she can do."
Improvement was not just important to Baer, but to her teammates as well.
Wong and Peszek both posted career-high scores of 9.9 on floor, and Larson posted a career-high score of 9.875 on floor after faltering on the apparatus the first two meets of the season.
Larson was not even set to compete floor this meet, yet stepped up to the plate to replace Courtney at the last minute.
Kondos Field praised Larson for her performance under pressure as well the team's performance and UCLA's sweep of the all-around.
"I think our results were great; they're a testament to our depth. Hopefully it's resonating with the girls that if someone's out for whatever reason, whomever is coming in next is ready to go," she said. "I just couldn't be more proud of them."