Gymnasts fall to Washington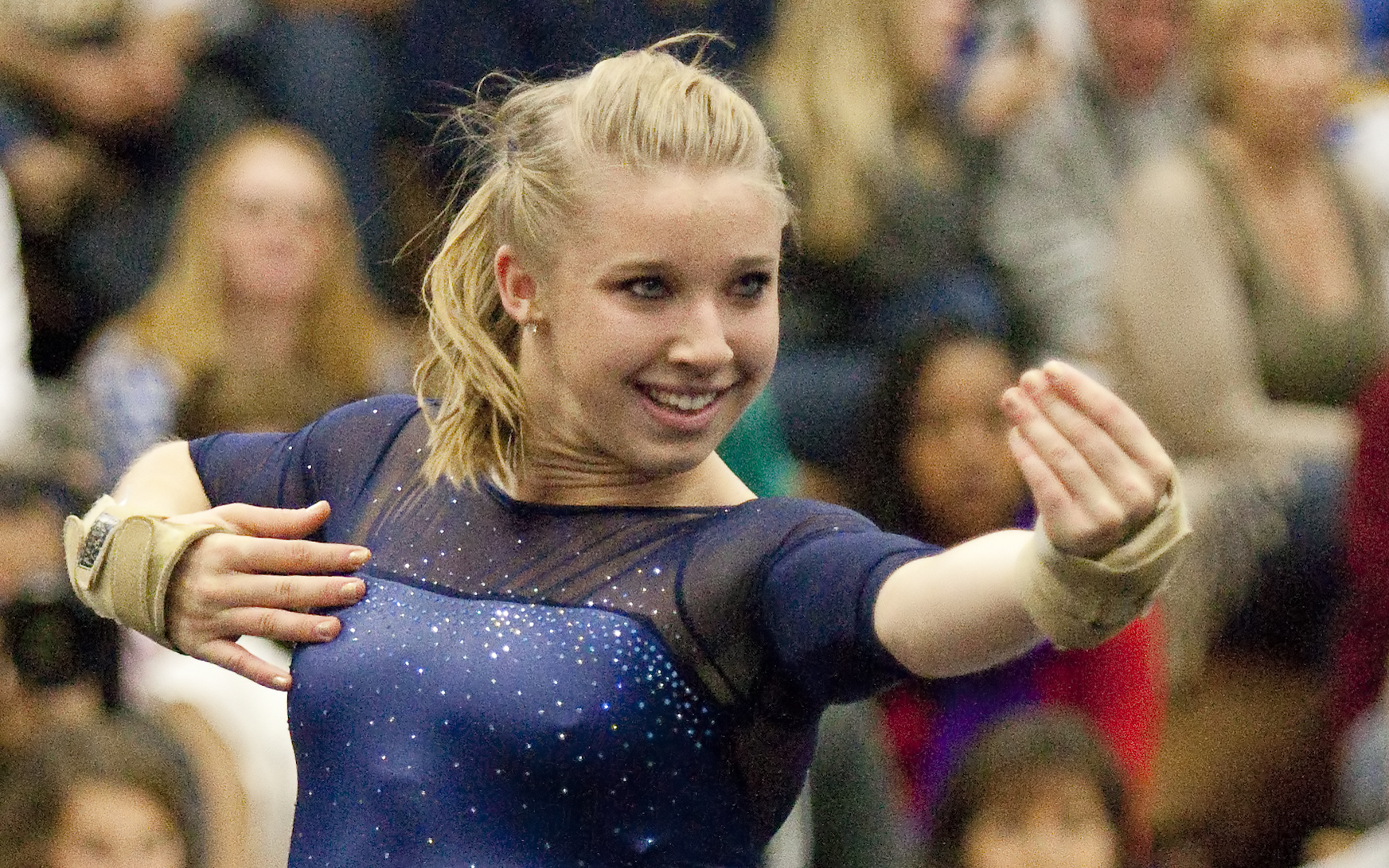 Redshirt junior Alyssa Pritchett and the gymnastics team fell to Washington.
WASHINGTON 195.350
UCLA 194.600
After two hit-or-miss rotations for the Bruins, redshirt junior Alyssa Pritchett took a moment to pray before her floor routine.
She didn't pray because the Bruins were faltering, though. To Pritchett, praying before performing is a ritual, and one that helps her compete to her fullest potential even when her teammates are winning.
Pritchett, who was sidelined during the 2011 season because of a foot injury, attributes her success at the meet to faith and constant
hard work.
"For me personally, I just try to stay in my own bubble and I pray before I perform," she said. "I perform for God, and I push out all of the noise and all of the distractions. I pretend like I'm in the gym, I'm in practice, it's normal."
Pritchett executed with an air of confidence unmatched by many of her teammates, and her floor routine stood out as one of UCLA's highlights in its meet against Washington on Friday.
Unfortunately for the Bruins, knockout performances like Pritchett's were few and far between.
The Bruins (3-1, 2-1 Pac-12) counted their first loss of the season to the Huskies (2-2, 1-1) with 195.350-194.600 after a series of costly stumbles and falls on uneven bars and balance beam.
UCLA started out on bars and incurred heavy deductions on the apparatus after struggling in warm-ups. The Bruins counted uncharacteristically low scores of 9.325 and 9.475 during the rotation and only crossed the 9.8 mark once.
Coach Valorie Kondos Field was shocked at her team's lackluster showing on bars.
"We rotated out quite a few athletes in this meet, but the people that rotated in have been doing exhibition for us, and they've been hitting," she said. "There should have been no surprises."
Kondos Field believes weaknesses during warm-ups contributed in part to the athletes' shakiness in the match.
"We didn't warm up well," she said. "When you don't warm up well, it sends a little bit of a panic through the team. When you've got one or two girls warming up and they keep falling, you can't help but get tight."
After scoring only a 48.175 total in the first rotation, the Bruins picked up some speed on vault and posted a score of 49.100. Redshirt junior Vanessa Zamarripa vaulted last for the Bruins, bringing in a meet-high 9.925 on the apparatus.
Scoring well on vault was a breath of fresh air for Zamarripa, who broke form on one of her handstands on bar earlier in the event.
Despite the uncharacteristic errors, Zamarripa knew how to cover her mistakes and minimize any potential deductions.
"I like challenges like this. I fought through it and kept a good mental composure," she said. "I had practiced covering mistakes up during practice, too. Really, it's just practice, mental toughness and trusting my own abilities."
Heading into the third rotation, Pritchett posted a career-high 9.875 on floor after having performed only exhibition routines this year.
Kondos Field explained that she was disappointed in the team's showing, but praised Pritchett in particular for her exceptional floor performance.
"She worked so hard and trained so well. … She is so mentally disciplined to be able to come out and hit a routine in that kind of a situation," Kondos Field said. "It's been a few years coming now, and she did a great job. She was the star of the meet."
Kondos Field was not as complimentary about the Bruins' final performances on beam. Going into the final rotation, UCLA and Washington were neck and neck, with Washington leading by only 0.025 of a point.
It was up to the Bruins to hit their routines and squeak out a win, but they stumbled in the final rotation and counted two falls in six routines.
"If you're going to be a championship team, you have got to be able to bring it all the time," Kondos Field said. "You've got to want to win that badly, and we just fell flat tonight."