UCLA students, alumni joins City Year Los Angeles' service day honoring Martin Luther King Jr.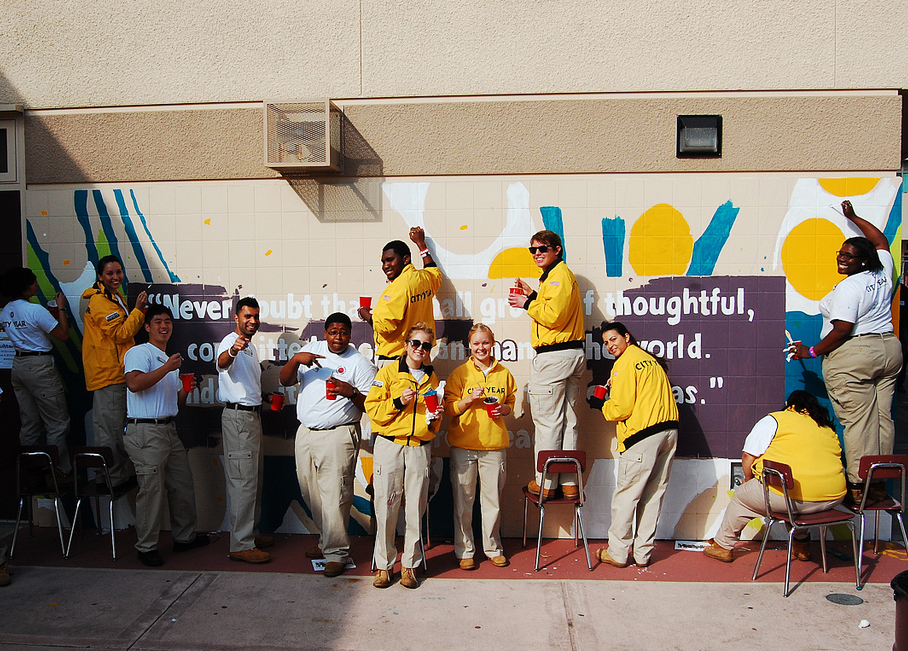 CITY YEAR LOS ANGELES
UCLA students and alumni joined more than 1,000 volunteers for City Year Los Angeles' service day on Martin Luther King Jr. Day on Monday.
The words "Dream Big" covered the once plain, dirty walls of Los Angeles Academy Middle School.
On Monday, 56 UCLA students and alumni joined more than 1,000 local volunteers on Martin Luther King Jr. Day in empowering students, writing motivational phrases on walls and beautifying the school.
The event was organized by City Year, a national volunteer group that aids underprivileged schools. There are 15 UCLA alumni in the organization, making UCLA the group's largest feeder school.
The fifth annual service day honoring King's legacy and service is the largest held by City Year and is co-sponsored by businesses, including Disney and Starbucks.
"Dr. Martin Luther King Jr. once said, "˜Everybody can be great … because anybody can serve,'" said City Year member Aaron Clark in a speech to the volunteers. "He emphasized brotherhood and servicing his community."
UCLA students Hao Dieu and Preeya Nobis spent the day painting tiles in an alternating color pattern. Other volunteers created 75 collegiate banners to hang in the school's atrium and painted a 20-feet mural in the gym.
Dieu, a third-year biochemistry student, said she wanted to make a difference in the community, rather than waste the day sitting at home.
UCLA comprised two of the 29 project groups that worked on different projects. UCLA is a priority recruiting area for volunteers, said Daniel Ochoa, a City Year recruitment manager and UCLA alumnus.
Second-year global studies student Nobis said she was impressed with the number of people who showed up early and on a holiday.
"There was a sense of unity and teamwork while we all scrambled to help each other paint hard-to-reach tiles," she said.
In a community plagued by crime and poverty, the academy was chosen because of its status as a high-need school in the Los Angeles Unified School District, said Philip Javellana, a City Year brand and communications manager. Only one-third of the students are proficient in English and math, while 100 percent are economically disadvantaged, he said.
Ochoa joined City Year to address the dropout crisis in schools. One student in the United States drops out every 26 seconds, Javellana said.
"Fifty percent of LAUSD students drop out," Ochoa said. "The numbers speak for themselves."
City Year members try to tackle the problem by serving full-time in 17 LAUSD schools as tutors and mentors, focusing on attendance, behavior and course performance.
And there have been results. At Virgil Middle School, 80 percent of students tutored by City Year members were able to raise their grades. At John Liechty Middle School, City Year helped 78 percent of students pass math, compared to 30 percent the year before.
This annual beautification adds to City Year's regular work by creating a better environment for the students.
Prior to the renovation, history teacher Martha Infante said the students thought the school looked like a prison.
Eighth grader Karen Eustaquio said she was proud of her work that improved her school. She said the prettier environment provided her with a new perspective on her school.
But out of the 1,800 students at the middle school, only about 100 students volunteered.
"They've given up. They didn't think this would work," said eighth grader Brenda Tecum, shrugging at the mention of fellow students who stopped working.
Infante said she understands some of the students' lack of hope.
"Nothing this nice has ever happened to this school, and most the students have not seen this type of kindness," Infante said. "The students come to school hungry, sick and tired, … yet they still try to come to school and do their very best."
Principals said they have seen a new respect for the campus and revived culture of the school after past service days, Javellana said.