Occupy UCLA stages campout in Wilson Plaza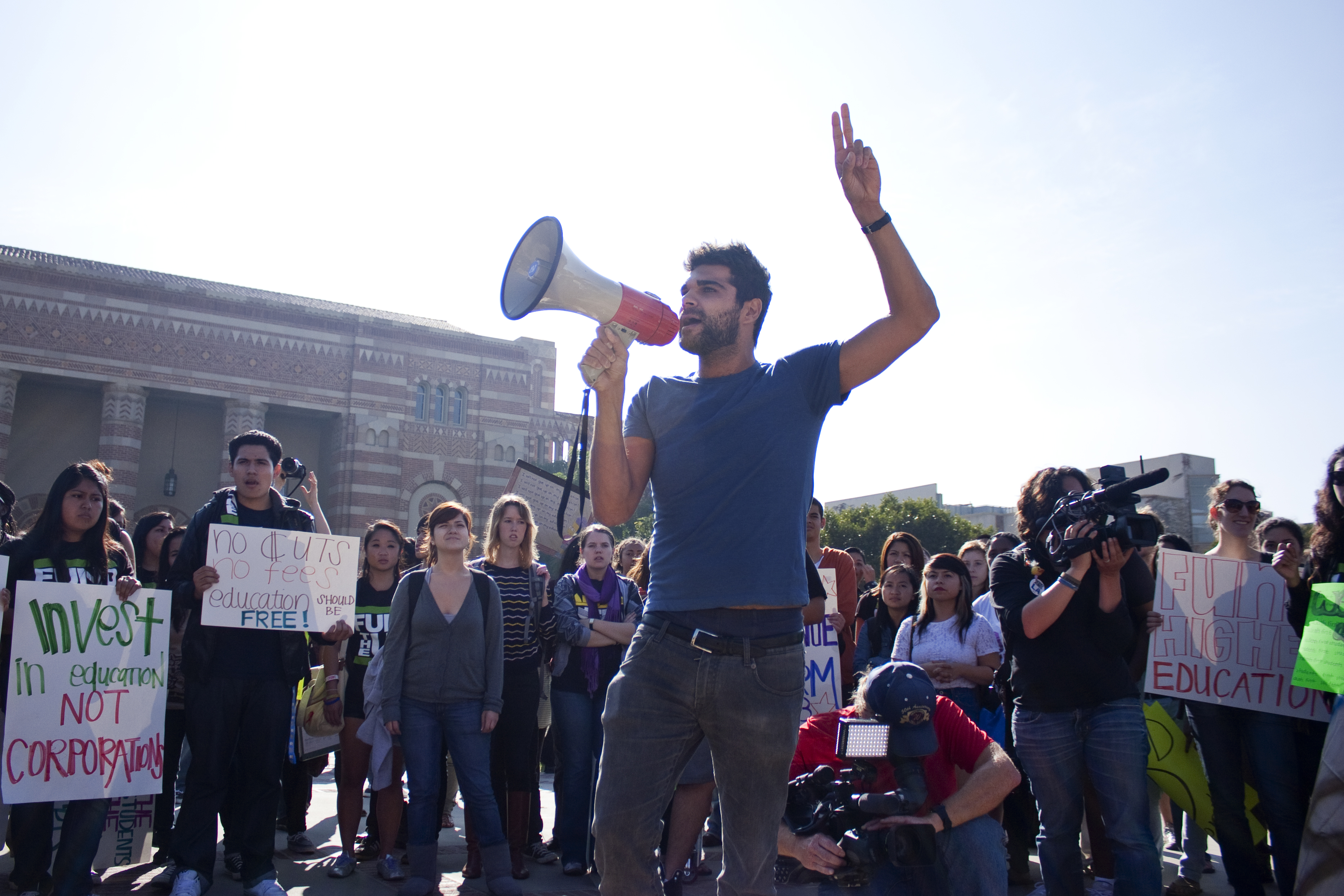 Daniel Cooper, a graduate student in Spanish and Portuguese, rallies a crowd of demonstrators in Wilson Plaza during the "Occupy UCLA" protest.
The Occupy movement found its first sustained footing at UCLA Thursday in the form of brightly colored tents pitched in the corner of Wilson Plaza and a crowd of protesters that stayed into the night.
As of press deadline, 65 people had signed up to camp overnight, according to Maribel Guerra, a fourth-year anthropology and Spanish student on the Occupy UCLA outreach committee. Early in the day, administrators warned that university policies prohibit temporary structures. A curfew is also in effect on campus from midnight to 6 a.m.
As of 1 a.m., no police or administrative action had yet been taken to disperse the protesters.
"I'm not sure where this is going, but we have to keep coming," said Rahim Kurwa, a graduate student in sociology. "There is a lot of energy out here tonight, and the administration can't stop that."
The UCLA-level day of action against tuition increases and budget cuts began with a march stemming from a "Fund the UC" rally sponsored by the Undergraduate Students Association Council in Meyerhoff Park.
The Fund the UC marchers then wove their way past Powell Library and down Janss Steps to Wilson Plaza, where they merged with a broad range of student groups and organizations affiliated with the Occupy UCLA movement.
These groups included [email protected], student activist group UCLA Fights Back and the United Auto Workers union, which represents UC graduate students. At that point, the protesters numbered about 250.
A chant grew as the protesters reached the bottom of the steps.
"Education should be free. No cuts, no fees."
The groups then joined into a circle in the center of Wilson Plaza, staging impromptu speeches and shouts of protest slogans.
As the meeting drew late into the afternoon, student protesters from Fund the UC filtered out of Wilson Plaza.
For the remainder of the day, about 75 protesters sat and participated in teach-ins expressing solidarity with ongoing student protests for UC Berkeley's Occupy Cal movement.
Robert Brenner, a UCLA history professor, attended Thursday's rally after hearing about it earlier this week.
Brenner said the last time he had seen a rally similar to Occupy UCLA was in 2009 during protests following fee increases by the UC Board of Regents.
The context of the protest, Brenner said, is what distinguishes Thursday's event from earlier demonstrations. As part of a national event that aims to restructure deep-rooted societal and economic systems, the Occupy UCLA protest stands apart from 2009's protests, he said.
Caitlyn Sheehan, a third-year art history student passing by during the afternoon, said she had hoped to see a larger crowd.
"Hopefully more students come out to support, because we're all affected by this," Sheehan said.
She added that she planned to participate after class.
Organizers soon convened the first general assembly of the day, a feature of Occupy movements intended to allow individuals the chance to express views and vote on aspects of the encampment.
Another operation of the general assembly is the formation of "committees," groups of protesters who run day-to-day operations of an Occupy encampment.
Occupy UCLA's committees included a security committee, police liaison committee and social media committee.
After demonstrators agreed on a plan of action, the general assembly took a short break to cheer the arrival of more tents to Wilson Plaza.
Meanwhile, several students, including Andrew Newton, a fourth-year international development studies student, continued painting signs to the sound of a drum circle. Demonstrators also began to register at a check-in tent to reserve spaces in tents for the night.
Protesters had not formalized a course of action in response to a police intervention, but emphasized the role of nonviolence.
"This has not been a violent protest from the beginning, and we will continue to preach nonviolence," Newton said.
Later on, a small group of students gathered around Newton as he crouched next to a tree with a laptop on his knees on the side of Wilson Plaza. On his laptop was a list of demonstrators willing to risk arrest during the course of the first night of the camp. Personal information was taken down, including names, dates of birth and driver's license numbers.
The group of students gathered and shared their reasons for attending the night-time rally "" one demonstrator joked that it was an item on his bucket list, while others cited the high cost of higher education.
The Occupy movement has drawn widespread scrutiny from media outlets and observers for a lack of focused goals, said Maryssa Hall, a second-year political science student.
Occupy movements at UC campuses, however, have clearly defined goals surrounding issues of affordability, she said.
"We have demands, we have things we want," Hall said.
With contributing reports by Brendan Jackson and Naheed Rajwani, Bruin contributors.