580 Cafe offers struggling students free food, develops community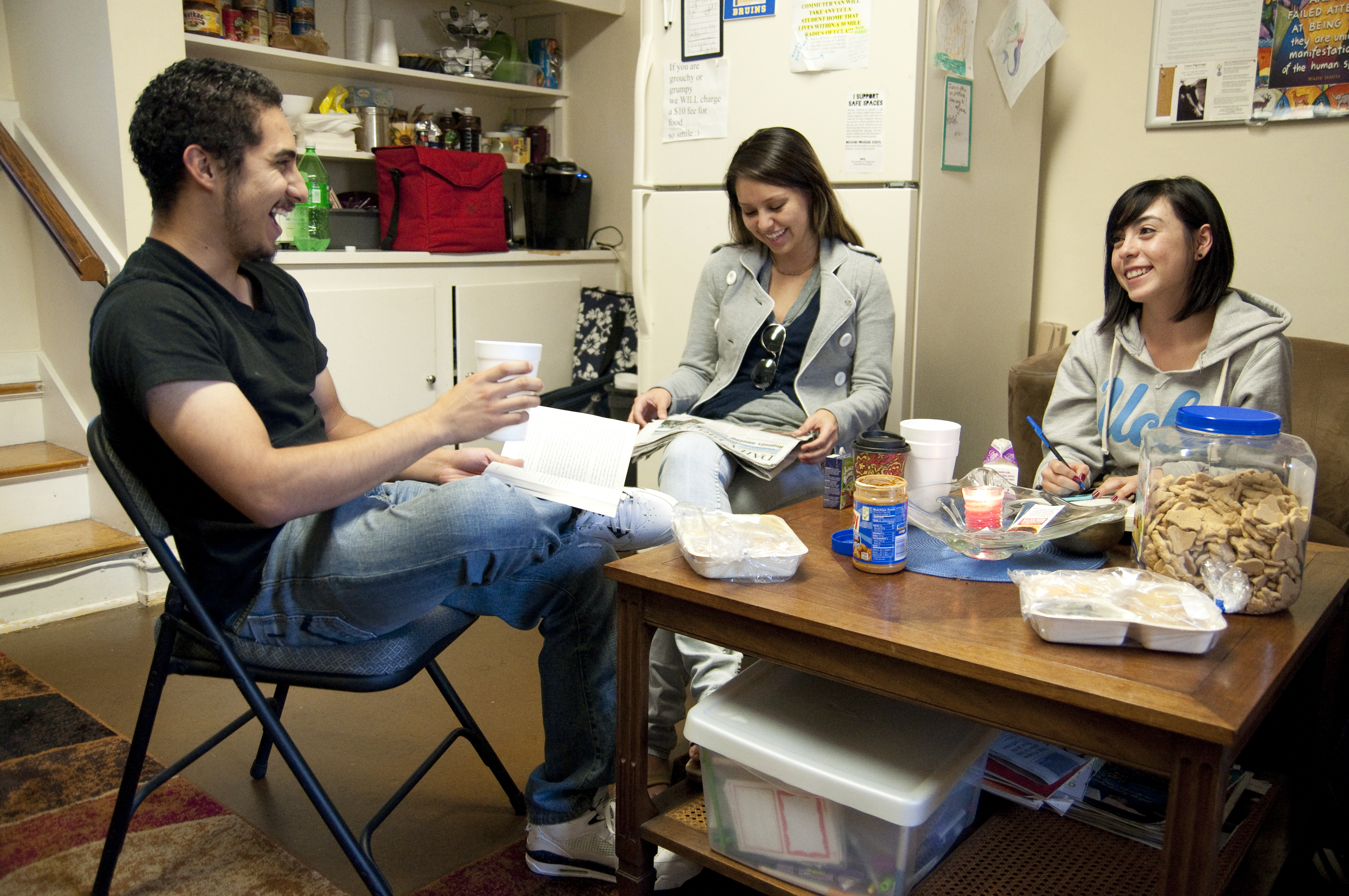 Third-year mathematics student Adiel Hernandez, left, laughs with fourth-year biochemistry and neuroscience student Barbara Rodriguez and third-year sociology student Alejandra Gutierrez while eating at 580 Cafe.
Jeanne Roe Smith likes to compare the 580 Cafe on Hilgard Avenue to the TV sitcom "Cheers."
The door is always open, the couches are full of students hanging out and the fridge is fully stocked.
Unlike "Cheers," however, the food is free "" no catches, no questions asked, said Smith, the United Methodist campus minister at UCLA.
The cafe, housed in St. Alban's Episcopal Church at 580 Hilgard Ave., is a secular community service that has been providing meals for financially struggling students for nearly two years.
Three times a day, five days a week, the cafe feeds nearly 40 UCLA students. There's coffee, sandwiches and hot food on Monday and Tuesday, compliments of the West Los Angeles Meals on Wheels.
The fridge is free for anyone to help themselves "" all Smith and the cafe ask is whether a person is a student.
"It feels like a home away from home," said Barbara Rodriguez, a third-year biochemistry and neuroscience student who has been coming to the 580 Cafe for a year.
Rodriguez said she was initially skeptical about a cafe that offered free food with no catch. But after a friend brought her there, she began coming daily.
"It's a free space where you're able to talk about anything," Rodriguez said. "You can be from any religion, any background and speak your mind without worrying what anybody thinks of you."
The cafe is sponsored by community groups, including the United Methodist Campus Ministry, UCLA alumni, various church officials and individual donors, Smith said.
Students themselves are free to bring additional items, Smith said. The collective support is what makes the cafe a community project, she said.
The motivation behind the cafe was to create a non-threatening, free environment where students can not only eat, but interact and socialize as a group, she said.
The students who regularly attend the 580 Cafe have developed their own community of sorts. They hold study groups, tutoring sessions and meetings based on their different interests.
On Tuesday, a group of students were discussing a documentary while taking advantage of a hot meal.
Smith said the cafe has become a space where students can discuss their personal experiences and frustrations.
"The way the cafe is presented is what makes people come," Rodriguez said. "Nobody tries to push, or pressurize, and nobody judges. It's friendly and inclusive; people just eat and have fun."
Founded initially to cope with the onset of the economic crisis, the 580 Cafe has been increasing its service in the last year to meet the growing waves of students facing rising tuition costs and budget cuts.
"Last year, we served around 20 people daily three days a week," Smith said. "This year, that figure has gone up to 30 to 40 people five days a week."
Smith said she attributes the increase to "food stress," where students dealing with tough economic situations place food at the bottom of their daily necessities.
After buying parking or a book, students may not have the money to pay for lunch, Smith said. Because they don't view food with the same importance as an essay or a book, they will skip meals on a daily basis, she said.
Smith was alerted to hunger issues facing students through her role in the Economic Crisis Response Team. The team is a collection of many different financial resources for students on campus, with the main purpose to act as a safe access point for students who find it difficult to seek financial assistance, said Edward Gurrola Jr., student development educator at the Bruin Resource Center.
The team finds ways to assist students either through direct financial aid or in simpler immediate ways such as providing food. In addition to the 580 Cafe, the team assists services such as UCLA's Food Closet, located in the Student Activities Center.
"We also have more ongoing programs with the Department of Public Social Services, " Gurrola said. "We have an in-house intern who assists students with things like food stamps and meal plans."
Like Smith, Gurrola said he has also noticed a change in the types of students currently affected by food shortage.
"In our minds, we would tend to have a traditional image of groups who would be more hard-hit by financial difficulty," Gurrola said.
Recently, however, he has seen an increase in the amount of students from middle class backgrounds finding it difficult to make ends meet. Gurrola views it as an indication of the lack of disposable income available to middle-income families.
"For these families, everything looks great on paper," Gurrola said. "But for families sending two or three kids to college, the parents are finding it difficult to come up with extra money. We must be aware that financial stress can affect everybody."
It is this awareness that keeps 580 Cafe going, Smith said.
"We want to make sure that, as in "˜Cheers,' everyone knows your name," she said. "And just like "˜Cheers,' everyone always comes back."