Panel reviews UCLA's responses to budget shortfall and efforts to maintain academic programs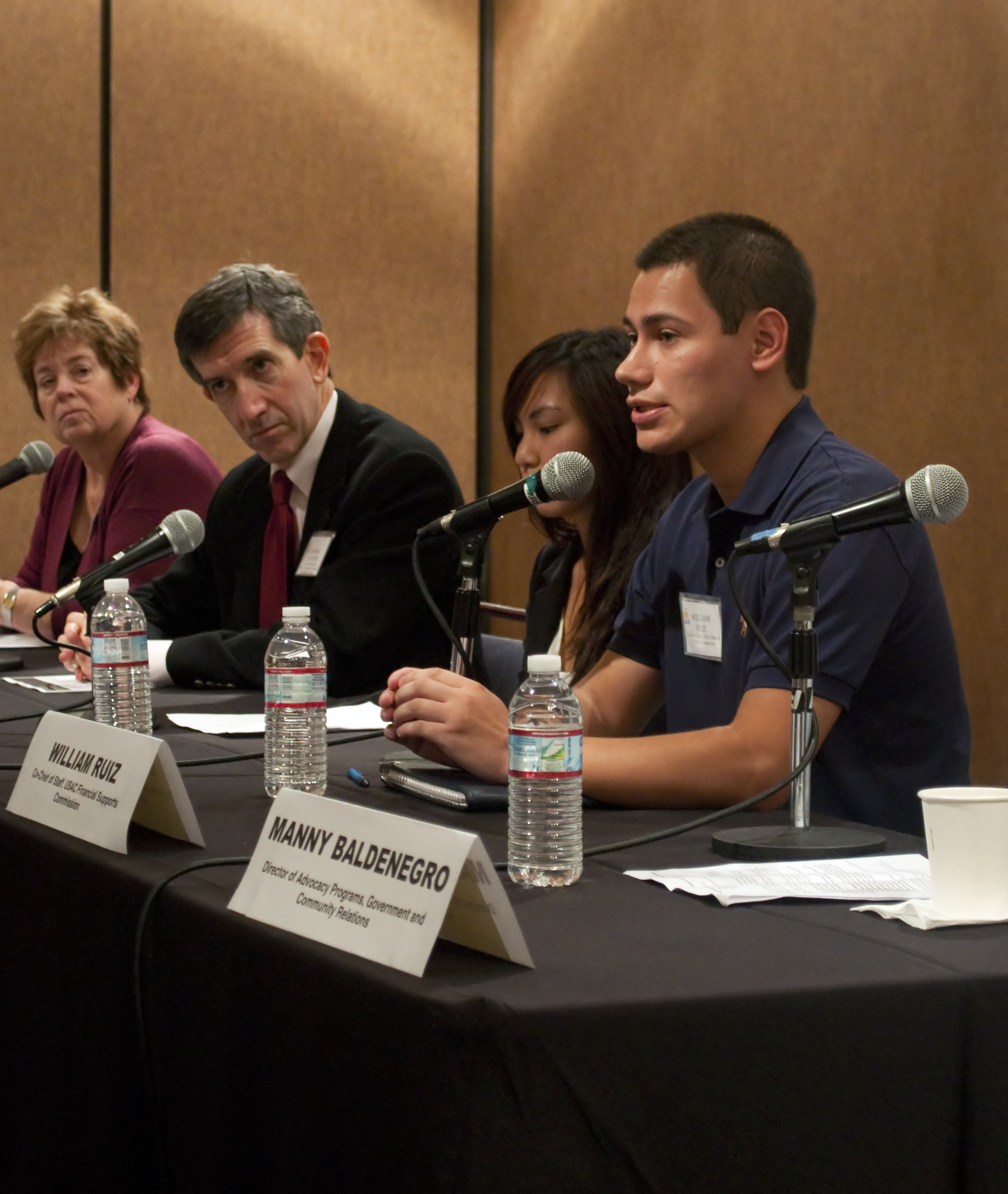 Co-chief of staff of USAC financial supports commission William Ruiz, right, with Rosalind Hilman, Andrew Leutcher and Judith Smith, discusses budgetary issues facing UCLA.
UCLA's response to budget shortfalls had been well-met by campus administrators and faculty but financial support from non-state groups will be key to maintaining the quality of undergraduate programs, a panel concluded Tuesday night.
The panel of administrators, faculty and students spoke to an audience of about 30 people in De Neve. Titled "Bruins and the Budget," the panel addressed topics such as course size and availability, tuition hikes and budget reductions.
Panelists emphasized continued support from the UCLA community to maintain UCLA's affordability, fostering what some members of the panel termed a "culture of philanthropy."
Frequently, panelists discussed problems maintaining UCLA's academic quality in the face of steep state budget cuts.
Judith Smith, dean and vice provost of undergraduate education at UCLA, said academic programs would be a priority of the university.
Student tuition and fees are now given directly to individual campuses rather than the UC Office of the President, based on a 2010 policy change by the UC Board of Regents. This change has permitted UCLA to direct student contributions to core academic programs, Smith said.
Extra revenue from student tuition is going toward expanding high-demand courses for undergraduates, including writing courses, general education requirements and major prerequisites, Smith said.
With a record number of incoming students to UCLA this year, the UCLA Office of the Chancellor provided $13 million to alleviate pressures on class size and availability, she said.
Budget cuts have also placed significant burden on faculty. Some professors are skipping sabbatical periods and putting a temporary hiatus on their research to uphold the quality of undergraduate education, said Andrew Leuchter, chair of the UCLA Academic Senate and professor of psychiatry and biobehavioral science.
"In order to make sure students can continue to graduate on time … a number of faculty are stepping forward and teaching additional sections," he said.
Apart from efforts on individual campuses, UCOP has been working with universities to lobby for increased state support from state politicians, said Manny Baldenegro, director of advocacy programs, government and community relations. There has also been a shift on UC campuses to compete for federal grant money, he said.
To accommodate tuition increases, the Undergraduate Students Association Council is creating a financial aid database to give students a one-stop resource to access financial aid opportunities, said William Ruiz, co-chief of staff of the USAC financial supports commission and a third-year political science student who spoke at the event.
The website will give students access to financial aid and scholarship resources, advice on keeping good credit scores, and information on applying to internships, said Andrea Hester, USAC financial supports commissioner and third-year global studies student.
Amy Chen, a fourth-year sociology student and operations manager in USAC community service commission who attended the event, said the panel should have elaborated on how funds are allocated.
"I wanted more transparency of where the money is going and where it's coming from," she said. "I'm in USAC, and even I don't know much."