Dozens gather for UCLA's first-ever Bike (Re)cycling event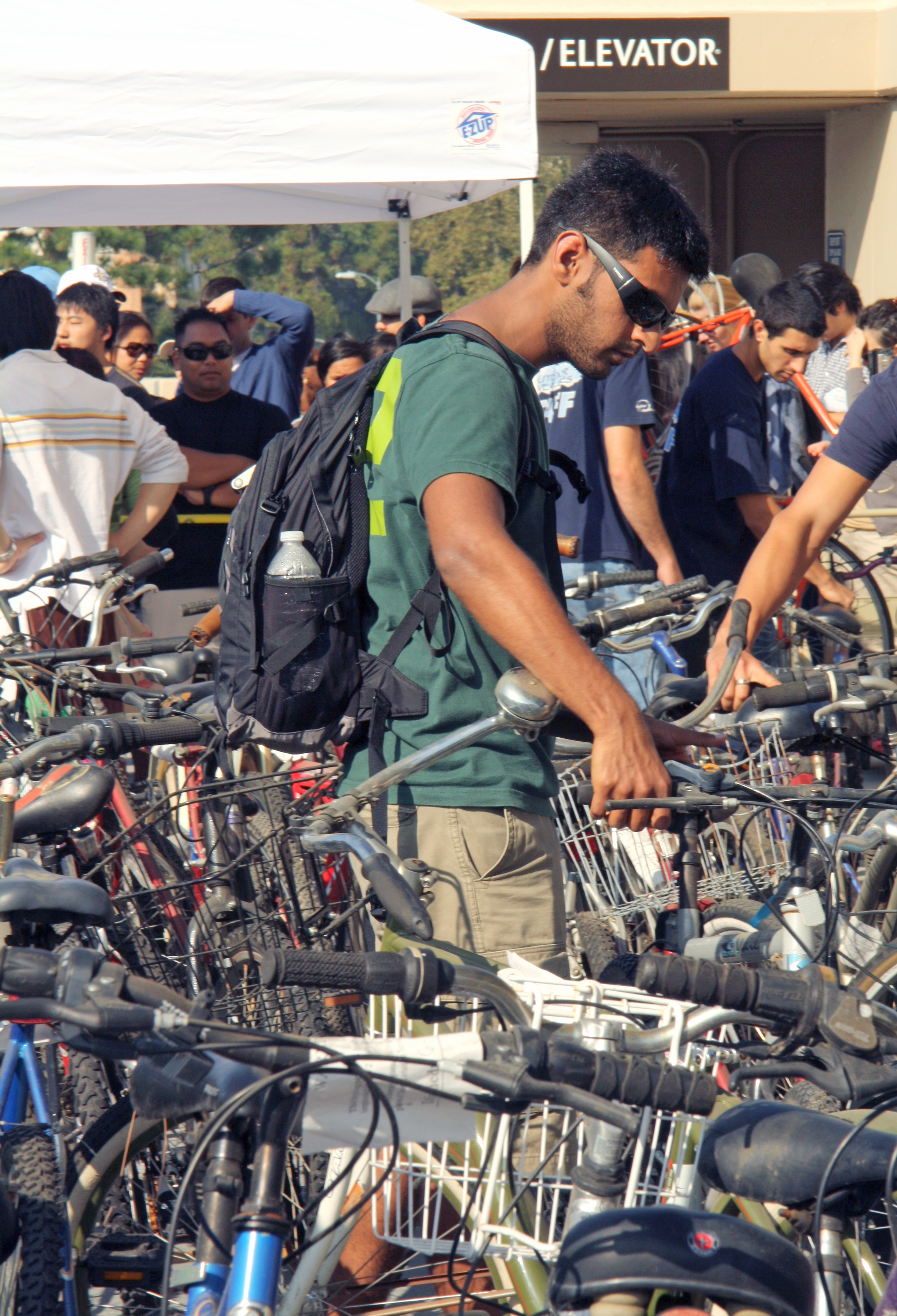 Dozens of students, workers, and people from around the community came to the bike recycling program to get free used bikes and bike parts.
Lines of bicycles sat next to scattered tires and frames on the rooftop of an on-campus parking structure.
Behind caution tape, a large crowd of people scanned the bikes and bike parts, waiting anxiously for their number to be called.
At UCLA's first-ever bike recycling event on Sunday, dozens of people picked out free bikes and bike parts that had previously been abandoned or left behind on campus.
Those who arrived early had the widest variety of choices. Second-year medical student Bo Espinosa, who came two hours early, was one of the first few people to pick out a new ride.
Once her number was called, Espinosa took some time to test out a couple of bikes. After some deliberation, she eventually walked out with a magenta Glacier Point mountain bike.
"I was scoping them out," Espinosa said, with a laugh. "I'm shorter, so it was a little bit stressful (to find the right fit). … I was deciding between two (bikes), but this one fit me better."
More than 100 bikes on campus are left behind or abandoned on campus each year, said David Karwaski, senior associate director for planning, policy and traffic systems.
During bike sweeps, these bikes are tagged. It is easy to tell which ones are left behind, usually because of layers of dust and rusty chains, Karwaski said.
If no one comes to claim a tagged bike within 72 hours, it is collected by the university.
In allowing students to utilize these bikes and bike parts for free, the Bike (Re)cycling event helps UCLA Transportation's goal toward greater sustainability, Karwaski said.
"We thought, let's put this stuff to good use," Karwaski said. "Let's actually recycle, reuse these bikes and continue to provide benefit, at the same time get people out there biking."
About 60 full bikes were available at the event, though they can be disassembled into component parts, Karwaski said.
Though he intended to get a whole bike, Chirag Patel, a second-year medical student, eventually walked out with a single wheel for his wife, whose bicycle wheel was stolen.
Others were looking for a specific type of bike. Khemrin Khen, a fourth-year neuroscience student, and Thang Pham, a second-year aerospace graduate student, each took road bikes for cycling to the beach.
Espinosa said she had originally been looking for a bike on Craigslist. She said Sunday's event was more convenient "" and that it was better for her student budget.
In addition to providing bikes and parts, technicians from the John Wooden Center were also on hand to help people pump up their tires and tweak mechanical issues. Before leaving the lot, each bike was inspected briefly to ensure it was properly functioning.
An hour in, the crowd had barely subsided. Staff began telling newcomers there was a very slim chance they would get anything at all.
Bob Sanders, a resident of Westwood, arrived at the event a half hour after it had started. He said he did not expect the large turnout.
"I may get lucky though," Sanders said. "Even if I don't, what they're doing here is great for the community and for the environment."