A Closer Look: Back from Libya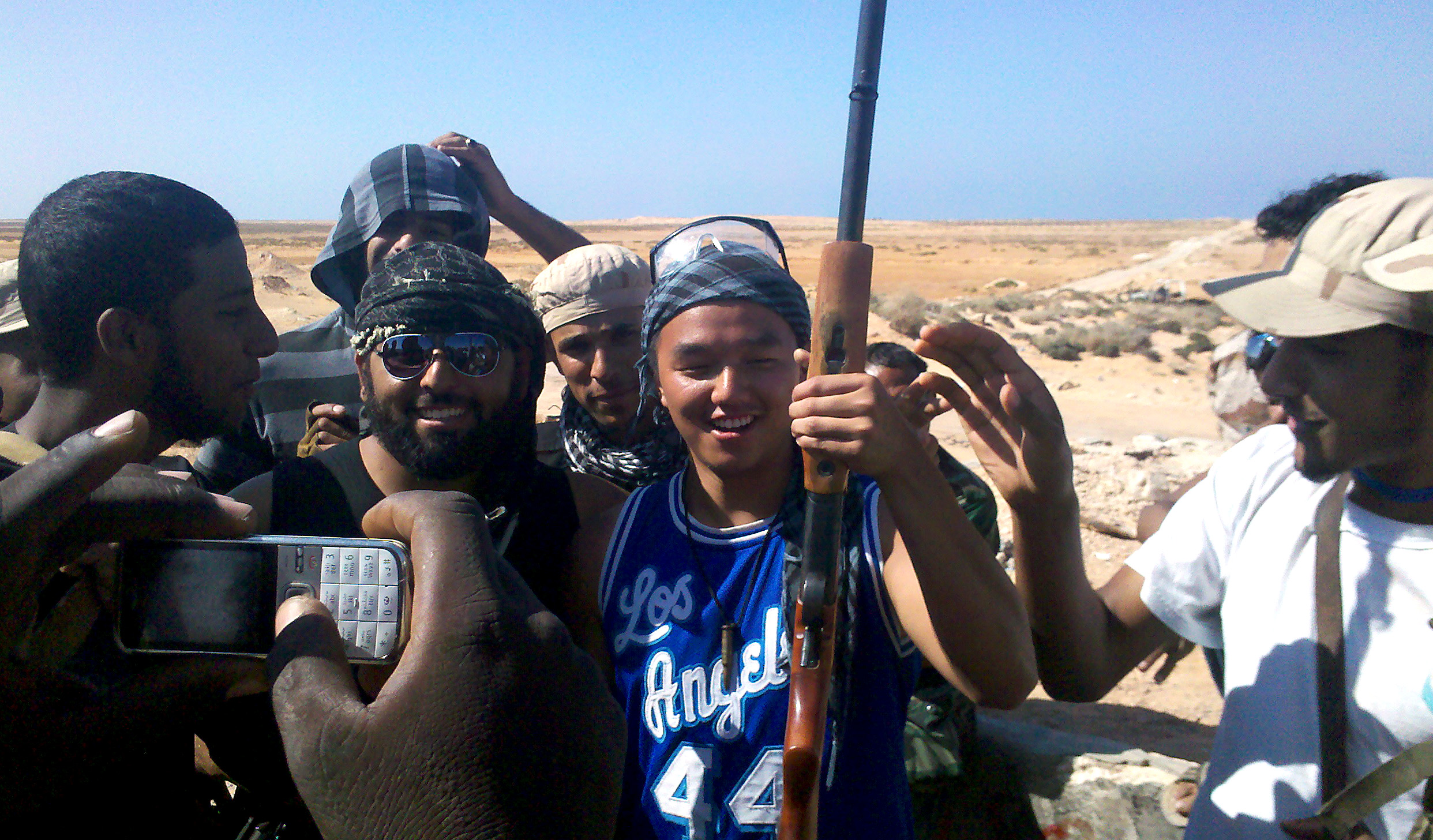 Fourth-year mathematics student Chris Jeon, surrounded by members of the Libyan brigade, wears his Lakers jersey "" which he brought for the warm climate "" and an amema, a Libyan head scarf. A similar version of this photo made international headlines this summer.
Courtesy of Chris Jeon
Correction: The original version of this article contained several errors. Chris Jeon took a grappling class at a martial arts center. Hassan's name was misspelled.
Chris Jeon sets his backpack on the beach and pulls out a pack of Marlboro cigarettes.
Before Libya, he'd never smoked a day in his life.
It's a Saturday at Venice Beach, and it's crowded. On Jeon's wrist, bracelets form the new tri-colored Libyan flag.
Jeon kneels down, looking out over the water of the Pacific Ocean. He holds the cigarette in his hand and smiles sadly.
"So many memories right now," Jeon says, thinking aloud.
He's remembering a different body of water, the Mediterranean. And a different group of people "" a group of nontraditional soldiers that took him swimming in the afternoons. In the mornings, he rode with them to combat.
He calls these men his brothers. They always smoked a cigarette before a swim.
Now, in Los Angeles, the fourth-year mathematics student continues the tradition. The habit lingers for a reason. It transports him back, he says.
"Not because I like smoking or anything, but it brings back memories of my friends," Jeon said. "I can hear them talking to me and saying my name."
His Arabic name "" that is, "Ahmed." Another name for the prophet Muhammad. Full name, Ahmed Mograbi Saedi Barga.
In early September, a reporter spotted Jeon traveling with a rebel brigade on the front lines of the Libyan uprising against Col. Moammar Gadhafi. Jeon was wearing a blue Lakers jersey and an amema head scarf gifted to him by one of the fighters, holding an AK-47.
He stood out.
The story sparked a media sensation, and shortened Jeon's time in a country torn by revolution since February.
His actions have been criticized publicly as both senseless and selfish.
Jeon is a calm, athletic 21-year-old who chooses his words thoughtfully and speaks confidently. He originally went to Libya, as he puts it, "to exist."
He wishes he could go back.
"I'm still very invested in the conflict going on," Jeon said. "Many of my friends are out there fighting every day."
***
Before Jeon could help the brigade fight the war, he had to win their respect.
He flew to Cairo on Aug. 22 and worked his way to the rebel-held city of Benghazi. He stood with his thumb out in front of the rebel headquarters. The third car stopped to pick him up.
The next stop was combat. Jeon was an observer at first. For the first time in his life, he saw people die.
Later that day, the general of the roughly 70-person brigade, Absulam Reche, approached Jeon, sizing him up and asking who Jeon was. He wanted to wrestle.
Jeon was part of the UCLA club wrestling team last year. He also took a grappling class at a martial arts center. He managed to get Reche in a headlock, winning the critical respect of the general. He quickly became assimilated among the rest of the group by following their lead. He dove off cliffs, ate and prayed with them.
He also began to spend an hour with Reche every day, teaching him English.
"If anything I think I was a huge morale booster," Jeon said. "And if I put anybody's life in danger, they would have kicked me out."
He found men who were truck-drivers by trade, not soldiers. One of them had lost 10 relatives in the course of the war, Jeon said.
They showed him how to use their model of AK-47s so he would be prepared for combat.
"It's war," Jeon said.
Raw video footage shows him driving behind heavily armed vehicles into a city swarming with people.
A man approaches Jeon's side of the car, shouting exuberantly, "We are free now! We are free!"
After fighting in the field, the group took breaks in the afternoon and evening. They lived in relative comfort, in coastal villas captured in the course of the war. Jeon didn't seem to receive special treatment "" he was one of them, he said.
In one video, Jeon playfully boxes with Reche while another friend acts as a referee, banging a metal pan. When Jeon emerges victorious, his hand is lifted into the air like a prizefighter's.
In another, the camera pans around the room. Jeon lists off the names of his roommates: "Omar, Ameen and Abraham…"
Men smile and talk to the camera, expressing affection for Jeon in broken English. Others talk about wanting to go to America.
They would stay up all night talking, asking him questions. Whether or not he was married, how much rent cost in Los Angeles, questions about his family. The men particularly loved Bryan Adams, Avril Lavigne, JoJo and Justin Bieber songs.
Jeon did not speak a word of Arabic coming into Libya. Now, when he speaks, he uses Arabic phrases frequently.
***
His life points to a talent for assimilation and a desire for bold experiences. The winter of his first year in college, Jeon traveled alone to a remote orphanage in Cambodia.
The following summer, he spent two months in the Amazon with an indigenous tribe, hunting piranhas for food.
In January, he and his close friend Ross McCray went to Seattle and stayed for a week with only $1 in their pockets and the plane ticket home. The pair lived on the street and begged for food.
In Libya, he fasted with the soldiers during Ramadan and participated in prayers.
"He thrives on new environments," said McCray, a third-year mathematics student at UCLA. "Until you're actually there experiencing it, you're not going to know what it's like."
In an email, his father, Peter Jeon, said his son "wants to explore life in a deep sense."
The Libya trip began as an exploration for his son, he said. Jeon was only there for about three weeks "" the time in between the end of his internship at an investment banking company and the start of school.
The nature of the trip had changed by the end, however.
"As he understood their struggle and as his bond with them grew stronger, this trip became about friendship for Chris," Peter Jeon said.
Chris Jeon's movements were followed with hot intensity in America after the news broke. He remained unaware of the uproar until five days after the first interview, when a translator with Al Jazeera spotted him.
He was unfazed by the thought of international attention. But he immediately contacted his parents on a satellite phone to let them know he was safe. At that point, his father urged him to come home.
Members of the brigade escorted him to the border of Libya and Egypt, wanting to see him off safely.
***
Driving in Libya meant hanging onto the back of a Toyota Land Cruiser welded with an anti-aircraft weapon, the barrel of the gun in his hand. The threat of artillery shellfire hovered over his head.
Jeon observes, driving a stretch of Pacific Coast Highway, there are traffic lanes. Seat belts. Speed limits.
"Do you guys like bass?" Jeon asks with a grin. His Nissan Xterra and surrounding street shivers with an eardrum-rattling version of Young Jeezy's "Air Force." He installed the bass system himself "" he works part-time as a mechanic in Santa Monica.
But Los Angeles is different, he says. It feels different.
"I don't feel like I belong here yet, you know," Jeon says, staring straight ahead. "I haven't really gotten used to Los Angeles yet."
This is coming from a lifelong Southern Californian. Jeon was born at UCLA, in fact, delivered at the Center for the Health Sciences in the pre-Ronald Reagan Medical Center days.
Back on the UCLA campus, he's finding it difficult to relate to people, to have a normal conversation.
His friends have seen subtle changes. Already on the quiet side, he's now a little more reserved, said James Tsuffis, a fourth-year economics student.
Some have asked Jeon if he had a good time. That upsets him.
"Nobody should ask me that," Jeon said.
He reads the news of the Libya conflict daily. He said he wants to speak with Libyans in Southern California about the human aspect of the conflict.
Facebook is a crucial point of communication with the people he met in Libya. Last week, he learned his friend Hassan had died.
Coming back abruptly to focus on school has been equally difficult. He feels he hasn't had an adjustment period.He was previously on track to study finance. Now, he's looking at book and movie contracts.
His three weeks in Libya are visually represented on his wrists and a silver pendant around his neck.
One side bears the letters "L.A.," for his hometown. The other side bears the words "Fear" and "Nothing." In between the two words is the Arabic character for the word "Inshallah" "" "God willing." He made it himself after Libya, as one more reminder.
***
Jeon takes off the necklace before striding out into the Pacific Ocean behind Tsuffis. The pair came to Venice Beach that day to swim out into the open sea.
Tsuffis hates cold water. Jeon is "absolutely scared" of the ocean "" he nearly drowned on Huntington Beach at age 8. But there's a reason for today's venture.
"I do this to explore myself, to grow as a person," Jeon said. "That's why I do it. I'm not looking for thrills. … This is all exploration of myself, what we are."
It's a local example of his desire to push himself in environments where survival is the only objective. Jeon and his friends, including Tsuffis and McCray, abide by a "never-say-no" policy.
Before taking steps toward the water, Jeon admits that at that moment, he's feeling fear. But he shrugs it off.
"We'll see what happens," he says, with an easy smile.