Concert Review: Bruin Bash (Starting Six, Kendrick Lamar, Childish Gambino and Major Lazer) Drake Stadium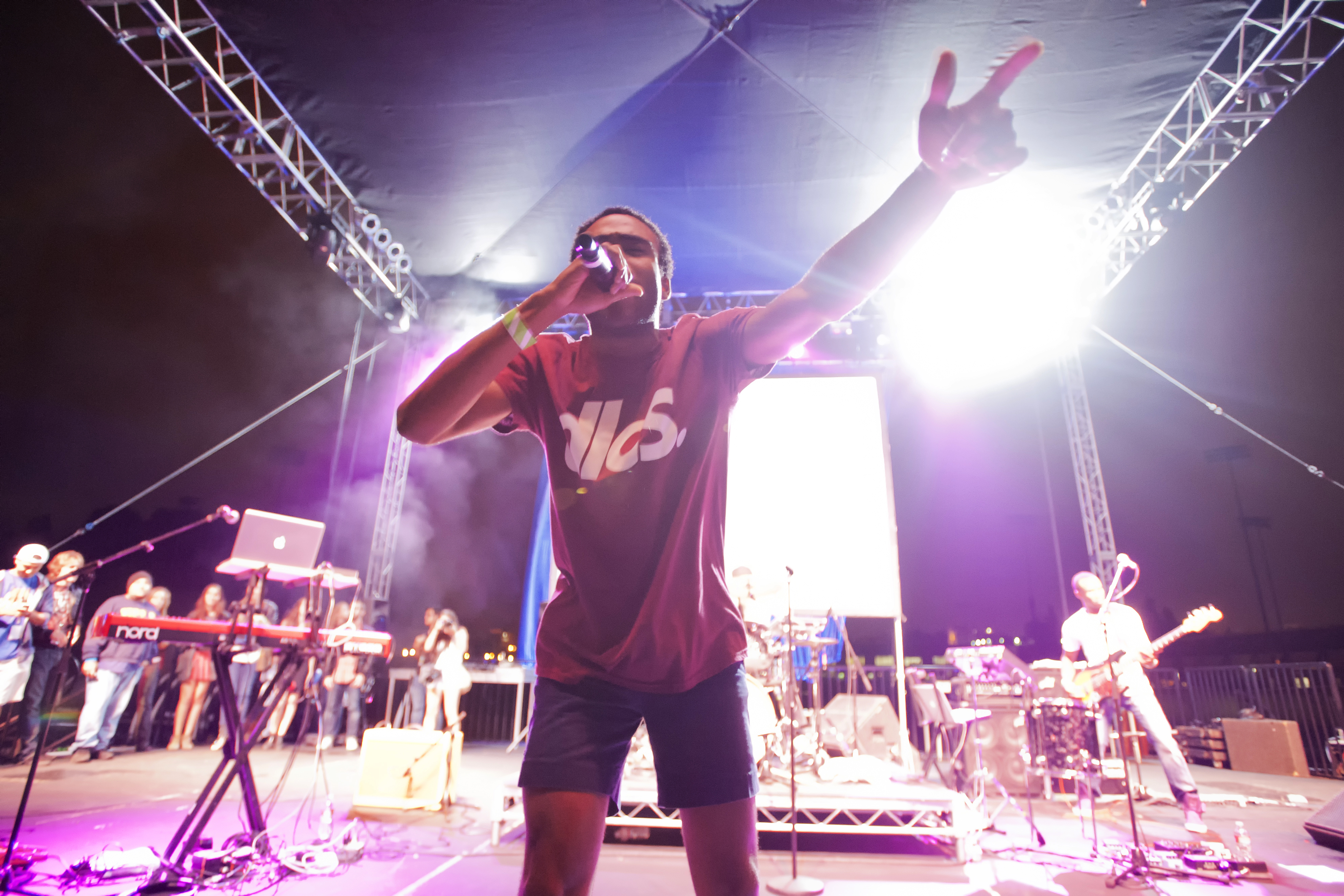 Childish Gambino (aka Donald Glover, star of NBC's Community) performs on the stage set up at Drake Stadium for Bruin Bash.
By
Daily Bruin Staff
Sept. 21, 2011 11:47 p.m.
This year's Bruin Bash concert certainly did not lack in enthusiasm. But it did lack in musical variety and fell short of success despite a standout performance by Childish Gambino.
After a solid pre-concert DJ set, Starting Six made its way on stage and proceeded to encourage the crowd to make a lot of noise. Though the group's enthusiasm was genuine and admirable, its music was largely devoid of catchy beats or well-written lyrics.
After Starting Six came Kendrick Lamar, whose down-tempo, lyric-heavy musical style dug him a hole that he could not quite climb out of. Though that was no fault of his, Lamar needed prominent and heavy beats which simply aren't a large part of his music. Lamar's performance was certainly not entirely bad. Some of his lyrical work was excellent (though much of it was sexist and offensive), the highlight of which was a freestyle at the end of his set. Unfortunately, the crowd seemed to have lost interest by that point.
By this time, Bruin Bash was in need of a bit of rejuvenation. Enter Childish Gambino, otherwise known as Donald Glover, who stepped up and filled the role nicely. Glover, backed by a full band that included electric bass and guitar, three different drums and a violin, put on a sterling performance, which proved that he has the skills to be a major force in the rap scene within the next year.
Witty, incisive lyrics, great instrumental accompaniment and Glover's boundless energy combined to form, by far, the most complete and skilled performance of the night. Childish Gambino played some of his biggest hits, including "Freaks and Geeks" as well as a couple songs off an upcoming album, one of which was "Bonfire," one of the best songs of the night. It was a sad moment when Childish Gambino's set finally ended, and many members of the crowd took up a chant of "Gambino" in an unsuccessful attempt to bring Glover and his band back for an encore.
Major Lazer followed Childish Gambino, and while Diplo provided solid DJ work, the performance did not have the depth of its predecessor. Though the sampling was done expertly, it felt similar to the other DJ sets that filled the space between the other acts.
Even hype man Skerrit Bwoy's enthusiasm couldn't bring Major Lazer's performance up to Childish Gambino's level, and the pantomimed sex between Skerrit Bwoy and the dancer on stage felt like a gimmick which took attention away from Diplo's hard work and great energy.
Though Bruin Bash was a high energy event this year, it unfortunately left quite a bit to be desired after a concert that could have used more musical variety despite a show-stealing performance by Childish Gambino.