Summer mentality can help during the school year by reducing stress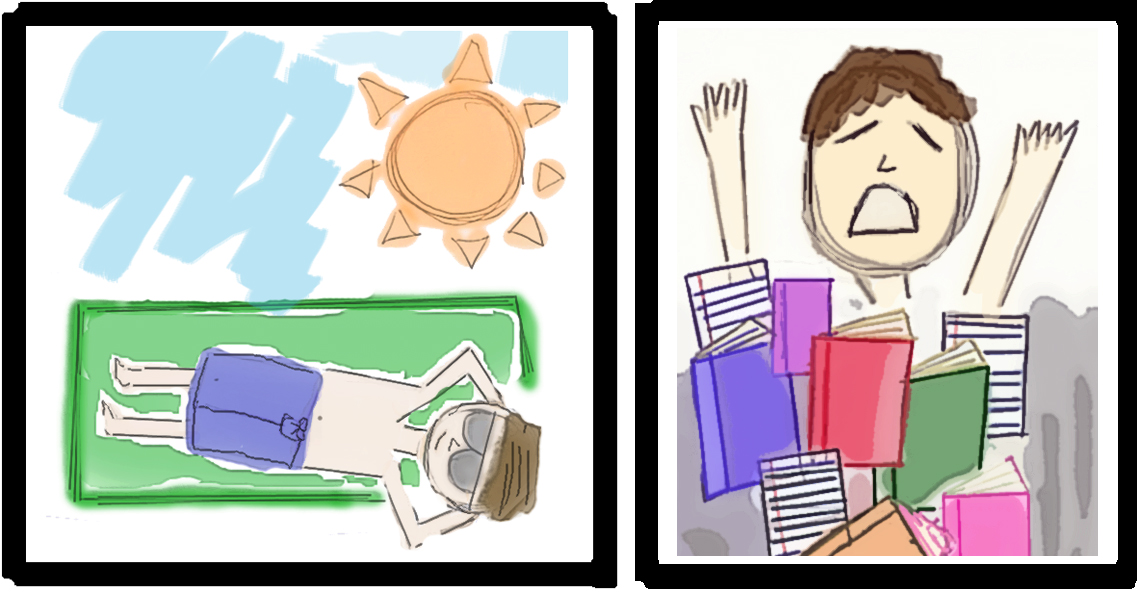 September 13, 2011 2:16 am
The only time other than New Year's when numerous new resolutions are made seems to be the start of every school year. Many students prepare with the same mantra: go to class, study hard and try and achieve a 4.0.
We dramatically stray away from our summer mentality of relaxation and rest and force our bodies, mentally and physically, through a rigorous string of activities and courses.
The experience was no different for me. Last year, coming into UCLA, I took 19 units and joined countless clubs and groups.
Doing all of that would have been fine if I didn't add fuel to the fire by coupling all of my activities with unneeded pressure.
My goal was to go through 11 weeks of studying and participating in extracurriculars, thinking the high-octane intensity and the pressure I forced onto myself would pay off with a stellar GPA and leadership positions. But what I got instead were sleepless nights, mornings where I could hardly get up and a cloud of fatigue that followed me everywhere and essentially prevented me from enjoying my college experience.
I encourage students to take school seriously, but I do believe students are constantly under pressure, and it's not the kind Queen and David Bowie were singing about.
It's the kind that students endure all year long, one that wears down on their well-being, both physically and emotionally.
Pressure does not only adversely affect our mental well-being, but it has shown to be detrimental to our physical capabilities. A study showed that stress is linked with many ailments including heart diseases, arthritis, osteoporosis, diabetes and certain cancers.
Pressure can kill, and students need to be wary of it.
Overloading yourself only results in neglecting something, whether it be a class, a club, or friends "" pressure does not help you do better in college. It hinders your development.
Students who take summer courses best exemplify my argument that not putting pressure on themselves is beneficial, in that students are able to focus on schoolwork but still manage to reap the benefits of summer. This time provides a great backdrop for a student, because it allows for productivity without adding stress.
Additionally, many students take summer sessions to have a lighter workload during the school year. If students can approach summer classes with a relaxed and successful attitude, why must they change their mindset once fall approaches?
It's one thing to be involved in so much, but it's another to force your mind to be subject to such torture. Pressure is psychological yet it often causes us the most real pain. Pressure prevents us from accomplishing goals we normally would have without its intrusion.
We often celebrate sports stars who are able to come through in the "clutch." They make plays in high pressure situations, which garner applause and appreciation from the crowd.
But what the crowd may forget in the excitement is that the same play would have been both physically and mentally less stressful had there not been any pressure at the start.
Making a free throw in the first two minutes of a game is a lot easier than trying to make it during the last two minutes of the game. The physical act is the same, but the mental state of the person is different. Athletes cannot escape the pressure, but students can.
Students create their own pressure, and it's their own need to succeed that becomes their greatest obstacle.
Regardless of my advice, many will not heed my warning. I conclude that for students who cannot go on living without adding pressure to their lives should consider investing in planning. Planning ahead "" no matter how swamped or busy one is "" diminishes stress greatly and still allows for everything to be completed.
Students should take whatever courses and join whatever clubs they want, but they should try to avoid adding pressure to the mix by maintaining that summer mentality.
Summer tends to provide the best balance with work and relaxation; it provides late nights and friends, but that does not mean nothing gets done in the summer.
Being successful is just a state of mind, and as long as they are mentally willing, anything is possible.
Not only will a new mindset allow for better physical and mental health, but it will also help pressure get lost in the confines of a summer state of mind.
How will you attempt to relax fall quarter? Email Viswanathan at [email protected] Send general comments to [email protected]