Westwood's new Business Improvement District hopes to restore the Village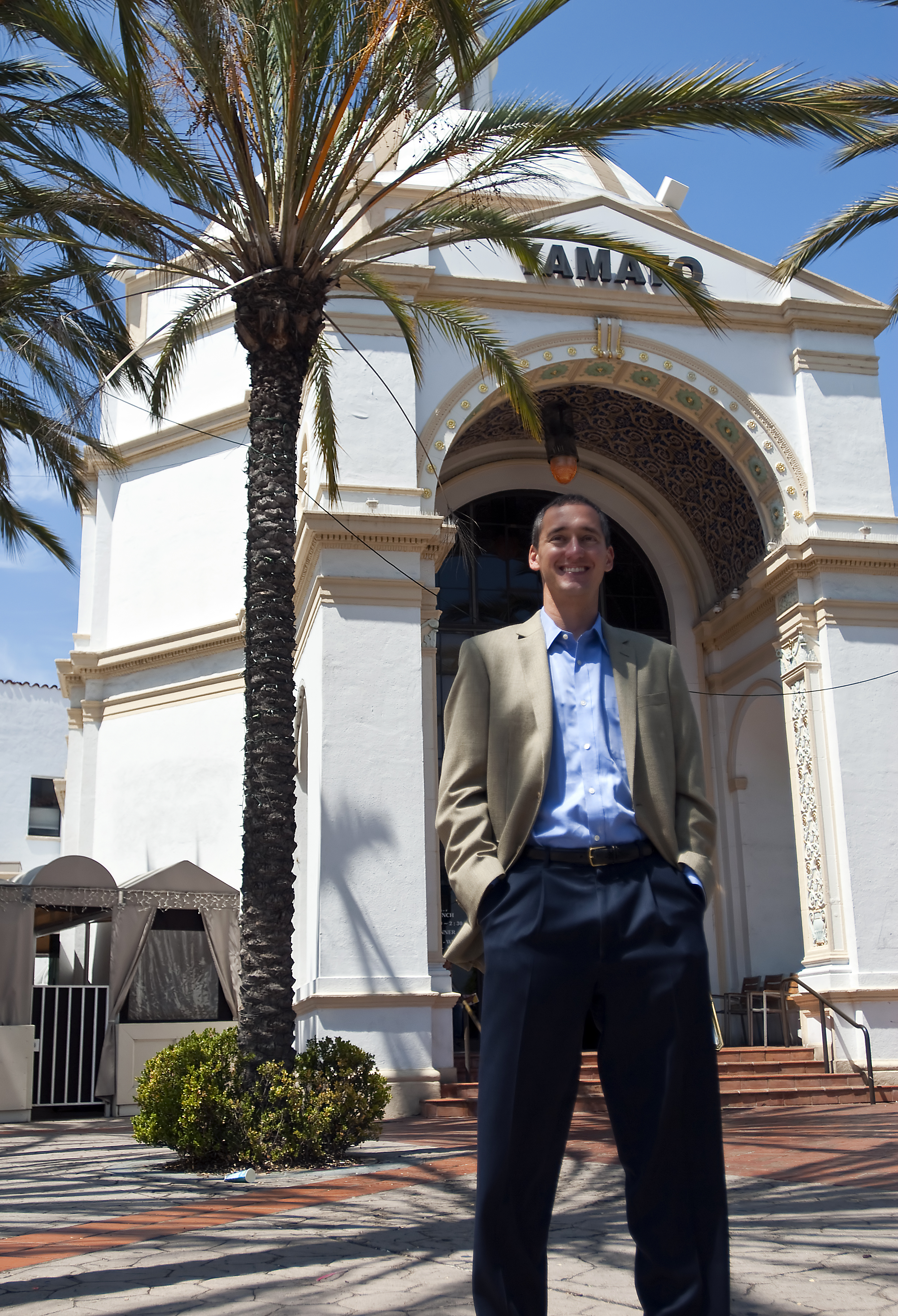 Andrew Thomas, executive director of Westwood's Business Improvement District, stands before one of Westwood's landmark buildings. With a budget of $1.3 million, he is charged with revitalizing the Village.
Andrew Thomas marches up Westwood Boulevard toward UCLA, stopping to point out gum on the sidewalks, overgrown trees and a Daily Bruin newsstand in desperate need of a paint job.
The executive director of the new Westwood Village Improvement Association frowns and shakes his head disapprovingly.
"Do you see what I mean?"
Pausing at the Le Conte Avenue intersection, Thomas looks across the street to UCLA turf.
There the street is clean and well-maintained by university staff. The contrast with Westwood Village is stark.
For years now, the village has been neglected by many basic city services, Thomas says.
He points across the street and says, "What you see over there, I want it to look like here."
Thomas knows this kind of change is achievable "" he's seen it done once before.
Previously the director of operations for Santa Monica's Business Improvement District, he helped construct the largely successful campaign to combat homelessness and deteriorating conditions. Now he aims to bring many of the same strategies to Westwood.
Thomas is by no means the first to tackle the revitalization of the village. Since 2010, two councils have been created to represent local interests and work to reverse a decades-long decline.
What sets Thomas apart is money. As manager of the day-to-day operations of Westwood's Business Improvement District, he will have access to a $1.3 million annual budget, collected mostly in taxes paid by property owners in the Village.
At the BID's first meeting on Tuesday, Thomas presented a bold vision of what he hopes to accomplish with these resources.
His plan includes "getting folks on the ground" to do regular clean-up and maintenance work.
He also intends to spearhead a new holiday decor program to restore some of the old Village glam. It's been years since Christmas lights have adorned the trees on Broxton Avenue.
"We will do great things," Thomas told a packed room of business and property owners at the meeting. "We won't be able to turn this district around overnight, but we will get there very quickly."
The prevalence of homeless people in Westwood came up as a central concern for many meeting-goers.
Condo owner Bob Ross told Thomas and the BID board of directors that his friends never come to the Village anymore because of the homeless people.
"We drive five minutes away to Brentwood, where the streets are clean and it is free of the sad homeless problem," he said.
Others in the room nodded.
For Thomas this is a familiar concern. In Santa Monica he worked to address the homeless problem by taking a carrot-and-stick approach.
This involves, on the one hand, helping homeless people find food, shelter and medical care, Thomas said. On the other hand, it entails working with police to prevent people from illegally squatting outside storefronts.
"We can't violate civil rights, but we can make the area less comfortable for people to continue on this track," he said.
But before any solutions can be put in place, Thomas will face a number of political and logistical hurdles.
Hardly more than a week into his job, he still needs a phone, fax machine, permanent office, business cards, logo and "" not insignificantly "" a bank account.
More challenging yet, he must pull together a coalition of stakeholders who have a history of open mistrust. At the meeting, tensions flared between business and property owners over the issue of fair representation.
Property owners hold 10 out of 14 seats on the BID's board of directors, and they are theoretically responsible for paying for the BID.
In practice though, leasing agreements allow a majority of property owners to pass costs on to the business owners they rent to, fueling resentment and a sense of inequity, said Philip Gabriel, who owns Scrubs Unlimited and Baskin-Robbins in Westwood.
Gabriel expressed his displeasure to board members at the meeting.
"There are only three of us on the board, but we pay 60 percent of the BID's budget," he said. "I think we need another merchant."
There is also the matter of Westwood's notorious history with business improvement districts. In 2002, an earlier BID was shut down amid reports of gross financial mismanagement and transparency violations.
In 2004, the city controller released an audit detailing how the organization had ended up more than $200,000 in debt.
Thomas' response to all these concerns: "I get it."
But he is optimistic that people will put aside their differences and focus on the future. A cleaner, safer village is in everyone's interest, he said.
The new BID has just more than two years to prove its merit. In as little as 15 months, it will begin a process of reassessment and possible renewal by the city.
"I'm hoping for people's trust, but I'll settle for the benefit of the doubt," Thomas said.