Anderson School of Management hosts Entrepreneurial Bootcamp for Veterans with Disabilities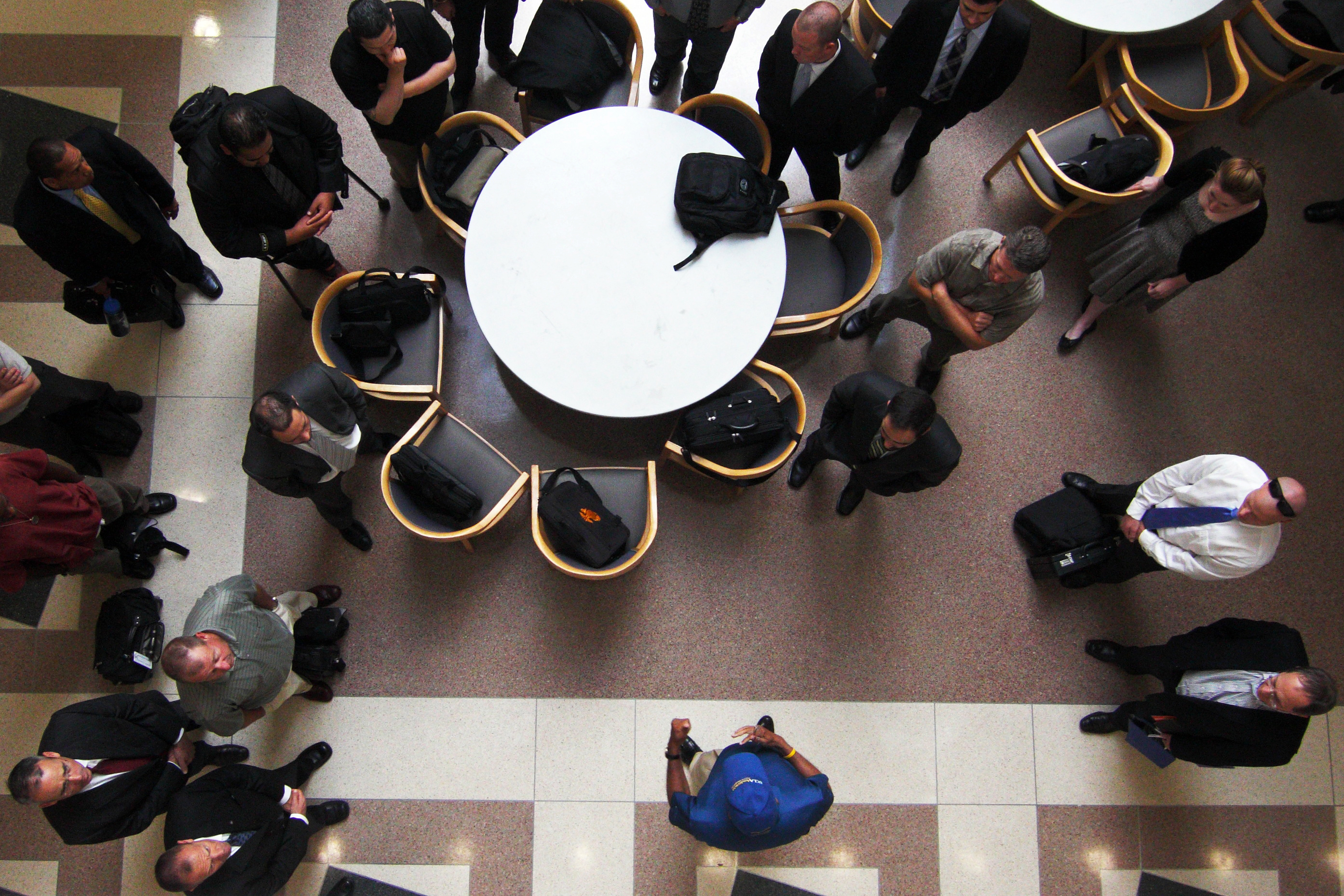 Senior Associate Dean Al Osborne talks to the participants of the Entrepreneurial Bootcamp for Veterans with Disabilities hosted at UCLA.
The UCLA Anderson School of Management's fourth annual Entrepreneurial Bootcamp for Veterans with Disabilities held its graduation dinner Saturday at the Bel-Air Country Club.
Twenty-two veterans celebrated the end of nine days of intensive on-campus training, which took place from July 23-31 at UCLA. The nine-day residency is part of a larger year-long program that provides education and training to disabled veterans to help them pursue entrepreneurship goals.
The group of program graduates included 28-year-old San Diego resident Misty Birchall. Two years after leaving the Navy in 2007, Birchall poured her creative energy into something a bit unexpected for a recent veteran: creating unusual cupcake flavors.
Birchall, who suffers from an extended hip flexor that limits her mobility, decided to found a bakery that specializes in cupcakes infused with the flavors of local craft beers.
Starting a cupcake bakery from scratch was not easy, Birchall said. But with the aid of a $10,000 grant from the Disabled Veterans Assistance Foundation, she opened a storefront for PubCakes in San Diego in February.
Then, through the Disabled Veterans Assistance Foundation, Birchall discovered the entrepreneurial boot camp to give her even more of a boost.
The program, offered free of charge, fills a distinct need, since many veterans who are injured in the course of their service have a hard time finding traditional occupations because of their disabilities, said Elaine Hagan, executive director of the Harold Price Center for Entrepreneurial Studies at UCLA.
While some of the veterans in the program have physical disabilities such as chronic back pain or rely on prosthetic devices, others suffer from traumatic brain injuries or post-traumatic shock syndrome, Hagan said.
"Many of these people thought they would be in the military for their whole careers, and now they're looking at entrepreneurship as a way to provide income for themselves and their families," she said.
During the nine-day residency, the veterans stayed at a hotel and attended on-campus lectures and workshops led by Anderson professors on topics such as business operations and resource planning. Participants also heard from guest speakers, such as representatives from Union Bank and UCLA Campus Purchasing.
Some participants, like Birchall, already have established businesses. Others are just beginning to see entrepreneurship as a career option, Hagan said. For instance, Mike Klepacz, an Air Force veteran, is trying to market his Quik Wick invention, a hemp wick dispenser.
The boot camp provided the practical knowledge he needs to pursue his goals for his invention, and the motivation to take the skills that he has and make them work for his product, Klepacz said.
"Coming from the military, we all have that incredible drive to focus on our mission," Klepacz said. "What we've learned here is how to take that drive and hone it towards something of our own."
Likewise, Army veteran Robert Armstrong is leaving the program with new ideas to help his information technology consulting and staffing firm expand. During lectures, it was clear how much the professors loved what they did, which instilled a fervent sense of motivation in the students, Armstrong said.
"I don't think I've ever been more driven to do what I want to do for myself, for my family and for my community," Armstrong said. "These guys have got me so pumped up; I'm ready to go home and get to work."
Birchall said she felt that one of the most valuable parts of their time in the classrooms was brainstorming and getting critical feedback.
"It really showed me what areas I'm weak in, which is what I wanted to know coming in," Birchall said.
"I have an entire page of action items of things to do when I get back "" it's awesome."
Birchall said she felt the boot camp's strength lay not only in the interaction and feedback from other students but also in the program's focus on building strong ideas.
"When you have an idea that no one has had before, you just want to take it and expand it," she said. "It's an empowering and exciting thing, and that's what this program does. It helps strengthen our ideas."