Fourth-year psychology student Solveig Deranteriasian dedicates life to drums but hopes to attend graduate school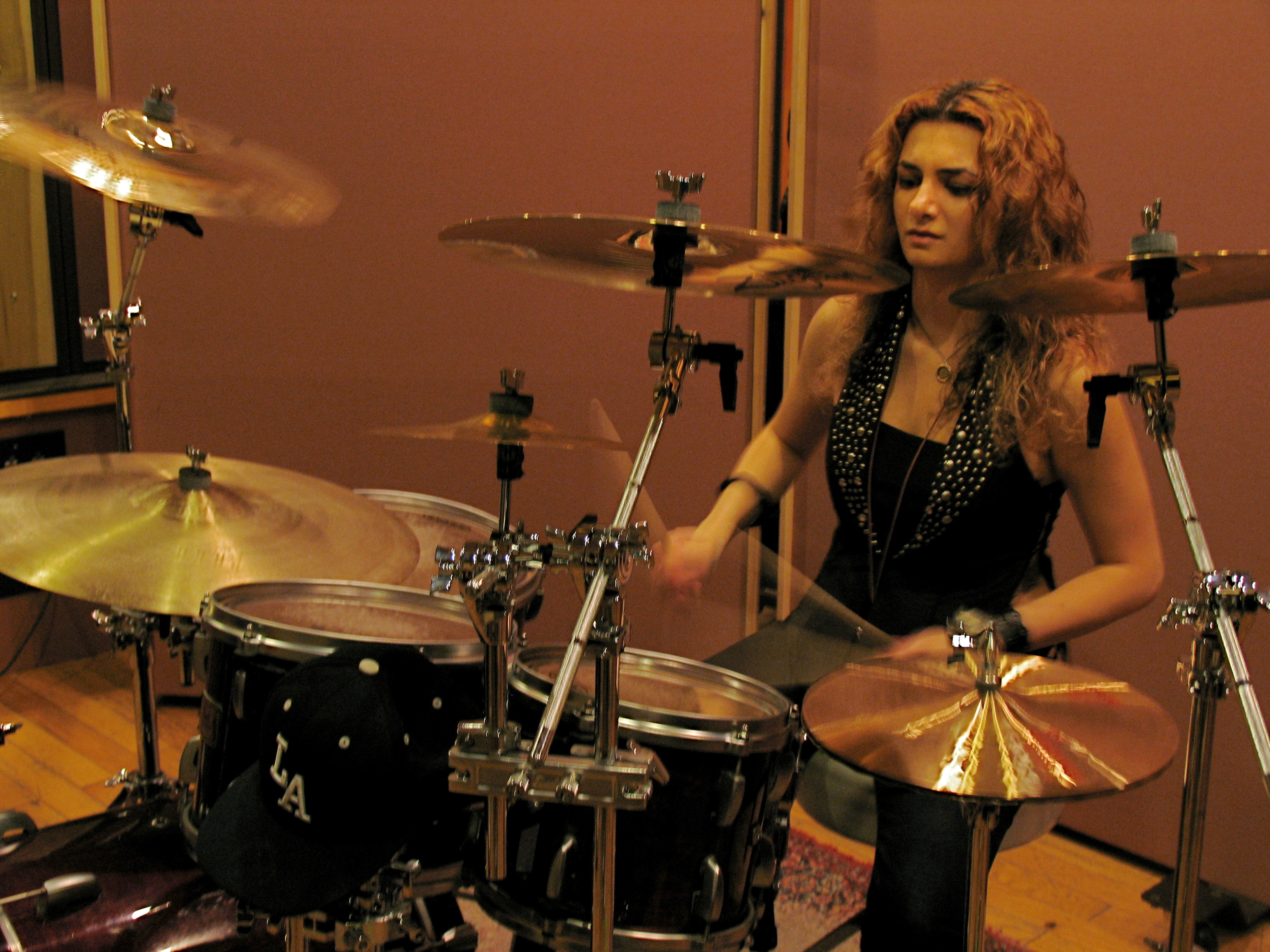 Solveig Deranteriasian rehearses drumming at Pacifique Studios, her family's recording studio in North Hollywood. Deranteriasian mixes the intensity of metal music with the grooves of hip-hop and rap.
(Courtesy of Solveig Deranteriasian)
Printed across the top white layer of the middle drum, the words "Power" and "Determined" serve as inspiration for fourth-year psychology student and drummer Solveig Deranteriasian, who also goes by her musical nickname, "Sozo." As she begins to beat her drums with greater intensity, the delicate white skin of the snare head breaks, and she stops to replace it with her calloused hands. Minutes later, she continues to play as if nothing happened.
Popping snare heads and cracking cymbals are frequent occurrences during one of Deranteriasian's intense eight-hour rehearsal sessions at her family's North Hollywood recording studio, Pacifique Studios. Her popped snare heads, which she labels with motivational phrases such as "Live by Passion" and "Play with Power," are displayed on her apartment walls.
She said the drums give her push and confidence as a person, and the high intensity of metal music has a large influence on her drumming style.
"Metal matches my personality. I think it adds something the song didn't have before," Deranteriasian said. "I love extreme drumming. … (It has) a lot of speed and technicality."
Elie Nseir, a close friend of Deranteriasian, said that Deranteriasian is serious about her music and is sometimes a perfectionist.
"She's very technically proficient yet very passionate as well. She doesn't joke around," Nseir said.
Deranteriasian, who plays the bass, guitar, drums, piano and also writes and sings her own songs, grew up in a musical family. Her father and uncles built Pacifique Studios 30 years ago, and since then, artists such as 50 Cent, The Game and Beyonce have recorded their songs at the studio.
In fact, during one of her rehearsal sessions at the studio, Grammy Award-winning audio engineer Steve Baughman, who mixes music for artists such as the Pussycat Dolls and Snoop Dogg, complimented her drumming.
"Baughman comes in (to the studio) and is shocked that I play eight hours straight," Deranteriasian said. "He would start head-banging while watching me. Stuff like that pushes me to be a better drummer."
According to Deranteriasian, one of her specialties is the double bass, and she likes to put a touch of metal on hip-hop and rap.
"I'm inspired by groove. I make my beats something people can dance to, with a little bit of spice and speed," Deranteriasian said.
Deranteriasian said she wants to focus fully on music and hopes to break into the industry to play alongside big-name artists. She also said because she's a female drummer, she is more susceptible to negative criticism.
"You just get a lot of extra pressures from people because you're a chick, and you're looked at more critically rather than if you're a male," Deranteriasian said.
After she graduates, Deranteriasian plans to play shows with Undermine the Effect, a band she started four years ago. She said she will release song covers every two weeks on her YouTube channel. Her first video is a cover of Katy Perry's "E.T." and was produced by Ken Deranteriasian, her Grammy-nominated audio engineer uncle.
Solveig Deranteriasian's best friend growing up, Lena Najarian, said that audiences can feel her passion when she's drumming at all times "" whether she's alone or in a band.
"Watching her, you can feel the fire in her every single time. It doesn't matter who's around her. You can have the biggest name in the industry next to her, and she's just focused on her and the drums," Najarian said.
Aside from music, Deranteriasian said that she wants to focus on going to graduate school for psychology after she reaches her goal of hitting the mainstream.
"I still crave knowledge. I'm not going to forget about education," Deranteriasian said. "I have my intellectual self, Solveig, … and also the rebellious songwriter drummer, and that's "˜Sozo.'"
Deranteriasian said she is often compared to popular drummers such as Travis Barker because they both incorporate heavy drums in their music, but she said that every drummer has his or her own approach to drumming.
"For drummers, there's competition, but no one is the best drummer. You can say you bring a different flavor to drumming," Deranteriasian said. "I'm not trying to be Travis Barker. I'm just trying to be "˜Sozo.'"