Task force proposes to supplant Bruin OnLine email with Gmail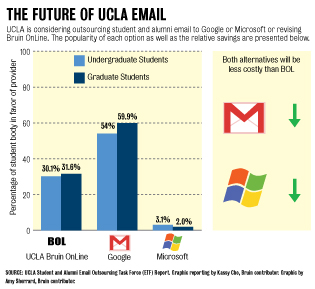 UCLA is considering outsourcing student and alumni email to Google or Microsoft or revising Bruin OnLine. The popularity of each option as well as the relative savings are presented above.
In response to a growing use of Google services across campus, a task force of students and faculty has proposed moving UCLA's Bruin OnLine email to Gmail.
The switch would provide access to collaborative tools, such as Google Docs and Calendar, which are currently not available on UCLA's mail server.
A survey sent out by the task force indicated that about half the student population is already using Gmail and would prefer it to BOL. On the other hand, faculty used their campus-provided email accounts more often than any other account, and were less in favor of outsourcing.
A board of students, faculty and administrators will vote on the proposal on June 1. If approved, it will go on to further faculty and administrator committees that will make a final decision on the proposal, said Jim Davis, vice provost of information technology and an ex-officio member of the voting board.
"There are a lot of public (collaborative) tools … that many are using effectively for things on campus, so the task force was looking at how we might best take advantage of these tools," Davis said.
If everything goes well, the hope is that a switch to Gmail can be implemented by fall quarter, said Julie Austin, co-director of the task force and IT director for the UCLA School of Engineering and Applied Science.
Austin said moving to Google would be cost-neutral because Bruin OnLine is open source, which costs about the same as Google, and UCLA still has to maintain the existing system for faculty.
She added that outsourcing to Google would free up a lot of the IT department and its resources.
As students are more familiar with Gmail, staff may spend less time answering student questions and more time on other projects, Austin said.
"Outsourcing to Gmail with the entire tool package of Google (Docs), Calendar and online chat would be thousands of dollars less than if we developed the same features for BOL," said Kristina Sidrak, internal vice president of the Undergraduate Students Association Council and a student representative on the task force.
Undergraduates are currently entitled to a BOL Webmail account and email forwarding after they graduate. Alumni, however, cannot keep their UCLA email address unless they pay a fee.
"With a UCLA Gmail account, you get the UCLA branding and you get to use that for life," Sidrak said.
Austin said the main concern with outsourcing UCLA email is not the cost, but security and privacy.
Open collaboration tools such as Google Docs may compromise personal and confidential research information, Austin said. BOL is on the university network and under the university's full control, so issues can be handled immediately.
Some students, such as third-year psychobiology student Michael Yuan, already choose to forward their emails to Gmail.
"Using (BOL) is a hassle because it's not very user-friendly. I can't really use the search function and … my browsers don't support the interface," Yuan said.
Yuan added that he would like to keep his UCLA email after he graduates.
The UCLA School of Law has already made the move to Gmail. Last fall's incoming students received Gmail accounts, and existing students can choose to move their accounts to Gmail. Other University of California schools, including UC Santa Cruz and UC Irvine, have also outsourced their email services to Google.