Homeboy Industries founder Father Greg Boyle shares tales of kinship he has developed with ex-gang members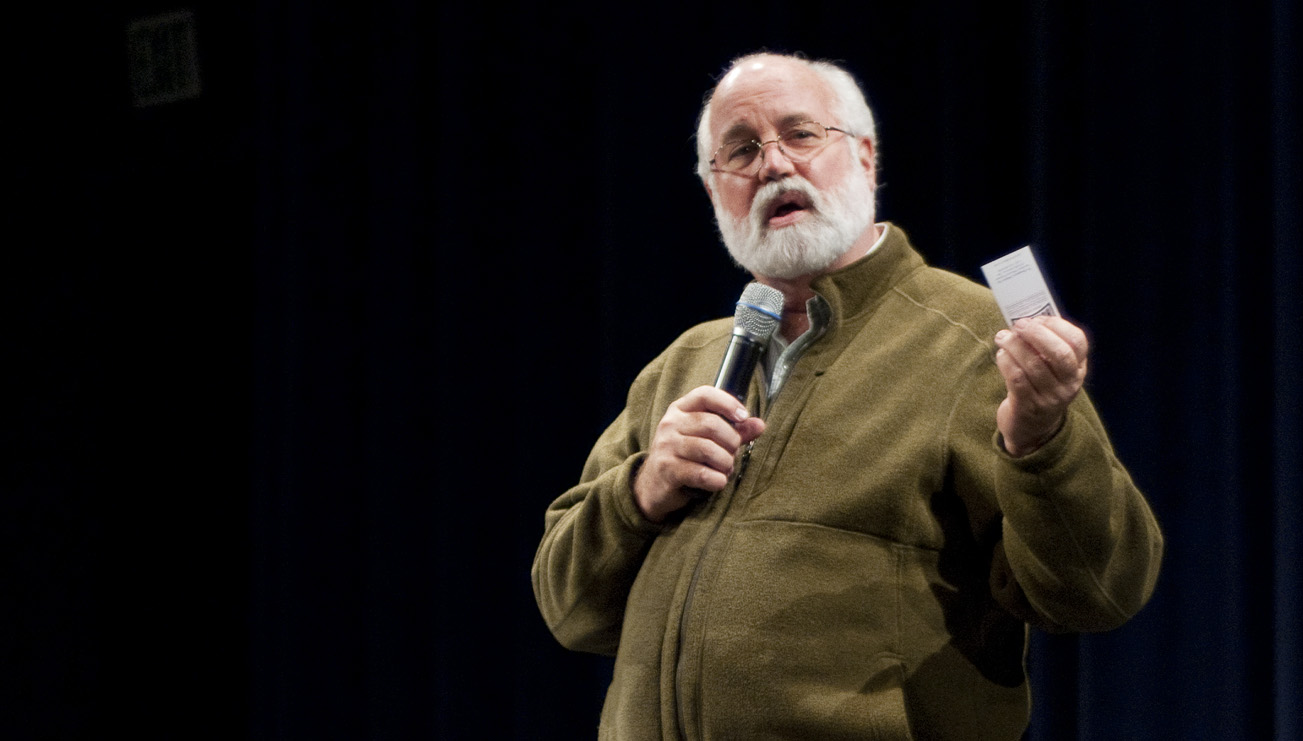 Father Greg Boyle, a Jesuit priest and founder of Homeboy Industries, spoke on the Hill Tuesday night about his experience working with former gang members.
At the headquarters of Homeboy Industries located in downtown Los Angeles, Jesuit Father Greg Boyle works to reform the lives of nearly 200 former gang members.
For some of them, such as Arturo Serna, Boyle is more than a priest who helped them.
"I lost my father when I was 13, and he's really like the man who takes care of me," said Serna, who works at Homeboy as a security guard. "Because of him, I get to feed my family."
Affectionately known to his homeboys as "G," to everyone else, he is Father Greg Boyle, founder of Homeboy Industries, a center that reintroduces former gang members into society by providing them with services including job training, education opportunities and legal aid.
The Jesuit priest spoke Tuesday night on the Hill in front of about 175 people, including students.
Boyle was originally scheduled to speak at the UCLA University Catholic Center on Gayley Avenue, but the center's campus minister, Father Peter Abdella, wanted to expand the audience to the wider campus community.
First-year undeclared student Sofia Jacome attended the talk because her nonviolence seminar on campus sparked an interest in the subject, and she had heard of Homeboy as a downtown resident.
Third-year physical sciences student Joshua Roose said he attended the event because he wants to potentially become involved with Homeboy.
"I'm interested to find out what kind of efforts there are to help inner city gang members," Roose said before the speech.
Rather than lecturing just about his work, Boyle shared personal stories that reflected the relationships he has formed with his "homeboys."
The speech was peppered with colloquial Chicano phrases and tales including learning how to text and helping people find jobs, and most stories elicited constant laughter from the audience.
Boyle's motto is "Never judge a book by its cover," an adage that has resonated with many of the members of Homeboy Industries.
At the event, Boyle spoke about his relationship with his homeboys and the kinship they develop, to the point that one member offered Boyle an organ.
Boyle also explained that his relationships extend beyond the walls of Homeboy. He blessed one former homeboy's daughter before she went to college, and last month buried his 175th homeboy.
Jose Rodriguez has been incarcerated three times and now works at Homeboy as a shepherd, a person who introduces new members of Homeboy to the services it provides. Growing up without a father and living with an abusive mother who would tell him to kill himself, Rodriguez said Boyle is often the first to understand the people who step into the facilities.
"He knows we never had any love. No hopeful kid joins a gang, but what's hope? Tell me what hope is, and I'll tell you if I've had it," Rodriguez said. "Now I know what hope is."
Within the walls of Homeboy, former gang rivalries fall away and are molded into one single community.
Wilfredo Lopez, who works various jobs at Homeboy, said he was surprised when he found out a coworker of his, whom he sat next to every day for months, was an ex-member of a rival gang.
"I didn't even know until months down the line, and (when I found out), it didn't even cross my mind," Lopez said.
Boyle's devotion to his work with gang members is reciprocated by the now-reformed members of Homeboy Industries.
"Before I would die for gangs," Serna said. "Now I would actually die for Father Greg."