Softball misses the magic in regular season finale against Oregon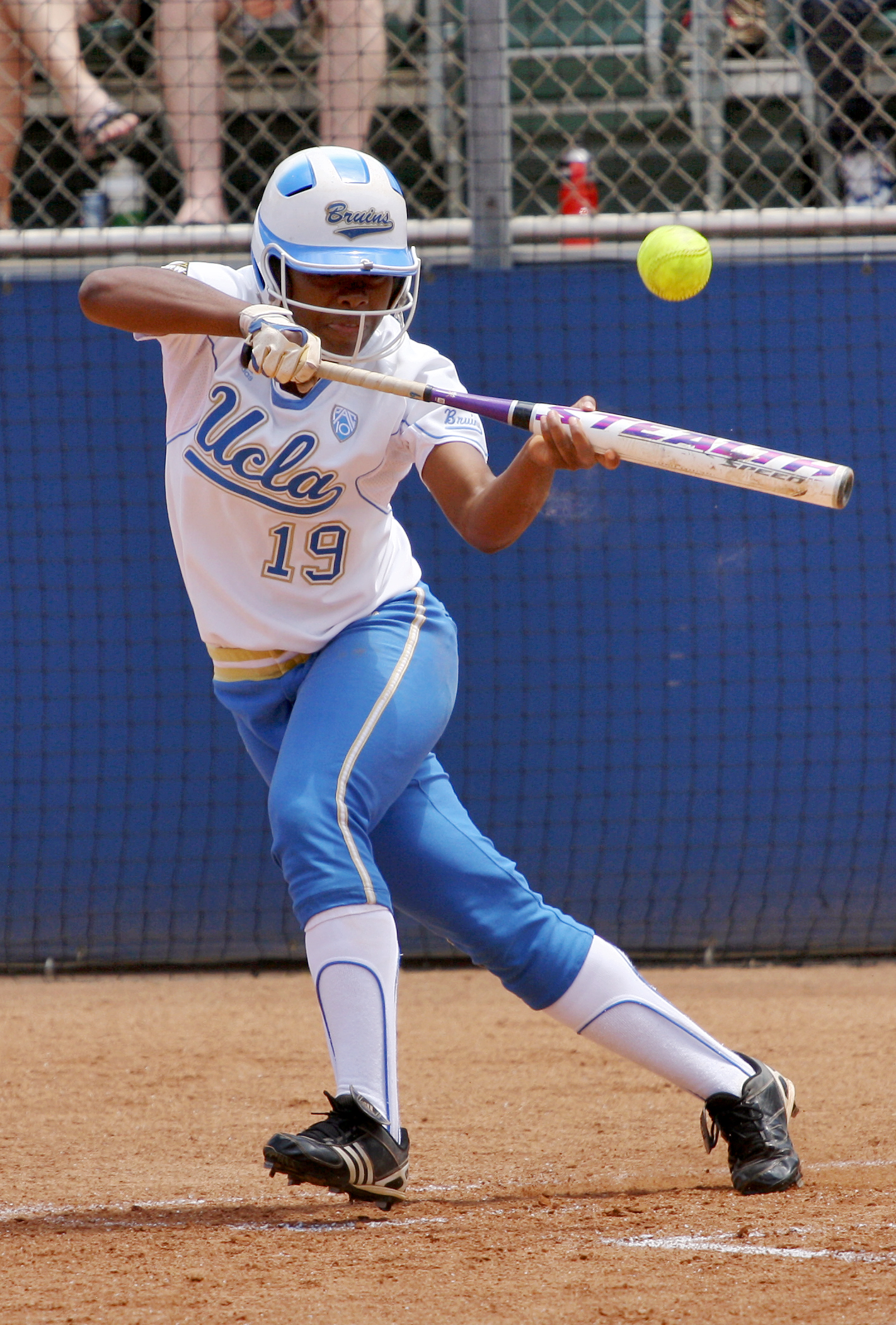 Sophomore B.B. Bates hit a three-run home run to secure a 7-4 victory for the No. 12 Bruins on Friday. UCLA lost two out of three games in the series to Oregon.
Softball
Oregon 5
UCLA 0
UCLA 7
Oregon 4
Oregon 6
UCLA 5
At this time last year, the Bruins had won 13 of their final 15 conference games, including several of the come-from-behind variety.
With NCAA Regionals approaching, the Bruins were confident that their offensive firepower would advance them to the tournament's later stages.
This offensive explosiveness, fondly named "Bruin Magic," conveniently returned for more late-inning heroics in the postseason to carry the UCLA softball team to the 2010 national championship.
Losing two out of three games to the No. 11 Oregon Ducks (39-14, 11-10 Pac-10) from Thursday to Saturday, this year's Bruins have not been able to conjure up that same magic.
"We are not executing or firing on all cylinders and as a result, we aren't getting consistent play," coach Kelly Inouye-Perez said.
When UCLA began the Pac-10 season with four consecutive conference wins, the Pac-10 looked ripe for the taking. Then the No. 12 Bruins (33-17, 9-12) dropped 12 of their final 17, including a six-game losing streak before a 5-1 win over Arizona on May 8.
"I think that this team is capable of a lot," junior left fielder and first baseman Andrea Harrison said. "This team as a group doesn't even realize it yet."
It looked like rock bottom for the Bruins when junior catcher Dani Yudin was hit by a pitch on the neck during UCLA's 6-5 loss on Thursday. She stayed down for 20 minutes before being ushered off of the field on a stretcher.
Despite this, the team maintained its composure and was able to rally on Friday, carving out a 7-4 win.
"The most important thing to do is to get rid of everything that has already happened in the regular season," Harrison said. "It's over with now. This is a time where we have to play UCLA softball, one through seven, against any opponent."
If there was a glimmer of hope for a yet-to-come turnaround, a case can be made for freshman pitcher Jessica Hall, especially after her performance on Friday.
The freshman continued her standout first-year campaign by giving up just two hits and one run in five innings of relief. Her efforts enabled the Bruins to mount a comeback after falling behind 4-2 through four innings.
Sophomore right fielder B.B. Bates was then able to pick up her share of the heavy load, connecting on one of her two key three-run home runs during the road trip that ensured Hall's team-leading 16th win on the season.
The victory on Friday gave the Bruins their first road win in nearly a month, but the defending champions head into the postseason with a sub-.500 conference record for the first time since 1998.
They didn't help their own cause much on Saturday, dropping the regular season finale 5-0.
"It's almost good for us that people are kind of throwing us under the radar right now because they don't really know what to expect," Harrison said. "When Regionals come around, it's usually when this team starts heating up, and I think that it's going to happen for us."
Bates also hit an opposite-field, three-run shot in the first game of the series on Thursday, but an early six-run deficit proved to be too much to overcome for UCLA.
"We need to work together and stick together: That is what "˜Bruin Magic' is all about," Bates said."¨
Postseason seedings announced
UCLA will fly out to Gainesville, Fla., for the NCAA Regional matched up against Jacksonville (43-14, 18-2 Atlantic Sun) in its first playoff game, it was announced Sunday.
Fourth-seeded Florida, the host team, will match up against Bethune-Cookman on the other side of the Gainesville bracket.
It marks the first time since the 2003 season that the Bruins will not be hosting Regional play.
UCLA will play Jacksonville on Friday, but the start time has yet to be announced as of Sunday.