Heated softball rivalry against Arizona rekindles in home game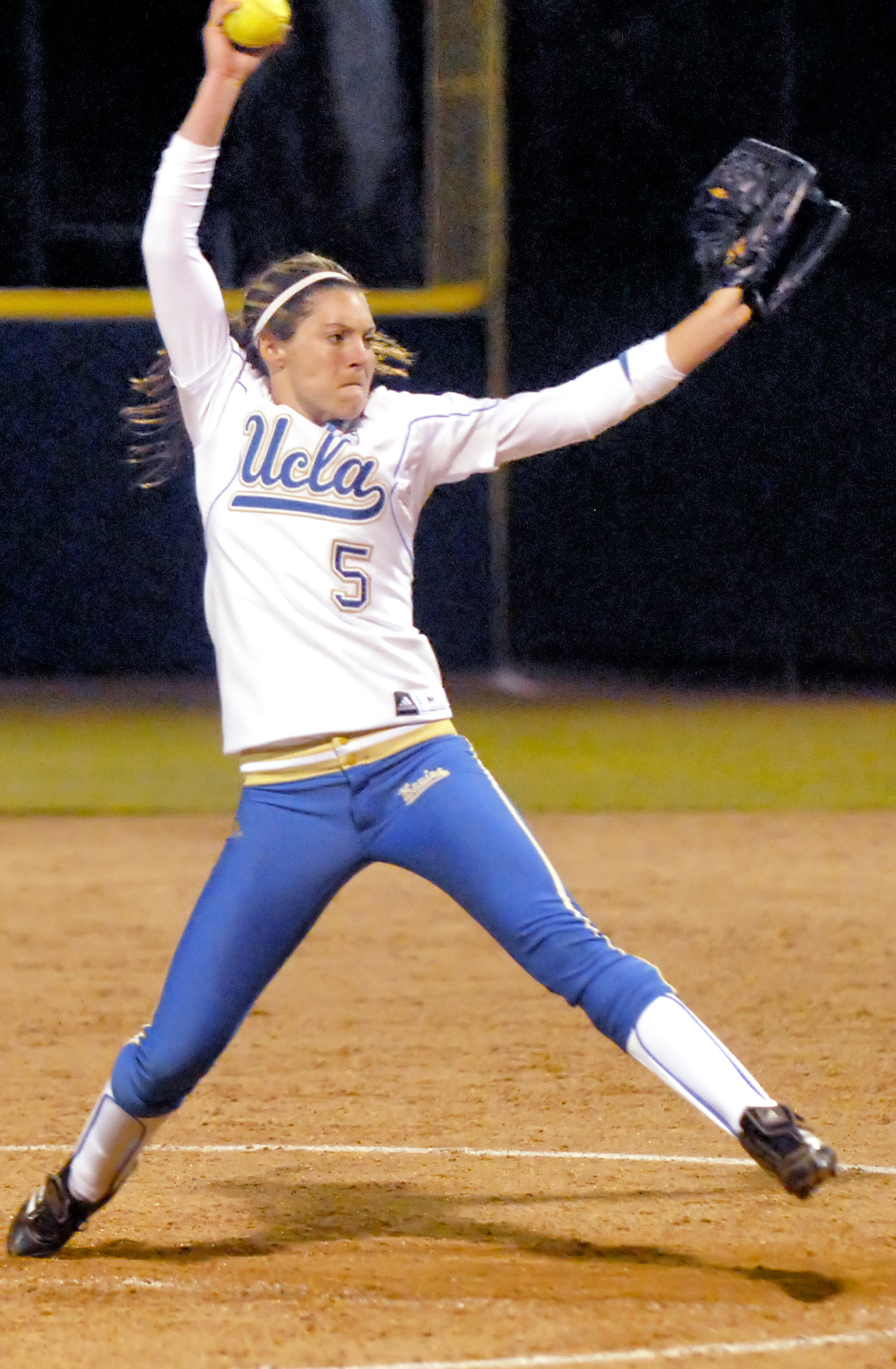 Pitcher Donna Kerr and four other Bruin seniors will play in their final regular-season home game Sunday against Arizona.
Softball
Arizona
Today, 7 p.m.
Easton Stadium
Listen live at UCLABruins.com
From the grasp of her bleeding hands, then-senior star Megan Langenfeld added another chapter to UCLA softball championship lore.
Like Langenfeld's memorable walk-off home run, the Bruins' 2010 championship year was filled with comebacks. Self-proclaimed "Bruin magic," the team's explosive offense peaked at the most opportune time and blasted four home runs in the title-clinching 15-9 victory.
But in sports, jubilation on one side usually means bitterness and disappointment on the other.
And as the players in powder blue led legendary former UCLA coach Sue Enquist and the UCLA faithful in a raucous eight-clap at the conclusion of the College World Series, the stunned red-and-navy-clad Wildcats could only attempt to comfort one another in silence.
This year, the two traditional Pac-10 powerhouses are neck-and-neck record-wise, but unlike previous seasons, are jostling for position in the middle of the conference. This weekend, the two struggling teams will meet in a crucial series at Easton Stadium.
UCLA and Arizona have met in the championship round of the World Series seven times, with the Wildcats having won four titles out of the seven meetings "" the Bruins' 1995 title was infamously revoked for NCAA violations.
Add in 10 other Bruin banners and eight total Wildcat championships, and it can be reasonably concluded that it is the most storied rivalry in all of college softball.
"Playing with this team again and against Arizona is just going to remind us of all the great things we did last year," junior left fielder Andrea Harrison said. "It's one of our biggest rivalries, so it's going to be a great series against a well-respected opponent and I'm just happy we get to play them at home this year."
The No. 11 Wildcats (37-13, 8-7 Pac-10) have lost five of their last six games before beating Oregon 7-6 on Sunday, while the No. 12 Bruins (31-13, 7-8) have dropped four consecutive games, including a mercy-rule loss to California on Saturday.
"The game is something that we need to respect," coach Kelly Inouye-Perez said. "We have to execute play, and we have to be able to get timely hits."
For the Bruins, the rivalry is an opportunity to recreate last year's moments and to re-evaluate the team's position heading into the last stages of the regular season.
"We need to come out of the first inning with a lot of enthusiasm," senior third baseman GiOnna DiSalvatore said. "We know what to do. We have all the tools."
Playing in a rivalry with such rich and acute history should conjure up such strong emotions, and it is perhaps this assertiveness and confidence that the Bruins have not displayed consistently this season.
Against Cal, UCLA struggled to make defensive plays in the infield, as the Bears were able to get on base on weak groundballs and other infield hits.
"It comes down to the fundamentals of the game," Harrison said.
"What helped us last year was our quality defense. As a group, we can definitely tighten up on that. Offensively, it's not peaking at the moment, so we definitely (have to get) better over (this) weekend."
And just as how the offense exploded in the final two games of the 2010 season against Arizona, it may take a series with a familiar foe for UCLA to yield similar results.