Evening Van Service extended south of Wilshire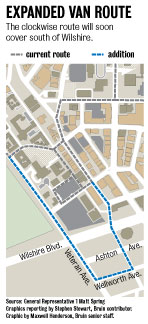 The Community Service Officer Evening Van Service will extend its route to south-of-Wilshire.
Starting this week, the Community Service Officer Evening Van Service route will be extended to run south of Wilshire Boulevard to accommodate greater student demand.
The current route, which runs clockwise around UCLA, will be lengthened to travel down Midvale Avenue to Wellworth Avenue, said Matt Spring, an Undergraduate Students Associated Council general representative. This extension will run from 6 to 11 p.m.
Since the UCLA Bruin Bus stops running at night, Spring said there are no UCLA transportation options for student residents of this area.
"It's difficult for people who live in that area to get back safely," he said. The CSO will be monitoring this experimental route to see how many people use the addition, said Matt Ellis, program manager for the CSO program.
Ellis said he expects the service to have high ridership and said the route will be extended without impacting the quality of service.
The expansion of the van service's path will not require any additional funding, as no new drivers or buses will be used. However, the Evening Van Service is currently short of staff, which might cause a slight increase in wait time, Ellis said.
Currently, the Evening Van Service has four drivers available, and the wait time at each stop is roughly 20 minutes.
The counterclockwise route will not be extended beyond Wilshire Boulevard because of concern that there will not be enough seats to accommodate students wishing to travel in that direction.
Hiromi Aoyama, a third-year communication studies student, has not used the Evening Van Service because it has never taken her close to where she lives on Midvale Avenue.
Currently, she uses a night pass to park in the evening at any parking structure but said she is willing to try the van service if she stays late on campus.
"Most south-of-Wilshire people just walk back (to their apartment)," Aoyama said. "They usually walk back or hitch a ride from someone who has a night pass."
Patty Fang, a fourth-year economics student, takes the UCLA Blue Bus from the campus back to her apartment.
"I would use (the evening shuttle service) because they raised the rates (of the Blue Bus recently)," Fang said.
Between higher rates, random breaks that drivers take during the bus route, and safety concerns, Fang is ready to try something new.