No. 6 UCLA softball falls in upset to No. 13 Stanford's star pitcher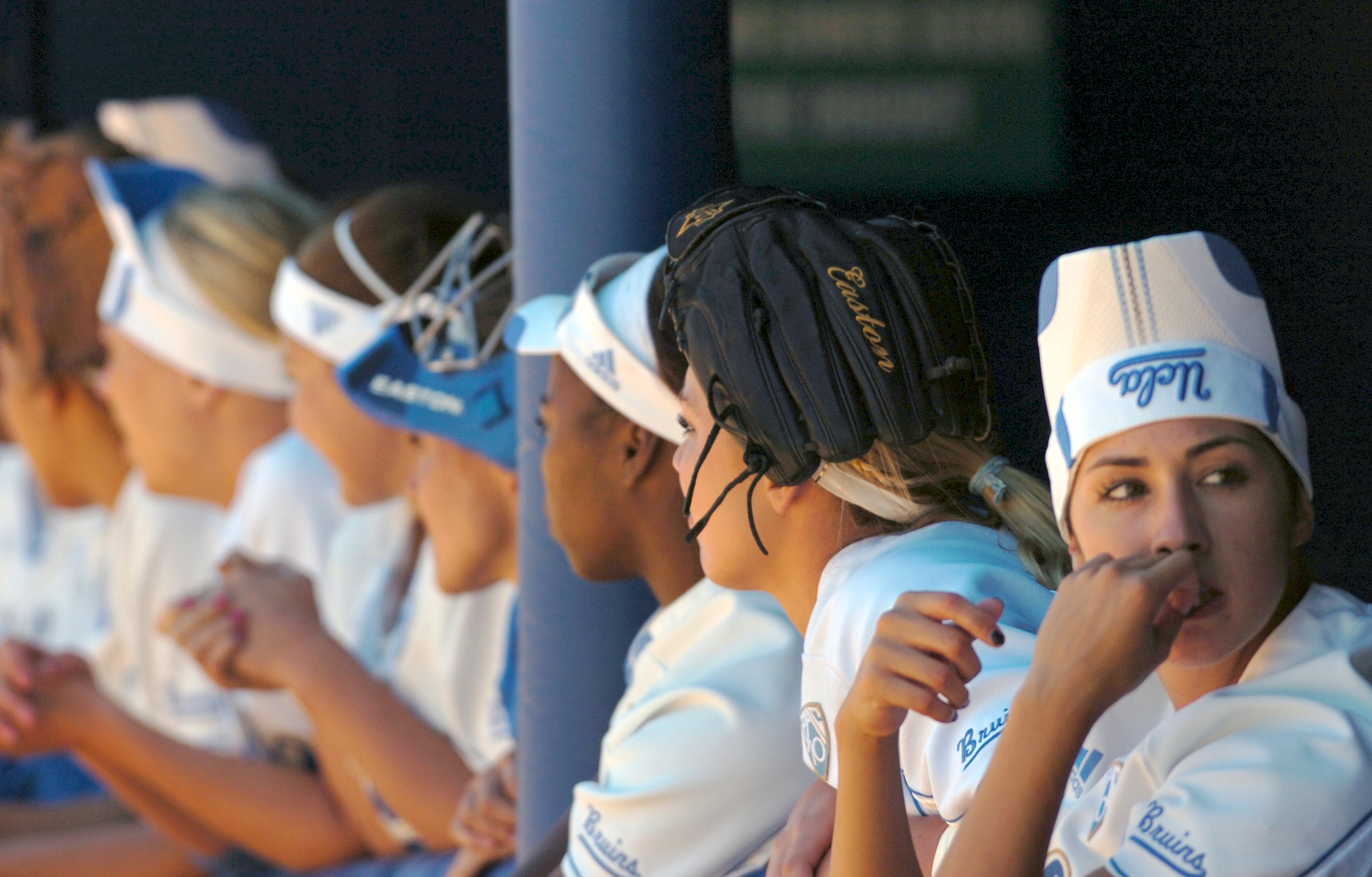 Junior left fielder Andrea Harrison (far right) bites her nails as she and her teammates root for a UCLA rally from the dugout. No. 6 UCLA was upset by No. 13 Stanford.
Softball
Stanford 5
UCLA 1
Stanford 6
UCLA 2
UCLA 6
Stanford 5
April 11, 2011 12:16 a.m.
In two career contests against the UCLA football team, former Stanford running back Toby Gerhart put up 272 rushing yards.
Known best for his incessantly violent, ruthless runs across the gridiron, it's not far-fetched to imagine that perhaps his younger sister would exhibit a similar brute strength.
On Friday, the Cardinal's sophomore softball pitcher Teagan Gerhart worked in a comparable fashion. A 2010 all-conference freshman team selection, Gerhart faced 57 Bruin batters and whirled an absurd 231 pitches.
The game was still deadlocked at 5-5 through 13 innings, but when senior Ashley Chinn relieved Gerhart in the 14th, it all but set up a perfect frame for the Bruins to capitalize and escape with a thrilling 6-5 win.
Junior left fielder Andrea Harrison, who already nabbed two Pac-10 Player of the Week awards this season, immediately obliged.
On a 1-0 pitch, she ended the four-hour marathon with a walk-off solo shot, giving the No. 6 Bruins (28-7, 4-2 Pac-10) their 11th comeback victory of the season.
"It's an awesome feeling to know that this team believes until the last out that we will be able to win a ball game and will do whatever it takes to win," Harrison said. "It just took us longer than usual."
Gerhart returned to the circle Saturday, preserving No. 13 Stanford's (26-8, 2-4 Pac-10) 6-2 victory.
But it would not be the last the Bruins would see of her. On Sunday, Gerhart got the start and promptly dominated, shutting UCLA out for six and two third innings to lead the Cardinal to a 5-1 win.
"She's a good pitcher, and she mixes it well," senior third baseman GiOnna DiSalvatore said. "But we didn't do a great job at making adjustments. We did see her Friday, Saturday and again (Sunday), and by then we should have made some kind of adjustments and make her come into our zone."
In the bottom half of the first frame on Sunday, she blew away Harrison and sophomore right fielder B.B. Bates.
Gerhart returned in the second to outsmart freshmen shortstop Kellie Fox and catcher Alyssa Tiumalu, striking both out on full counts.
While Gerhart racked up strikeouts, UCLA junior pitcher Aleah Macon relieved senior Donna Kerr after just an inning and two thirds of work.
Early on, Macon was able to limit a potent Stanford offense that was hitting .337 heading into Sunday's finale, yet the Cardinal were soon able to get quality contact time and time again.
In the top half of the fourth, Stanford's sophomore second baseman Jenna Rich ripped a home run that lasered over the left field scoreboard.
The solo shot somewhat battered the Bruins' bid for a comeback, and the Cardinal tacked on two more runs in the sixth for a 5-0 cushion that UCLA wasn't able to cut into.
"We have a plan, but we have to commit to that plan," assistant coach Gina Vecchione said. "We weren't at our best at doing that (Sunday). We were in and out individually and collectively as a team. We are going to work on our approach and our plan at the plate as hitters and committing to that.""¨"¨
Easton's next team manager
The softball team is currently looking for a team manager for next season. Those interested should contact director of operations Noveen Moinpour at Ҭ[email protected]