ORL brings blood and bones to the Hill in forensic showcase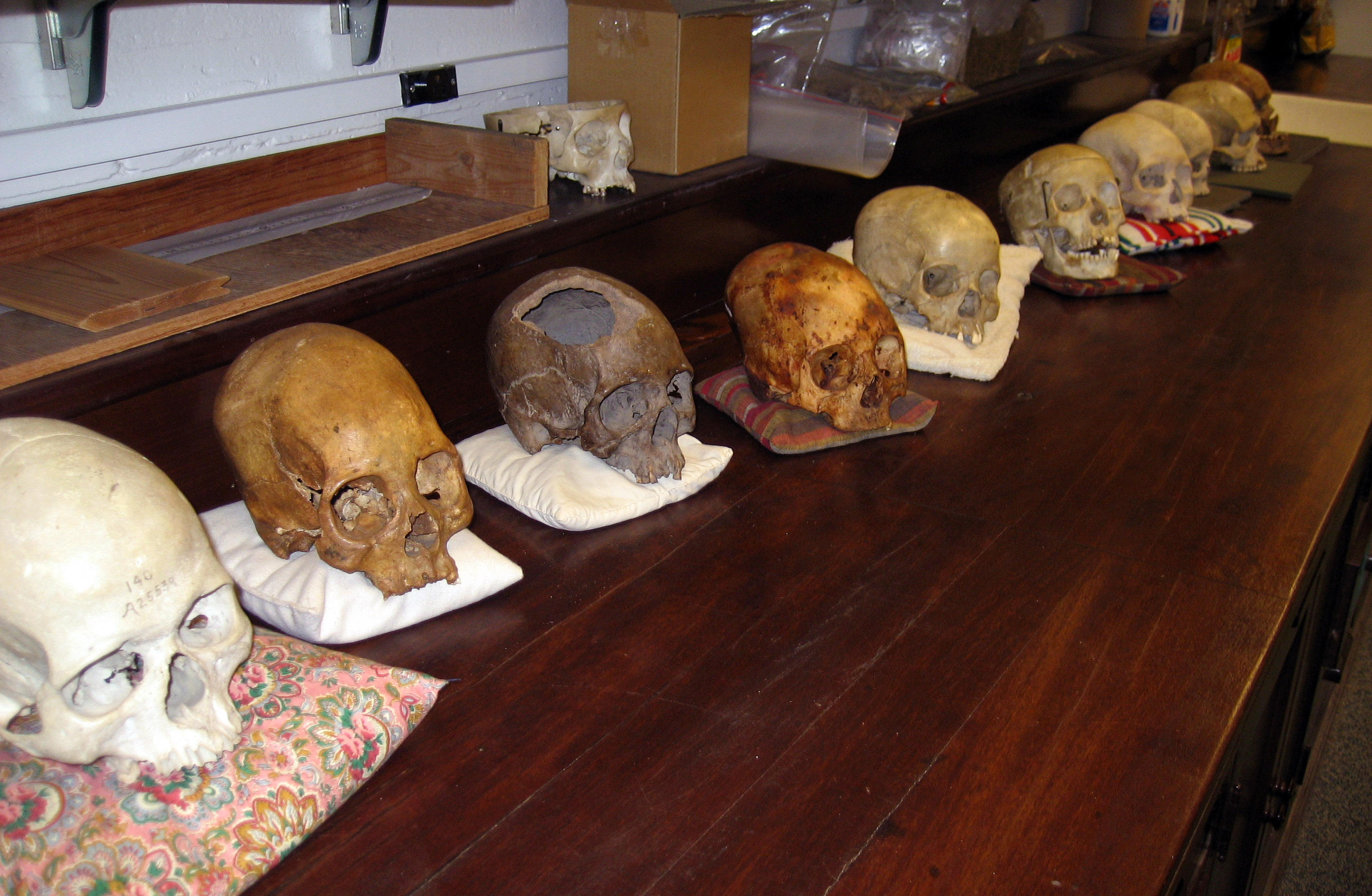 The human osteology laboratory features an archaeological
collection of skulls. Anthropology professor Alexei Vranich is holding an event on the Hill called "Blood, Bones and Bruins" today at 7 p.m. which will feature hands-on forensics exhibits. (courtesy of Gereme Gaffney)
Beneath 1,500 years of sediment were the skeletal remains of more than a dozen people, all layered on top of each other in a large sacrificial pit.
Alexei Vranich had just made the biggest discovery of his annual dig at a Tiwanaku site in Bolivia. But Vranich's team was forced to leave the site before it could fully excavate it.
The find would have to wait a year for the UCLA anthropology professor to return. This time he brought a forensic scientist, who showed him how to separate out each individual's bones and determine causes of death.
One skeleton had been a strong person, another a 4-year-old child. This injury led to death, that was a healed wound.
This was one of Vranich's first forays into the science of forensics, or the study of society through human remains. Tonight he will bring that experience to the Hill.
"Blood, Bones and Bruins" is an Office of Residential Life program that will allow students to dust for fingerprints, examine weapon marks on bones and learn the difference between the type of forensics seen on television and the real science that inspired it.
"(Forensics) is not just a television show," said Vranich, who is also the faculty in-residence for Dykstra Hall. "I'm trying to go against conventional knowledge. A lot of (forensics seen on television) is, well, wrong."
For example, DNA analysis does not happen at "the drop of a dime," and calculating blood splatter is actually quite boring, Vranich said.
But forensic scientists do often take advantage of live insects. Dermestid beetles "" scavenging, flesh-eating bugs "" are used by archaeologists to pick clean something or someone's remains so scientists can examine the bones.
Matt Dick, a fourth-year civil engineering student and head programmer for the event, likened it to a "forensics fair," in which a number of tables will showcase the equipment and techniques used by scientists. At one table, students will use a crime scope to detect bodily fluids. Elsewhere, attendees will compare different human bones and skulls to determine features such as sex and height of the skeletons.
"I want to try and find someone to put their hand in the jar (with the beetles)," Dick said.
The Biological Anthropology Society at UCLA will "spearhead the content" for the program, bringing in various human and animal skeletons and mummies.
Another goal of the program will be to gauge the level of student interest in forensics and inform students of the opportunities in the field, Dick said.
"There is widespread student interest in forensics, and we want to make the administration aware of this," said Gereme Gaffney, president of the Biological Anthropology Society. Gaffney graduated last year with a degree in anthropology and now works as a research assistant for the department of ecology and evolutionary biology.
As of now, there is one forensics class on campus about human osteology, and with the loss of the archaeology department's field program, there is little opportunity left for interactive experiences, Vranich said.
"When it comes to bones, you really have to look in three dimensions," he said.
During one lesson in Vranich's field class in Bolivia, he and his students bought a llama from the local villagers. They stripped the meat off the bones, pulling out the spine and removing the brain. The group returned the meat to the villagers to eat.
The villagers thought they were crazy, Vranich said, because they were only interested in studying the llama's bones.
"All of them will remember that day. Forever."
With reports from Kate Parkinson-Morgan, Bruin contributor