Gymnastics team lands regional title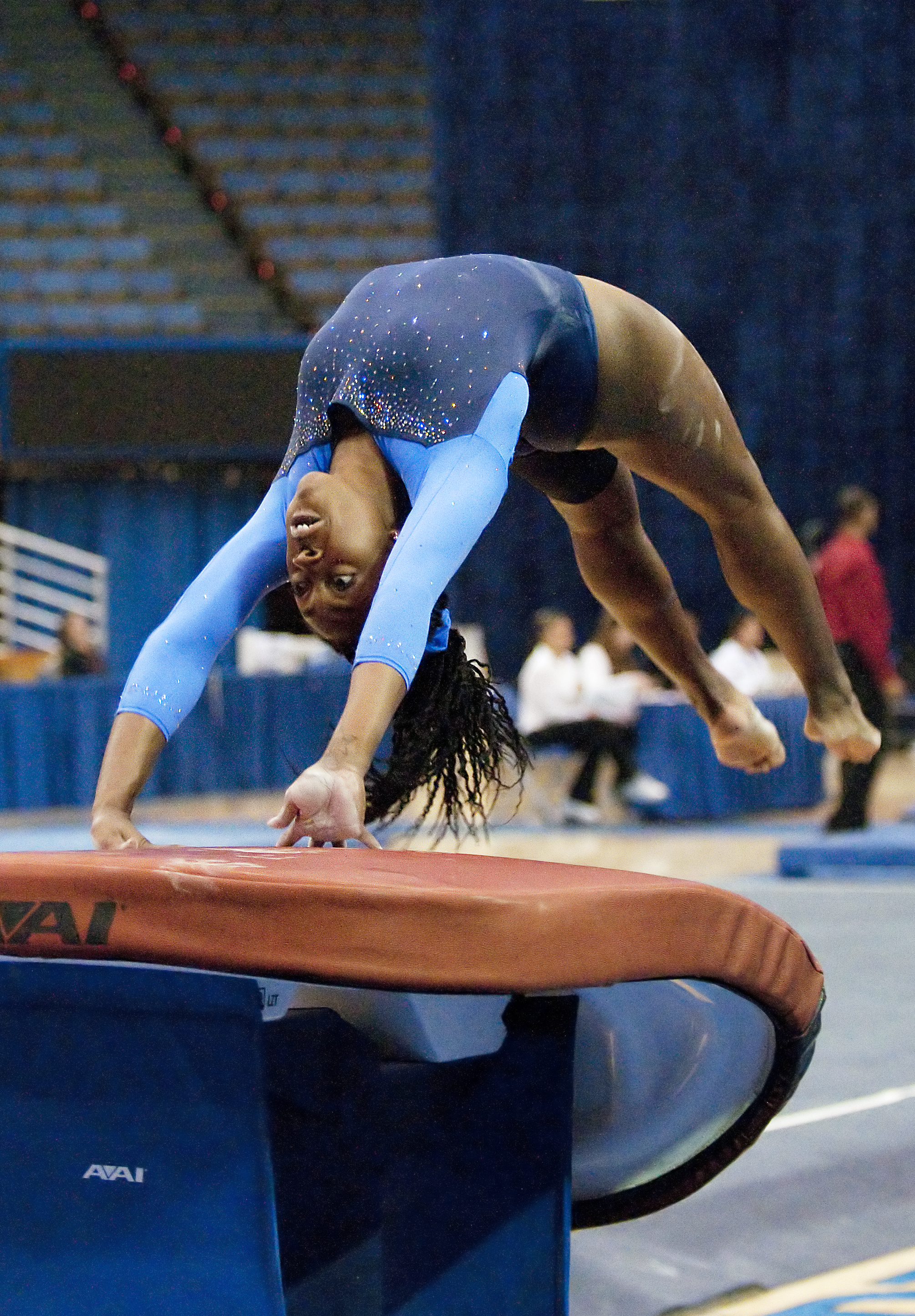 Freshman Olivia Courtney competes on vault earlier in the year. Courtney was the NCAA Athens Regional all-around champion, while the Bruins won the regional title and earned a trip to the NCAA Championships, which starts April 15 in Cleveland.
Gymnastics
UCLA 1st 197.425
Georgia 2nd 196.750
LSU 3rd 195.350
NC State 4th 194.750
Maryland 5th 193.200
The UCLA gymnastics team that showed up for the NCAA Athens Regional was not ready to give up its national title without a fight.
After struggling to meet high expectations throughout the season, the Bruins reaffirmed their status as top dog with a dominant performance Saturday.
Competing against six other teams in Athens, Ga., UCLA secured its 19th regional title with a team total of 197.425. Just half a point less than its season high, the score was the highest regional total in the nation.
"People ask me how we do it every year because we always start out slowly and then peak at the right time," coach Valorie Kondos Field said. "It makes a big statement when the reigning national championships are right on track."
"We are not just hitting their routines, but we are hitting them beautifully."
After losing to Georgia at Pauley Pavilion during the regular season, the Bruins returned the favor by defeating the Bulldogs in front of a hostile crowd.
Although both teams were focused on qualifying for the NCAA Championships, neither could ignore the heated rivalry between the storied programs.
"We didn't come out here to beat Georgia, we came out here to make it to the national championships," Kondos Field said.
"But anytime we are in the same room as Georgia, we take it to another level. I really don't think there is a healthier, more intense rivalry."
The Bruins outscored the Bulldogs in three of four events, including posting a season-high 49.425 on uneven bars. Three gymnasts hit routines of 9.900 with junior Elyse Hopfner-Hibbs, who has struggled to master her bars dismount, matching her season-high score.
Hopfner-Hibbs believes the team's positive energy was an uplifting source of confidence throughout the meet.
"The team energy was a highlight for me," she said. "We all knew that we were going to go out there and hit and just rock it. It was fun and easy, and that's how it should be."
Freshman Olivia Courtney, the all-around regional champion, agreed with her teammate. For her, the Bruins' enthusiastic performances in the first rotation were infectious.
"Everyone killed it," she said. "After floor (exercise), the energy was just so crazy, and we were able to keep it up the entire meet. That was great."
Saturday's win guarantees that UCLA advances along with 11 other regional qualifiers to the NCAA Championships in Cleveland.
The Bruins will face six of these teams during a team preliminary meet, with the top three advancing to the Super Six.
With the national championships only two weeks away, scoring more than 197 during regional competition should remind others that UCLA is not going to be fading into the background anytime soon.
"We are back," Hopfner-Hibbs said. "It may have taken us a little bit of time to get here, but this is what we are capable of and even more."
"This tournament is a fresh start for everyone, so there is no looking back right now."