Women's basketball leaves Pauley with win over Washington State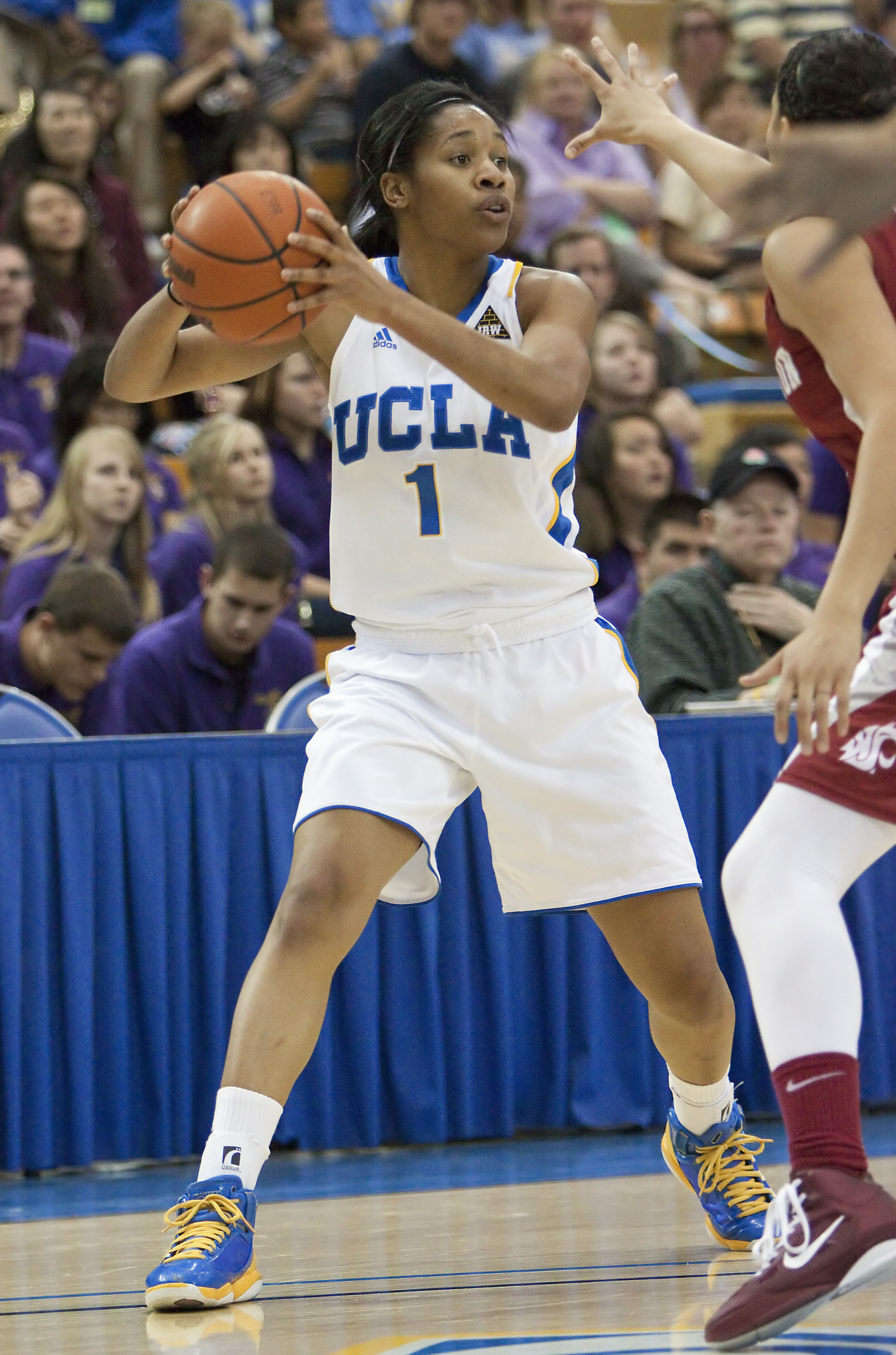 Senior forward Nina Earl got her second start of the year on Saturday as UCLA defeated Washington State in the Bruins' last game at the old Pauley Pavilion.
It was the last basketball game in Pauley Pavilion, and a couple of peewee squads were scrimmaging on Nell and John Wooden Court.
Both teams, fitted in oversized jerseys, seemed to be having fun even when fumbling the ball around and throwing up air balls.
But from the moment No. 9 UCLA (26-3, 16-2 Pac-10) and Washington State (8-22, 6-12) stepped onto the court, it was obvious that only one team would be enjoying anything.
The Bruins started the game on a 13-0 run and never looked back, coasting to a 66-48 victory and setting a school record with their 26th win of the regular season.
Rafer Johnson, an Olympic gold medalist decathlete and alumnus, and Nan Muehlhausen, John Wooden's daughter, watched from the sidelines, and the Bruins did not disappoint.
"I think it's unbelievable that we've now established ourselves as a women's basketball team on that national level, and we've done this in a short period of time," coach Nikki Caldwell said. "We are going to keep making sure we honor coach Wooden and what he did and what he still means to us."
Seniors Doreena Campbell, Nina Earl, Darxia Morris and Christina Nzekwe all got the starting nods on Senior Day, and the quartet was sure to leave a lasting mark in the place that UCLA has called home for 46 years.
"There's no better four seniors than those four," Caldwell said. "They are just great people. They've been great teammates, and it's just been great to watch them grow and mature. I really like the fact that they gelled well, and they've obviously been great leaders for the underclassmen."
In an early first-half possession, Morris stripped a hapless Washington State ball handler at midcourt and dropped a behind-the-back bounce pass to Earl, who swooped in for a lefty finish.
That sparked the Bruins, who blazed into intermission with a 33-14 advantage.
In the opening minutes of the second half, junior forward Jasmine Dixon went down with an apparent lower body strain. Without Dixon, the offense stagnated. And when the Cougars cut the lead down to 48-37 with a little less than nine minutes to go, Caldwell put Dixon back in.
"Our goal was to come in and send (the seniors) off right," Dixon said.
And her intentions were clear.
Dixon immediately scored off of a low-post feed from Campbell, which opened up room on the perimeter for Morris to operate.
Morris went on to score 11 of the team's next 15 points, putting the Bruins up 65-39 with less than three minutes remaining in the game.
"At first, it wasn't going well, and I was like, "˜This is my last game; I can't go out like this,'" Morris said. "My teammates did a good job of getting me the ball when I was in the zone."
Then it was only fitting that the last to score would be Nzekwe, the senior who would score her only point of the game and UCLA's last point in old Pauley Pavilion with a free throw.