Inconsistency mars the UCLA women's basketball's otherwise impressive 60-42 win over Washington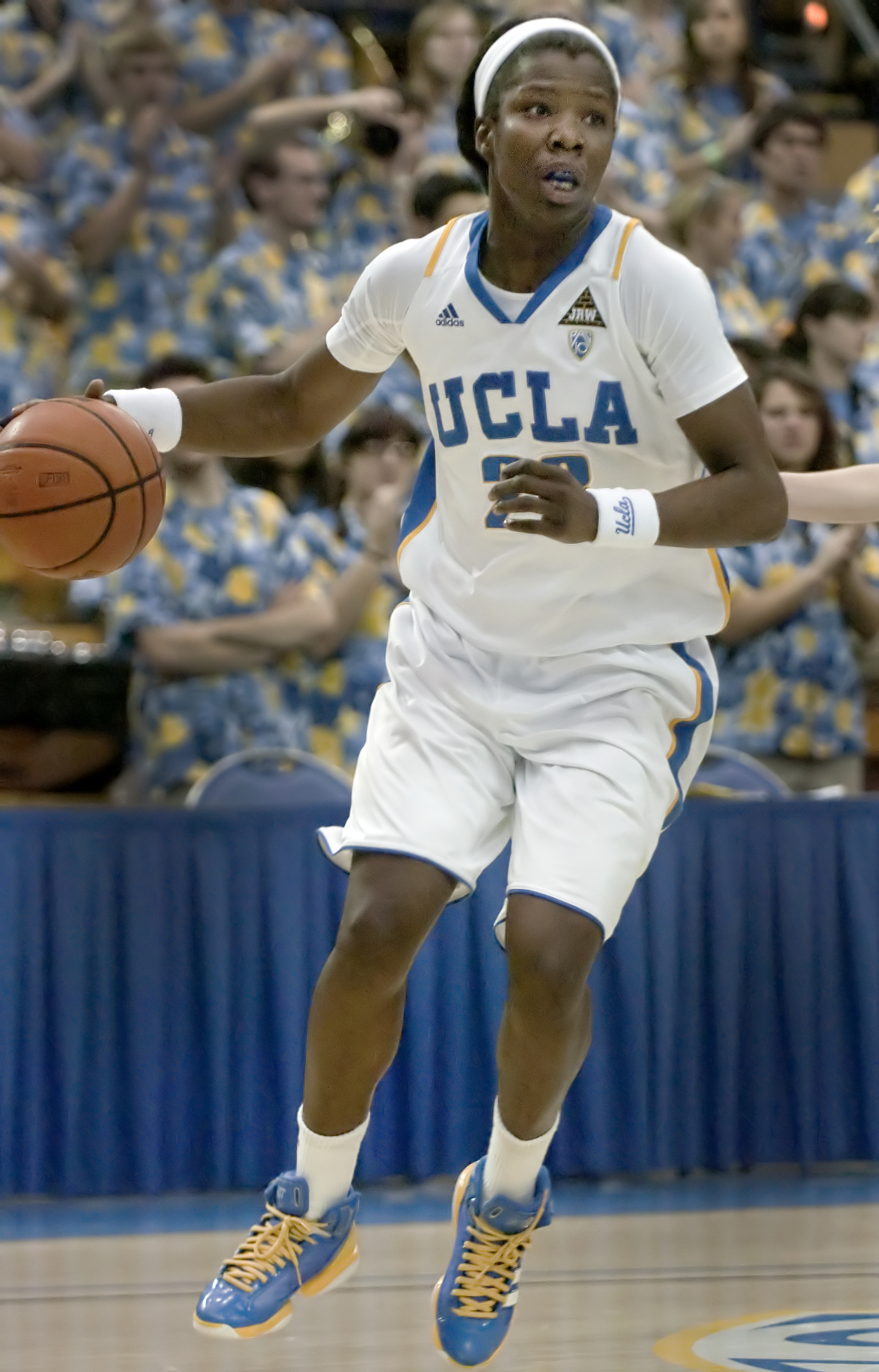 Markel Walker scored 12 points in UCLA's 60-42 victory over Washington.
Women's Basketball
UCLA 60
Washington 42
Washington State
Saturday, 2 p.m.
Pauley Pavilion
Follow GameTracker on UCLABruins.com
The UCLA women's basketball team likes to run. All season long, the Bruins have thrived on the transition aspect of their game.
But a majority of the running in Thursday night's game against Washington was done up on the scoreboard.
In the Bruins' 60-42 victory at Pauley Pavilion, UCLA went on multiple stretches where it held Washington scoreless, highlighted by a nearly eight-minute run in the first half during which the Huskies put up a goose egg.
But with less than four minutes to play in the first and the No. 9 Bruins (25-3, 15-2 Pac-10) holding a comfortable 30-11 lead, the Huskies (11-15, 6-11) decided to do a little running of their own. They closed out the half on a 5-0 run that carried over into the second half and turned into an 11-0 streak.
The Bruins have had trouble closing out halves and games all year, and the long scoring streak by the Huskies served as a microcosm of that trend.
"I think the mentality of our team is not yet mature enough to handle that we need to put our foot on the pedal and play for 40 (minutes)," sophomore forward Atonye Nyingifa said. "It is a little complacency and that's something that we have to get over before the tournament starts."
In the opening 15 minutes, the Bruins flat out harassed the Huskies with their press, scoring 14 points off turnovers.
"We're one of those teams … we want to attack defensively," junior forward Jasmine Dixon said. "Once we establish our defensive attack, then our offense will create itself."
As the game went on, the Bruins' signature full-court press seemed to lose its edge and the Huskies started making a more concerted effort to get into the paint and score from there.
A strong effort from Dixon, who had nine points in the second half, and Nyingifa, who had eight in the second, was enough to stop the Huskies from mounting a late surge and secure the Bruins' historic 25th win of the season, the most by any UCLA women's basketball team.
After the game, coach Nikki Caldwell kept her team a little longer than usual in the locker room and had the players, one by one, express what they could have done better to contribute to this particular game.
"After they finished talking, I summed it up with one word … and the one word I put up on the board was "˜effort,'" Caldwell said, "I did not see a full effort. I did not see that all-out intensity that we need to become that 40-minute team. I saw spurts of it … but there was also a time where we got lax."
The Bruins showed Thursday that they can easily push aside most teams when they want, but also that lapses in their game tend to happen. Caldwell's magic word seems to be the thing that will bring about a little more of the former.