Women's basketball focuses on finishing strong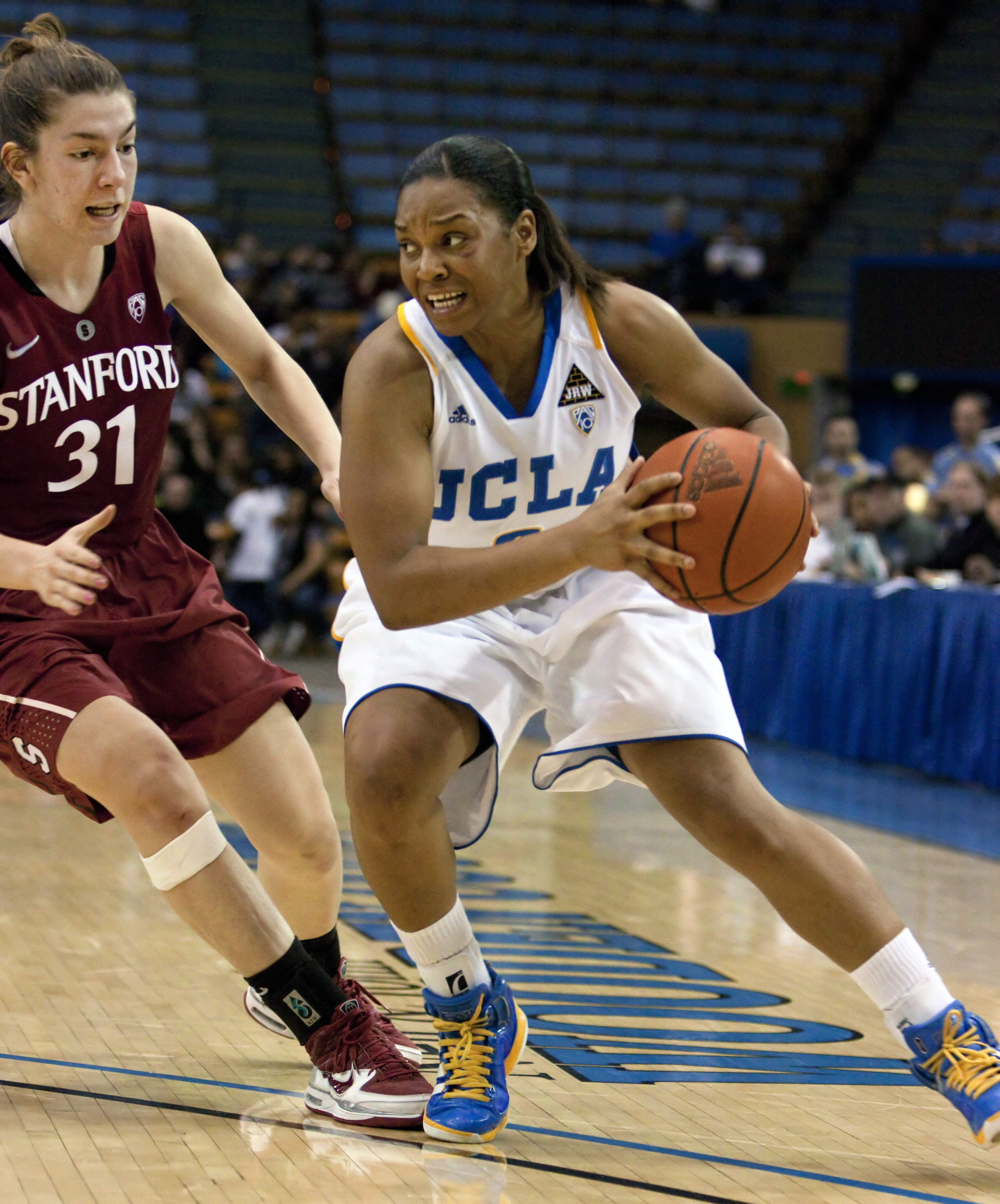 Senior guard Darxia Morris and the Bruins will take on the Huskies today.
Women's basketball
Washington
Today, 7 p.m.
Pauley Pavilion
Follow GameTracker on UCLABruins.com
Down to the penultimate game of the regular season, the No. 9 Bruins look to sweep the season series against the Huskies.
Now that the UCLA women's basketball team has secured the second seed in the upcoming Pac-10 Tournament, one would think it would be time for the Bruins to kick up their shoes, relax and wait for the bright lights of the Staples Center.
But that is not the case, according to coach Nikki Caldwell.
"We will rest (the starters) on our days off," Caldwell said with a laugh. "We can't take anybody for granted."
It sounds like a good move, considering the No. 9 Bruins (24-3, 14-2 Pac-10) are still focusing on finishing the season out strong in order to further strengthen their already impressive resume for an NCAA Tournament bid.
And their game against Washington (11-14, 6-10) tonight should not be taken lightly.
The Huskies might not look like much on paper, but they have a few big Pac-10 wins to rely on. Washington has already defeated Oregon, the Pac-10's second-highest scoring offense, and California twice, one of which came on the road.
Considering their sub-par ranking "" currently in a tie for seventh place in the conference "" it's surprising that the Huskies boast a stingy defense. They are holding teams to only 36 percent shooting from the field, trailing only conference powerhouse Stanford in the category.
As for the Bruins, they have been getting an all-around effort from whatever group they have out on the floor, which is something Caldwell feels will be key against the Husky defense.
"We've got to make sure that we are doing what we need to do as far as being patient … not just relying on a one- or two-pass offense," Caldwell said. "We've got to have a lot more discipline in letting all five people be involved."
Washington may have a solid defensive presence on the court, but the Bruins have prided themselves on their ability to defend all season, which is why the matchup between Washington junior guard Kristi Kingma and the Bruin guards at the top of UCLA's zone should be interesting.
Kingma is second in the Pac-10 in scoring, averaging 16.1 points per contest and is shooting 41 percent from beyond the arc.
"We're going to extend our defensive range out a little further (against Kingma)," senior guard Doreena Campbell said. "She's a high-priority player who just always know where she is at all times."
On Saturday, UCLA shut down Arizona State's high-scoring senior guard Dymond Simon, limiting her to just four points. So when the Bruins take the court against Kingma and the Huskies, they should be ready.
"I think every game we play prepares you for the next. … We did limit Simon, so that's thanks to our defense again," redshirt sophomore forward Atonye Nyingifa said. "We're not going to change our game plan; we're going to stick to what we know and what we do best."