UCLA hosts Peace Corps' 50th anniversary celebration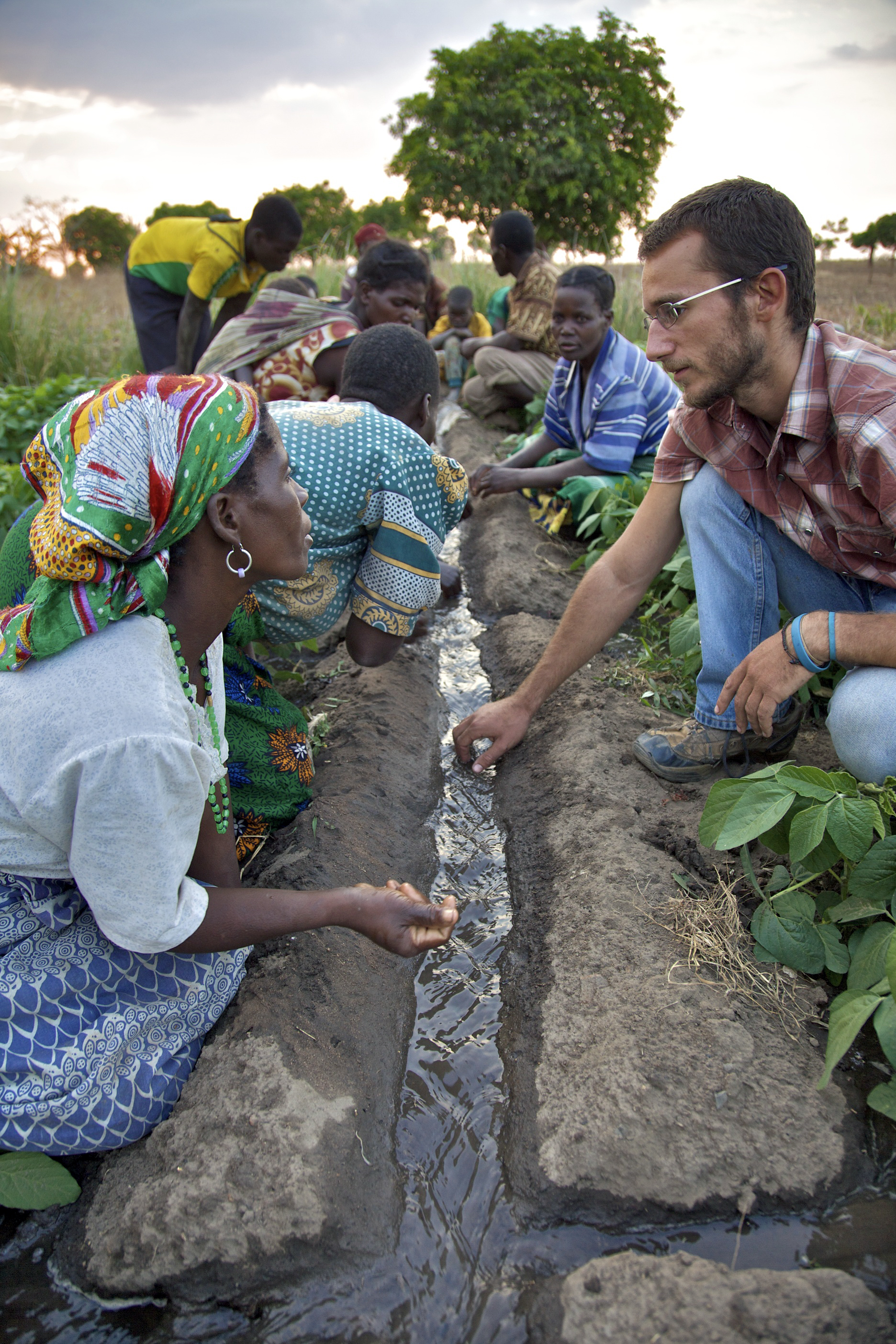 A Peace Corps volunteer helps build an irrigation system in Malawi in 2009. (Credit: Peace Corps)
"PEACE CORPS: THE NEXT 50 YEARS"
Today, 7 p.m.
Royce Hall
UCLA will host a three-day celebration to commemorate the 50th anniversary of the Peace Corps, recognizing the two institutions' common history and commitment to service.
Tonight, more than 1,000 attendees are expected to gather in Royce Hall to welcome a panel of former Peace Corps volunteers, including director Aaron Williams, former National Public Radio director Frank Mankiewicz and MSNBC "Hardball" host Chris Matthews.
Thursday, an expo featuring countries that the Peace Corps serves will take place in Bruin Plaza, where students can experience other cultures through languages, dance and free food. An exhibition about the UCLA-Peace Corps collaboration will debut in Powell Library tonight, and a documentary on the impact of Peace Corps service on a United Nations lawyer will play at the UCLA James Bridges Theater Thursday night.
Co-hosted by Williams and Chancellor Gene Block, the events will celebrate the Peace Corps' accomplishments during the last 50 years and remind younger generations of the lasting value of service, said Kate Kuykendall, public affairs specialist at the Peace Corps' Los Angeles Regional Recruitment Office.
UCLA has trained more than 2,000 volunteers and ranks sixth in top college participation, with 92 Bruins currently overseas, Williams said. Its central role in the organization's early years makes it a key player in the Peace Corps' establishment, Williams said. UC Berkeley holds the title for most alumni who have volunteered with the organization.
UCLA first began training Peace Corps participants in 1961, when 48 Nigeria-bound trainees arrived on campus as one of the first groups in the nation to respond to President John F. Kennedy's call for volunteers. Block said UCLA students harbor a dedication to service consistent with his original goals for the university in 2007.
"I have no concern for America's youth when I look at UCLA students," he said. "The campus is filled with socially conscious people, students who are focused on helping other people."
In August, Washington Monthly ranked UCLA No. 1 in community service participation among national universities. To further opportunities in volunteerism for students, Block established the UCLA Volunteer Center in 2009.
On Saturday, the center will partner with the Peace Corps to take 150 UCLA students and former Peace Corps volunteers to the West Los Angeles Veterans Home, where they will help with various beautification projects.
Although some students find it difficult to integrate community service with their academic duties, the desire to make an impact encourages them to continue, said Claire Bajamundi, who volunteers with Project Literacy, a service project that provides tutoring to students of all ages.
"A lot of people want to do service, but it's hard to make them consistent and committed "" you have to give them a reason to want to stay every week," said Bajamundi, a fourth-year microbiology, immunology and molecular genetics student. "I remember the impact I make on the kids I tutor, and even when you don't want to go, you remember that a child is relying on you to teach and help them."
The collaboration between UCLA and the Peace Corps reinforces the campus' culture of giving back, Block said. Since the creation of the Peace Corps, UCLA has sent a total of 1,801 volunteers overseas.
However, the Peace Corps' 50th anniversary does not simply celebrate history. Rather, it is a testament to the continued power of volunteer impact, Block said.
"Any effort over time becomes less familiar, but over the years, (the Peace Corps) has been sending tens of thousands of volunteers overseas, and it's worthy of students paying attention to it," he said.
Williams will return to UCLA in June to speak at the College of Letters and Science's service-themed commencement.