Assistant coach Tony Perotti's credo is perfect for his post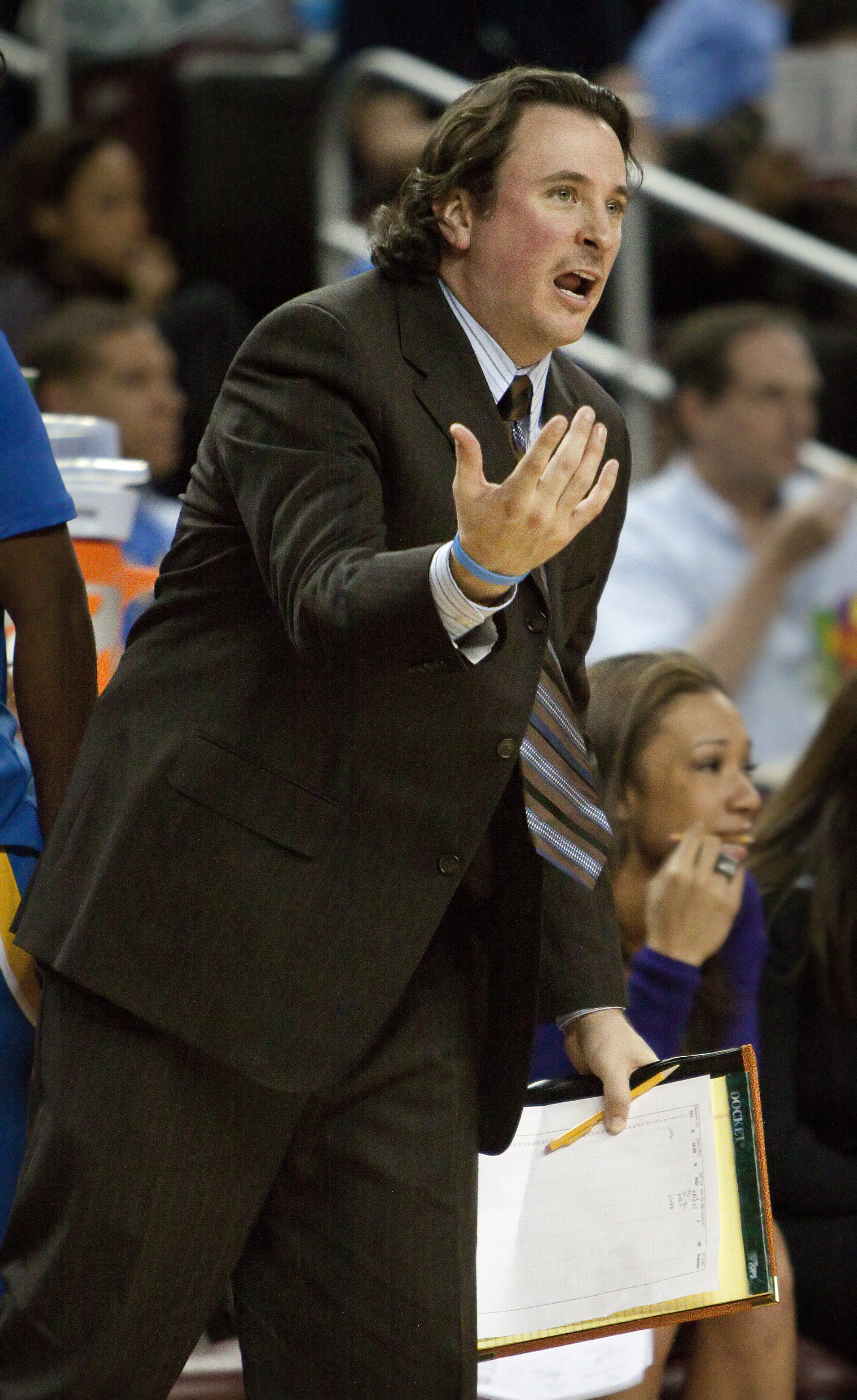 Hailing from rural Millerton, N.Y., assistant coach Tony Perotti has infused a hard-nosed flair to the women's basketball team, working mostly with the Bruins' post players.
It was 2008 and the Tennessee women's basketball team was one win away from claiming another national championship.
In the days leading up to the final game, Nikki Caldwell, then an assistant coach at Tennessee, walked into her office to find a single sticky note on her otherwise cleared-off desk.
The message on the note was from an old friend, Tony Perotti, who used to run with the Tennessee women's basketball practice squad while Caldwell was a graduate assistant for the legendary Pat Summitt.
The message from Caldwell's old friend was simple and brief.
"He had called just to wish me luck going into the championship game and not knowing that obviously, I was looking to or leaving Tennessee," Caldwell said. "He's just that type of person."
At the time, Perotti had already moved on to an assistant coaching job at Northern Arizona after spending five years as a graduate assistant and assistant coach at the University of San Francisco.
He had seen Caldwell on the recruiting trail over the years, and the two always made sure to catch up with each other.
So when Caldwell decided to leave Tennessee later that year and take on the head coaching gig at UCLA, she remembered Perotti and the sticky note.
"Little did I know, a few days later I had decided that I wasn't sure if I wanted to stay at Northern Arizona much longer, and Nikki calls me up and says, "˜Hey, are you interested in coming to UCLA?'" Perotti said. "I learned later that that sticky note kind of reminded her about me."
Perotti, the Bruins' assistant and post-play coach, comes from a town that is nothing remotely like Westwood. He was raised on a dairy farm in Millerton, N.Y., a town that boasts a population of approximately 1,000 people.
Perotti spent countless mornings and nights performing tasks most city dwellers would not have any idea how to accomplish, chores that taught him the value of a hard day's work.
"The first thing you learn, day one: The cows don't feed themselves, don't milk themselves … all those kinds of things have to happen," Perotti said. "Saturday mornings, I'd get up at 4:30 a.m., milk the cows from five to seven, grab a quick breakfast then go to basketball practice at eight."
Perotti credits his athleticism and competitive nature to a list of uncles and his father, who were two-sport athletes.
But the most inspirational family member, according to Perotti, is his grandmother, who is now 90 years old and played high school basketball.
Watching Perotti interact with the team during practice can sometimes be just as entertaining as the Bruins' games themselves.
A known trash-talker on the court, Perotti likes to get involved in practice, especially if he sees something he doesn't like, and he isn't afraid to run out to the paint and replace a player so that she can stand back and watch.
"I'm a perfectionist. I just want things to be done right," Perotti said. "Sometimes I don't have a lot of patience for people that do things wrong, especially if it's a mental error … but if you put your full effort into it, I'll never have problems with it."
It's a good-natured, fair trade, according to the players, who have grown accustomed to Perotti's ways.
Junior forward Jasmine Dixon is the key player in the Bruins' post game, and because she usually finds herself matched up against taller opponents, Perotti's sometimes-aggressive coaching strategy has helped her adjust.
"He's just that type of coach that's not going to baby you, which I respect. He's just trying to get the best out of you," Dixon said. "He's naturally harder on the post (players) in general … so we're ready for him and just have to bear with whatever he has to dish out."
The Bruins aren't afraid to poke fun back at him. When referring to Perotti, Dixon is quick to call him "Anthony" rather than Tony.
"That's his name," Dixon said jokingly.
Perotti describes his post-play philosophy as "a little bit different" from the more traditional styles he has seen over the years.
Because the Bruins are slightly undersized, he has to redefine his players' sense of having their backs to the basket in order to score.
"A lot of coaches like to teach players a lot of different moves to score and such," Perotti said. "What we talk more about is to get to a spot on the floor that you like to score from."
This philosophy can be seen when Dixon stays out of the paint and knocks down a 15-foot jump shot from the elbow, a favorite of hers.
The competitiveness, the trash talk, the farmer's tireless work ethic "" all of these things are assets of Perotti's, according to his boss.
"Tony's personality is that of someone who is on a mission," Caldwell said. "He's very dedicated to the game and he's very disciplined in his preparation. Having watched Tony in college … I knew that he was going to be a special coach."