Women's basketball coach Nikki Caldwell calls on bench to step up in advance of Cal and Stanford games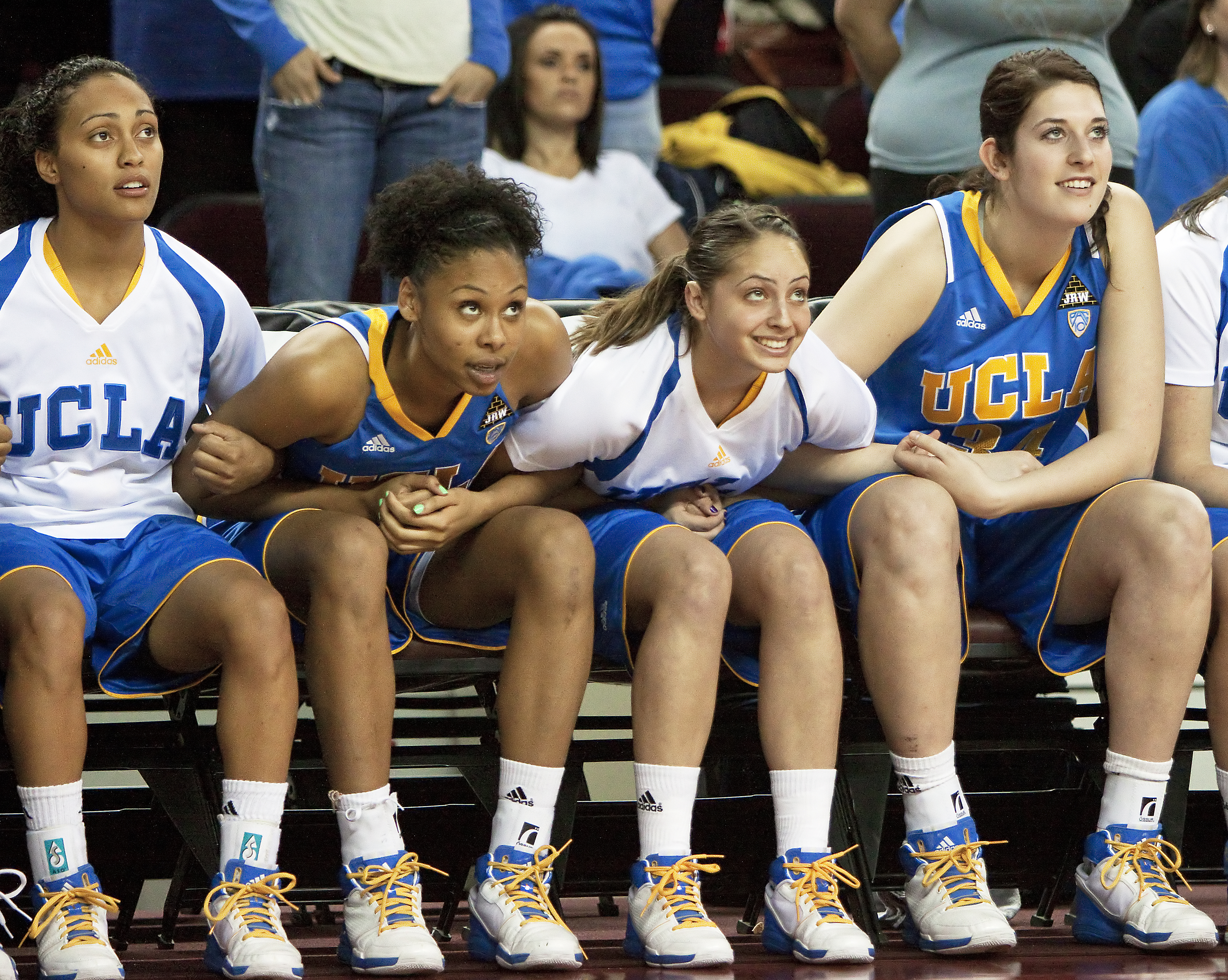 The bench links arms during the closing minutes of No. 9 UCLA's 74-67 victory over USC. The Bruins will face off against California Friday and Stanford Sunday.
Women's basketball
California, Stanford
Today, Sunday
Pauley Pavilion
Follow GameTracker on UCLABruins.com

---
The No. 9 Bruins head north to take on the Golden Bears before trying to avenge a loss to the No. 3 Cardinal.

Correction: The games against Cal and Stanford will be in Pauley Pavilion.
Correction: The original headline for this article contained an error. The games against Cal and Stanford will be in Pauley Pavilion.
At the end of Wednesday's practice, members of the UCLA women's basketball team made slow steady steps toward the middle of the floor, where they were joined by coach Nikki Caldwell and the coaching staff.
They stood shoulder length apart with every tip of a shoe touching the one next to it: starters, bench players, rookies and veterans alike surrounding the half-court circle.
With an important weekend homestand on their minds that starts tonight against California, the huddle was a symbol of what it is going to take to win: contributions from the entire team.
The No. 9 Bruins (21-2, 11-1 Pac-10) have come this far thanks to a core group of players that get the majority of the minutes. But the Bruins' bench has been an enigma all season long, and if they want to beat No. 3 Stanford (22-2, 13-0) on Sunday, the bench will have to start playing a more important role.
At times, the Bruins have received big peformances from players coming off of the pine, like junior Rebekah Gardner's 18 point, eight rebounds effort in a win last week against Oregon.
But there have also been games when the bench slumps, most recently in Saturday's win against a weaker Oregon State team, where a 21-point lead suddenly slipped to seven in the game's final five minutes.
Both Stanford and Cal (14-10, 6-7) will test the Bruins' depth, especially Stanford, which has key role players on its bench and a powerful offensive unit.
"It's going to be those X factors … whoever can just step up and make plays," senior guard Doreena Campbell said.
UCLA is riding a six-game win streak, their last loss coming at the hands of the Cardinal in an ugly 64-38 defeat. In that game, Stanford turned the UCLA transition-oriented offense on its head. The Bruins couldn't get into a rhythm and shot 29 percent from the field, forcing up shots early in the shot clock.
"We just didn't do a good job making shots," senior guard Darxia Morris said.
"You're going to be able to see if you've gotten better than a month ago," said Caldwell, when asked about the Stanford game. "I hope that we have … and have made a conscious effort to be better in our defensive scheme … and show the patience in our offensive scheme as well."
Standing in the circle at the end of practice, Caldwell called out the younger group of players on the team. She pointed out that the seniors will not be there next year to rely on. And while the talk was devoid of any mention of the Bears or Cardinal and seemed to be about the future, it was a fitting message for this UCLA team that has to deal with the present and a difficult Pac-10 matchup Sunday.
"We have to make sure that we're doing what we need to do as a team to be the best team that we can," Caldwell said. "And that includes everybody on the roster."