In Vocal Pedagogy, graduate students in voice performance refine skills as singing teachers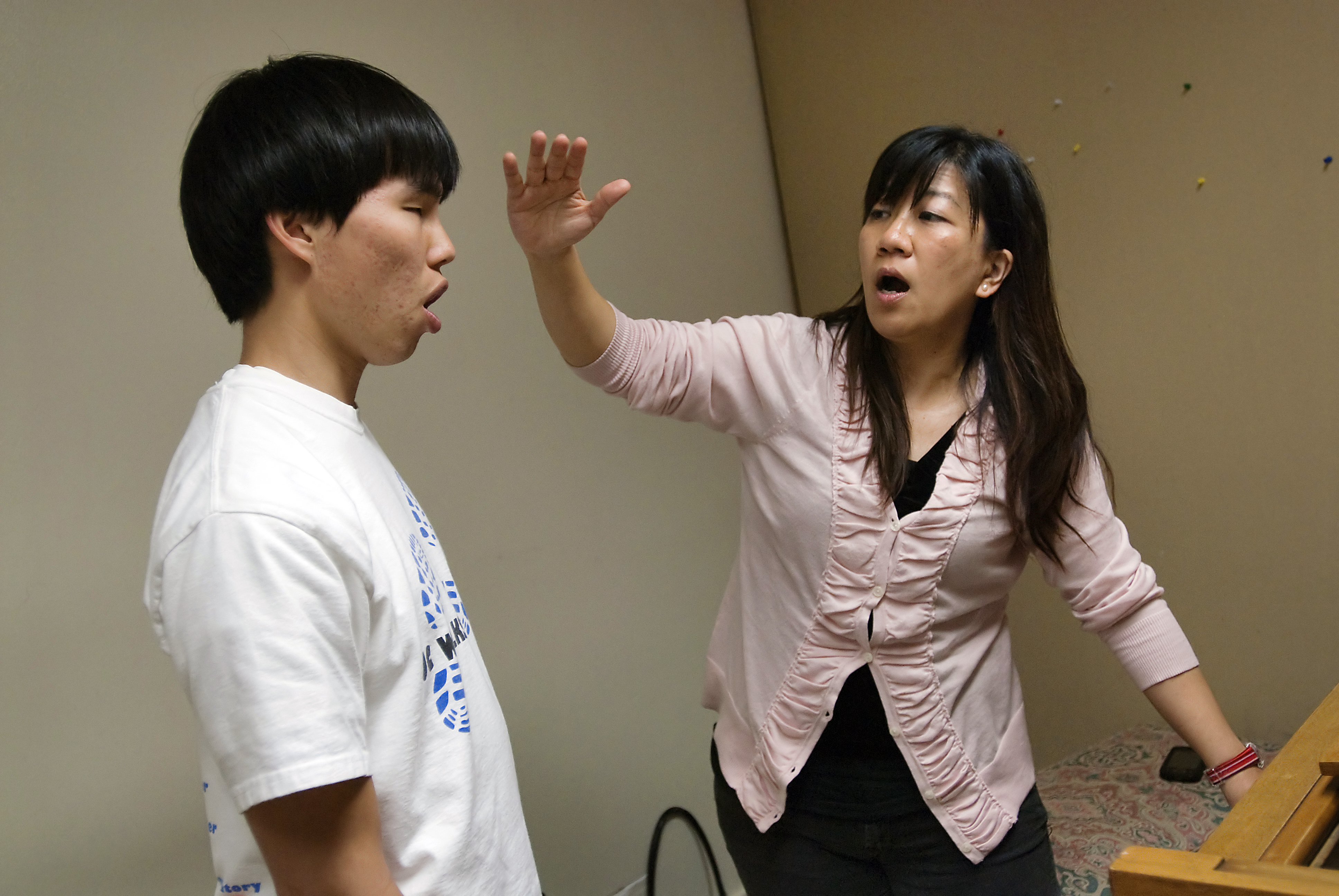 Fourth-year physiological science student Isaac Hui and fourth-year violin student Margaret Wu receive voice lessons from UCLA doctoral music student Hsing-An Chen. Vocal Pedagogy is a graduate class designed to hone students' skills in teaching singing, using undergraduate students who volunteer for lessons.
Clarification: The original version of this article contained multiple paragraphs that were out of place.
Sitting behind a big black piano in the cramped music room, student teacher Anush Avetisyan led her volunteer pupil in a demonstration of their weekly vocal lessons.
They started by stretching, sighing, making silly faces, scrunching up their mouths, panting heavily like a tired dog, pretending to savor some ice cream, trilling through loose lips and then, finally, by singing notes.
"You just have to have fun with it," Avetisyan told her pupil, fourth-year violin performance student Mai Kurosawa.
Kurosawa is one of the undergraduates volunteering as practice subjects in Vocal Pedagogy, a graduate class designed to hone the teaching skills of students studying vocal performance.
As Kurosawa sang, voice professor Juliana Gondek watched quietly along with the five other student voice teachers in Vocal Pedagogy. After 15 minutes, Gondek put up her hand to stop. She thanked Kurosawa for coming and excused her from the room.
The group then gave Avetisyan feedback on her job as a teacher.
Gondek said she liked that Avetisyan turned the warm-up into a "vocally emotional experience," and other students talked about how she had improved since her last demonstration.
This kind of discussion fuels the class, which is intended for graduate students in voice performance but is also open by permission to undergraduates majoring in voice, such as Avetisyan.
Each student in the class teaches two undergraduate volunteers "" one man and one woman. The volunteers are mostly members of the UCLA Chorale or are students majoring in a music subject other than voice.
Ian Farnkopf, a first-year undeclared life sciences student and one of the volunteers, said he took advantage of the opportunity to spend time learning technique, something he does not get from chorale despite all the singing he does there.
Most professional musicians also teach, making classes like this necessary, said voice Professor Michael Dean, who co-teaches the class with Gondek.
"The reality of it is that voice students become teachers as well," Dean said. "Our job (is to teach) them more about their instrument so that when they go out into the world they will not only be better singers themselves but good teachers as well."
The class also teaches vocal performance students about the physiology of the voice, which they use to improve their own singing and inform their teaching.
Avetisyan's second pupil, first-year cello performance student Daniel Kim, has been learning how to control his vocal cords and lower his larynx, managing tiny muscles he said people do not usually think about. He said his private lessons have shown him that singing is not all about hitting the high note.
"Most people think that good singers have better range, but I don't think that now," Kim said. "It's more about what kind of sounds you can create within your range rather than getting higher range."
Another volunteer, fourth-year violin performance student Margaret Wu, said her teacher, doctoral student Hsing-An Chen, helped her get past some bad experiences.
"My (music theory) teacher used to tell me that when I sang it sounded like I was giving birth," Wu said. "Whenever I had to sing, my classmates would start laughing."
In their lessons Chen has shown her how to approach singing. Now she enjoys what used to be a traumatizing experience.
The students in Vocal Pedagogy refer to the volunteers as guinea pigs, but since the volunteers are getting free lessons, many said they do not mind.
"I'm a fortunate guinea pig," said fourth-year physiological science student Isaac Hui. "Guinea pigs sometimes get the bad end of the bargain, but I feel that I've benefited a lot from it."
The professors purposely chose students who have not had a lot of personal singing instruction as volunteers.
But even if they are beginners, doctoral music student Nicole Taylor said she believes they can sing as long as they work at it.
"Anybody can learn how to sing," Taylor said. "It's solely a matter of coordinating your body. … The talent comes in when you interpret a song. What you have to say with the music is where the talent lies."