UCLA's International Medical Graduate Program trains recent medical graduates from Spanish-speaking countries to help underserved communities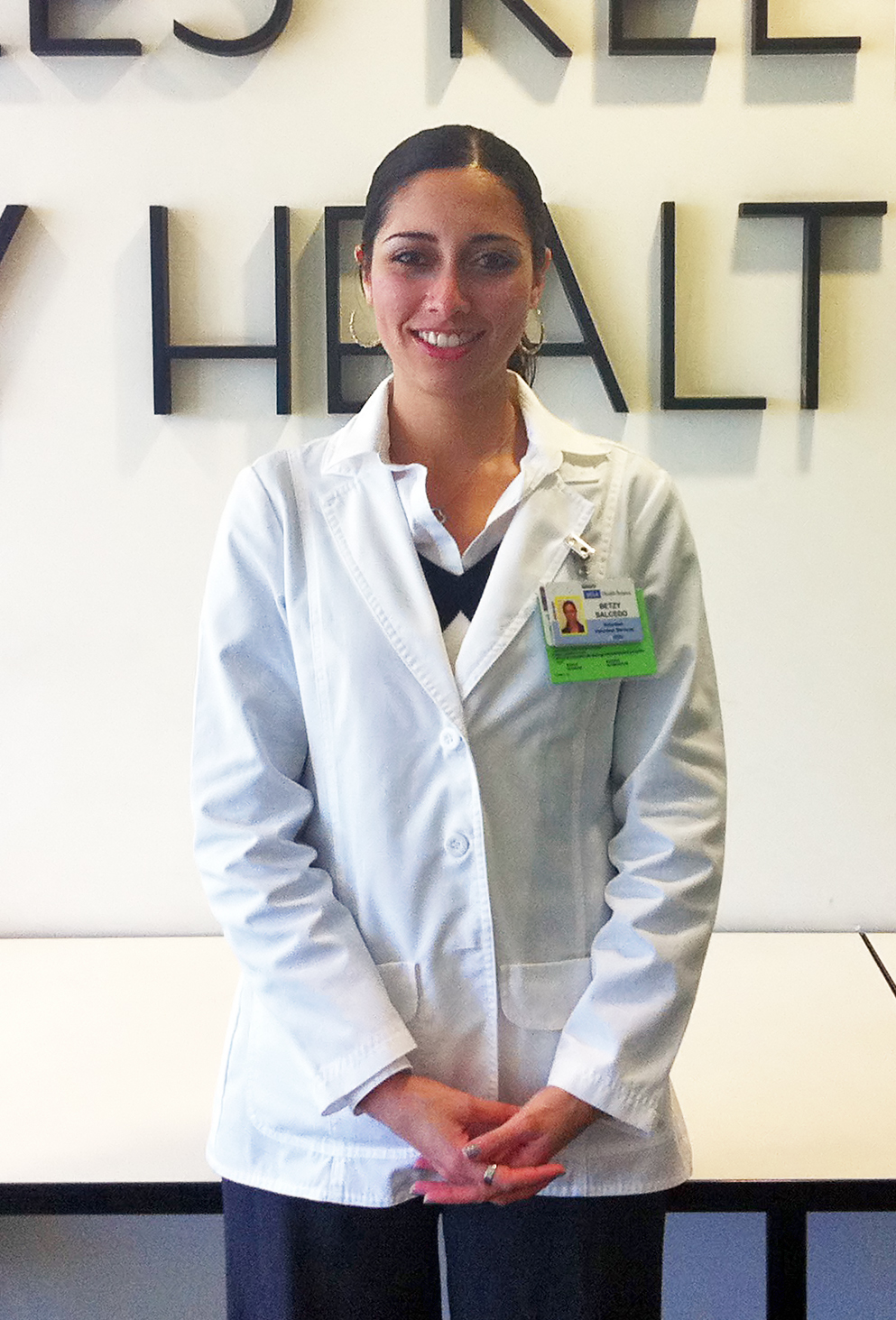 Betzy Salcedo is a UCLA International Medical Graduate. The program trains medical graduates from Latin American countries for medical board licensing exams and residency programs.
Courtesy of Betzy Salcedo
Right out of medical school, Betzy Salcedo had a clinic and a single nurse to address the medical needs of 3,500 people.
She faced her share of challenges as the only doctor in a rural town in Mexico with severely limited resources.
After Salcedo completed medical school in the Mexican state of Durango in 2008, she was required by the federal government to complete a year of social service, during which she worked in an underserved rural community.
Soon after, Salcedo got married and moved to the United States, where she was not licensed to practice medicine. She ran across a newspaper ad for a nursing program and decided to apply for it.
Soon she was accepted to UCLA's International Medical Graduate Program, which trains recent medical graduates from Latin American countries to pass the medical board licensing exams and apply to family medicine residency programs. Graduates must legally reside in California.
Based at the UCLA Family Health Center in Santa Monica, the program was started in 2006 in response to the shortage of Spanish-speaking doctors in California. Only 5 percent of physicians in California are native Spanish speakers, but 36 percent of the state's population is Hispanic.
Furthermore, one-third of immigrants from Spanish-speaking nations are not English-proficient and therefore cannot access proper medical care here, said Dr. Michelle Anne Bholat, a professor of family medicine at UCLA and executive director of the program.
"There is a gap that exists between the doctors that are practicing and the numbers of Hispanic people," Bholat said. "Many of the doctors that work in (areas with a large number of Spanish speakers) are not able to speak to the patients or understand the culture."
The IMG program insists on one condition to tackle this discrepancy: After completing their residencies, the trainees must come back to California and practice for at least 24 months in a family medicine clinic catering to medically underserved communities.
"Because I made the decision to be a family physician, the program was just right for me," Salcedo said. "It was made for Hispanic doctors who wanted to work in underserved communities, so it had the same goal that I already have."
The IMG program requires applicants to have satisfied several prerequisites. They must have graduated from medical school less than five years ago, completed the proper courses and demonstrated proficiency in English and Spanish.
Applicants can apply to one of three programs on a rolling admissions basis. The first two programs prepare students for the first and second steps of the United States Medical Licensing Exam. The third consists of a clinical observership, in which students accompany physicians on rounds for 12 weeks.
The program is funded entirely by private foundations and corporations, and students are given a scholarship stipend for each program they complete.
Dr. Ravi Dave, an associate professor and cardiology director for the IMG program, agreed the cultural divide can be difficult for international doctors.
A physician needs to be aware of patients' home traditions and cultural values to properly treat them, Dave said.
"Only if you understand a patient's culture can you say, "˜Hey, this celebration is coming up, so I want you to avoid this certain dish loaded in salt and saturated fats,'" Dave said.
While she has found many similarities between Mexico and the United States, Salcedo has also noticed differences between the two medical systems.
"When I was doing my social service, we didn't have CT scans or X-rays even. It was very limited," she said. "Most of the time, people don't have the money for the labs they need, so you have to work by what the patient tells you and the physical exam only."
Since applicants also have to be fluent in verbal and written English, many applicants take English classes on their own time.
After coming to the United States, Salcedo did not work, but rather enrolled in language classes at the adult school across the street from where she lived.
Although students' English may be grammatically correct, pronunciation is often a difficult skill to master.
"I had one student (who) was extremely bright, but I had a lot of difficulty understanding him," Dave said. "I told him to pick up the Sunday newspaper, open it up to his favorite section, and just read it out loud."
During the rotation, the student's English improved dramatically, Dave said.
Salcedo said she and her fellow trainees rely on each other when dealing with the language barrier and cultural differences that come with working in a new country.
"A lot of us don't have our families here, and we are all having the same struggles here to fulfill our dream of becoming a doctor," she said. "For me, it's a new experience."