Field Day: Women's track and field sets its sights high for redemption in upcoming 2011 season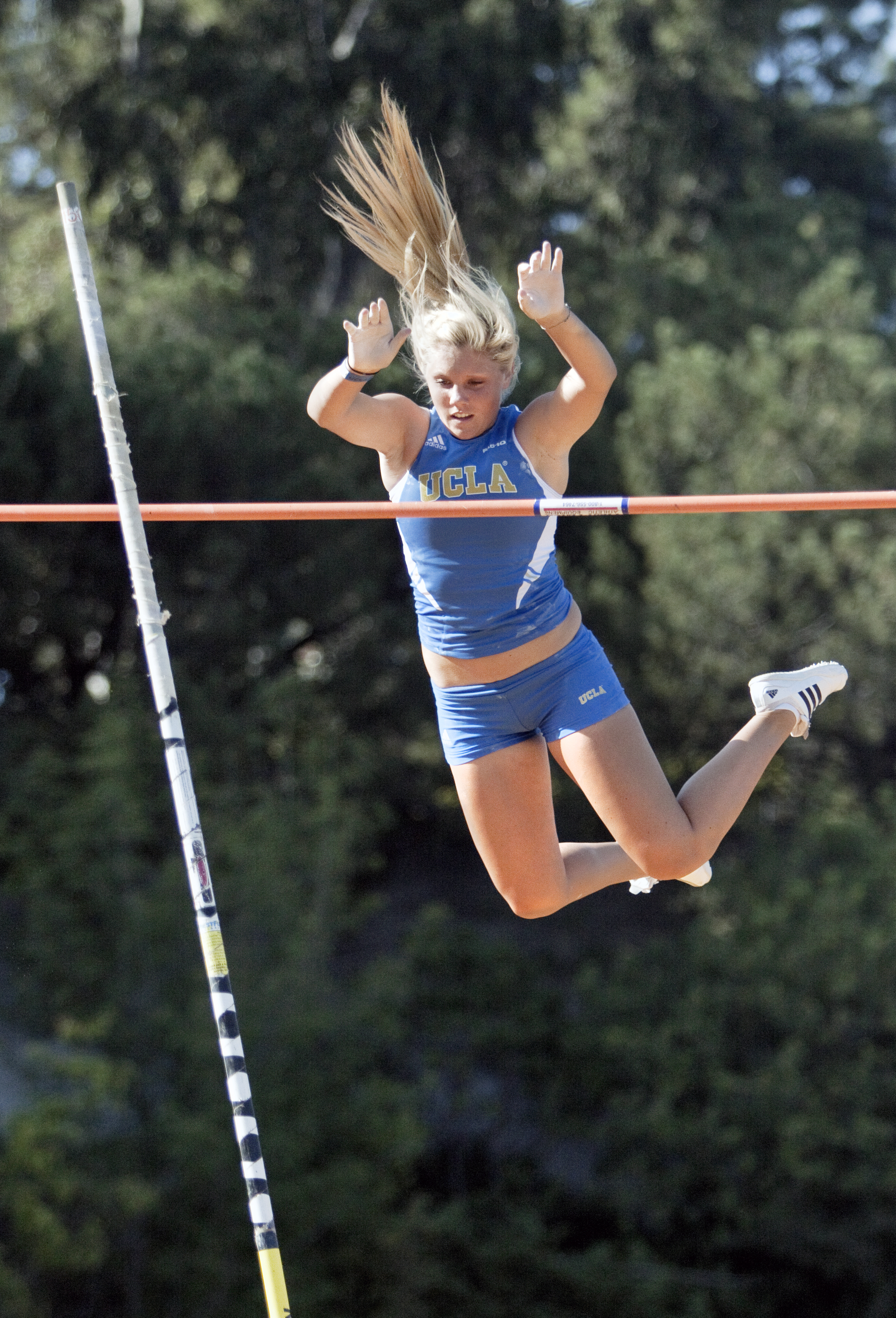 Sophomore pole vaulter Karlye Marshall and the Bruins begin their season today at the UW Invitational.
Women's Track & Field
UW Invitational
Today and Saturday
Seattle
The Bruins look to improve upon last season's 25th-place finish in the NCAA outdoor championships.
Does redemption have a face?
Yes it does "" 64 faces, in fact.
And according to UCLA women's track and field coach Jeanette Bolden, those faces translate into depth, just what her team needs in order to get back to its usual championship form as it kicks off the season today at the University of Washington Invitational in Seattle.
Having finished last season 25th in the outdoor championships and 56th in the indoor championships in the NCAAs, the Bruins have their sights dead set on harkening back to the glory days, when UCLA, with its five titles, was reckoned as a powerhouse of a program.
"We got used to winning, because we were winning Pac-10 titles year after year, being in the top 10, top five, winning NCAAs," Bolden said. "And then when I became the Olympic coach (in 2008), it kind of went (downhill) and I wasn't here as much. But the difference now is that I have my depth back; we don't have 34 people, we have 64. And I have a lot of quality depth."
Three of those five NCAA titles have come under the guidance of Bolden. And now, the 18th-year coach hopes that her team's depth will rejuvenate the program.
"You've got to look first and foremost at the athletes that did well last year, the Pac-10 champions, one of which was (sophomore hurdler) Turquoise Thompson," Bolden said. "She is healthy, she had a tremendous fall season, better than she had last year, so we're looking for big, big things out of her. And (junior hurdler) Lindsay Rowe, who won Pac-10 championships as well, she's looking to do really, really well and start off where she left off last year."
Rowe won the Pac-10 100m in 2010, achieving a lifetime best with a time of 13.24 seconds, ninth all-time in UCLA history.
A team co-captain this season, Rowe isn't ready to give up the crown just yet.
"Hopefully a repeat up until the Pac-10s, and even better in the NCAAs," Rowe said when asked what her expectations are this season.
With that said, Bolden hasn't forgotten about redshirt sophomore hurdler Ke'Nyia Richardson, redshirt junior pole vaulter Tori Anthony, senior jumper Ashley Baucham, senior distance runner Shannon Murakami and senior sprinter Joy Eaton.
"These are the young ladies that I feel will help lead and guide our team," Bolden said. "I think the thing right now is to really have them find that balance with the freshmen."
Certainly one of the instrumental leaders on the team, Richardson has battled injuries in the past. But she returns this season nursing nothing but an eager outlook.
"I think first of all we need to step up as leaders, as team captains," Richardson said. "I think if we can strengthen our events, do what we need to do and motivate our team, we'll have a really good turnout this year."
Another key to success for the Bruins will be the freshman distance runners.
As part of a larger freshman class ranked fourth in the nation by FloTrack, the first-year distance runners are expected to come in and provide the team with a boost.
"The freshmen have been fantastic," Bolden said. "(Distance runners) Sierra Vega and Melissa Skiba both stepped in and did a tremendous job during the cross country season. Our freshman middle-distance athletes stepped up and infused their middle-distance expertise to the long-distance runners."
As for the immediate future, the Bruins won't be competing in Seattle at full strength, with the jumpers and pole vaulters staying in Westwood for the weekend, according to Bolden.
"We're taking only 15 to 16 people, so it's not going to be a big team," Bolden said. "But I'm looking for some good individual efforts, so I don't think it's going to be enough to put us on the rankings. But over the next couple of weeks, we'll have that depth."
Indeed, a roster 64-deep figures to be the propelling force behind the Bruins' quest for glory, for a quenching redemption.