Anderson Wine Club members meet to learn about and drink wine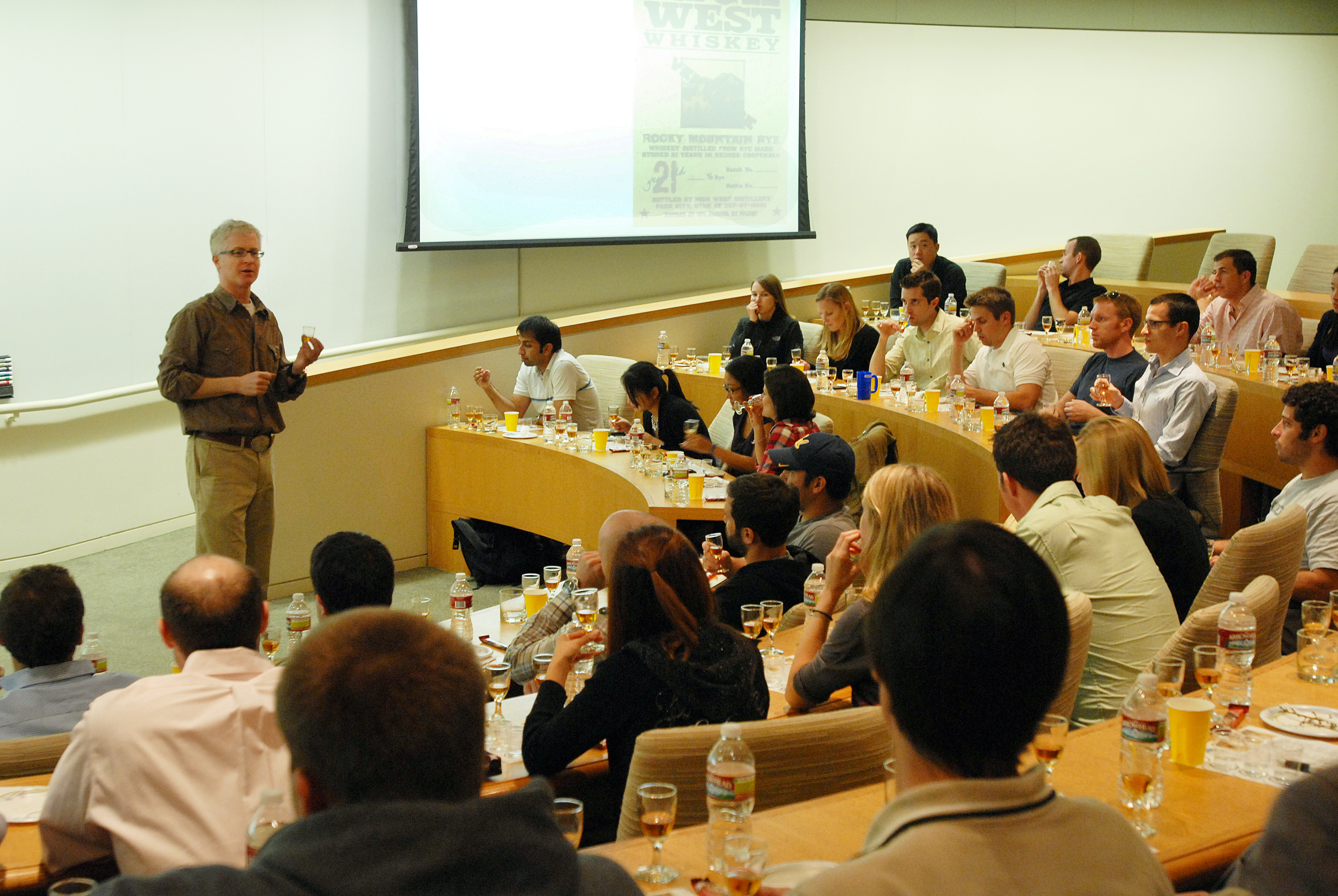 David Perkins, owner of High West Distillery and Saloon, spoke at an Anderson Wine Club event. The club is the only student organization in the UCLA Anderson School of Management that is allowed to serve alcohol on campus.
For Anthony Mendelson, wine is not just a way to take the edge off a busy day. It's a way of life.
Hailing from Napa Valley, Mendelson grew up in a family of winemakers that specializes in dessert wines. Blending family tradition with modern-day methods, he founded a technology firm to research and design for wine industry companies.
Nowadays, Mendelson brings together fellow wine lovers as co-president of the Anderson Wine Club, the only student organization in the UCLA Anderson School of Management allowed to serve alcohol on campus.
"We're a social club as opposed to a professional club," said Mendelson, a graduate student in business. "So it's not as much about recruiting for full-time jobs. It's more about learning and enjoying wine."
Ashley Bickford, one of the club's marketing directors and an Anderson student, said students who wouldn't usually interact with each other can bond over a common interest in wine.
But the wine club isn't just an excuse to drink. The two-pronged mission of the club is to entertain and instruct with a Wine 101 crash course and a speaker series throughout the quarter.
About two to three times per quarter, the club brings a local winemaker to campus to present a specific angle of the industry, while members enjoy hors d'oeuvres and sip on the speaker's samples. While most events are RSVP only and are capped at about 60 people, an all-member social wraps up the quarter with donated wine.
Once a quarter, the club ventures off campus to visit the vines of California winemakers and meet industry professionals, Mendelson said.
Entry fees run high compared to most student clubs, so members typically self-select based on personal interest or professional reasons, said Brie Baltzell, co-president of the club and an Anderson business student.
"I think a lot of people going into business know that … wine will be on the table, and they want to talk intelligently about it," Baltzell said.
For those looking to join the wine industry, the speaker series offers a glimpse of various business models, such as ONEHOPE Wine, which donates 50 percent of all profits to charity. The winery's presentation will discuss socially responsible business management, Baltzell said.
Like Mendelson, Baltzell has had her sights set on the wine industry for years. With some formal wine training and a background in food marketing under her belt, Baltzell entered Anderson to pursue wine marketing and brand management.
"Being part of the wine club was kind of a no-brainer for me," she said.
Her involvement has opened doors to many local wineries and vineyards and a web of professional contacts, she said. Next, she'll head to E&J Gallo Winery, the largest family-owned winery in the country, to continue her work in the industry.
As for selecting a favorite, Baltzell said she hasn't finished exploring the wide world of wine.
"I don't settle into a favorite anything. My favorite is the next thing I can learn about," she said.