Applying the Pressure: UCLA women's basketball is developing a new identity through its tough full-court defense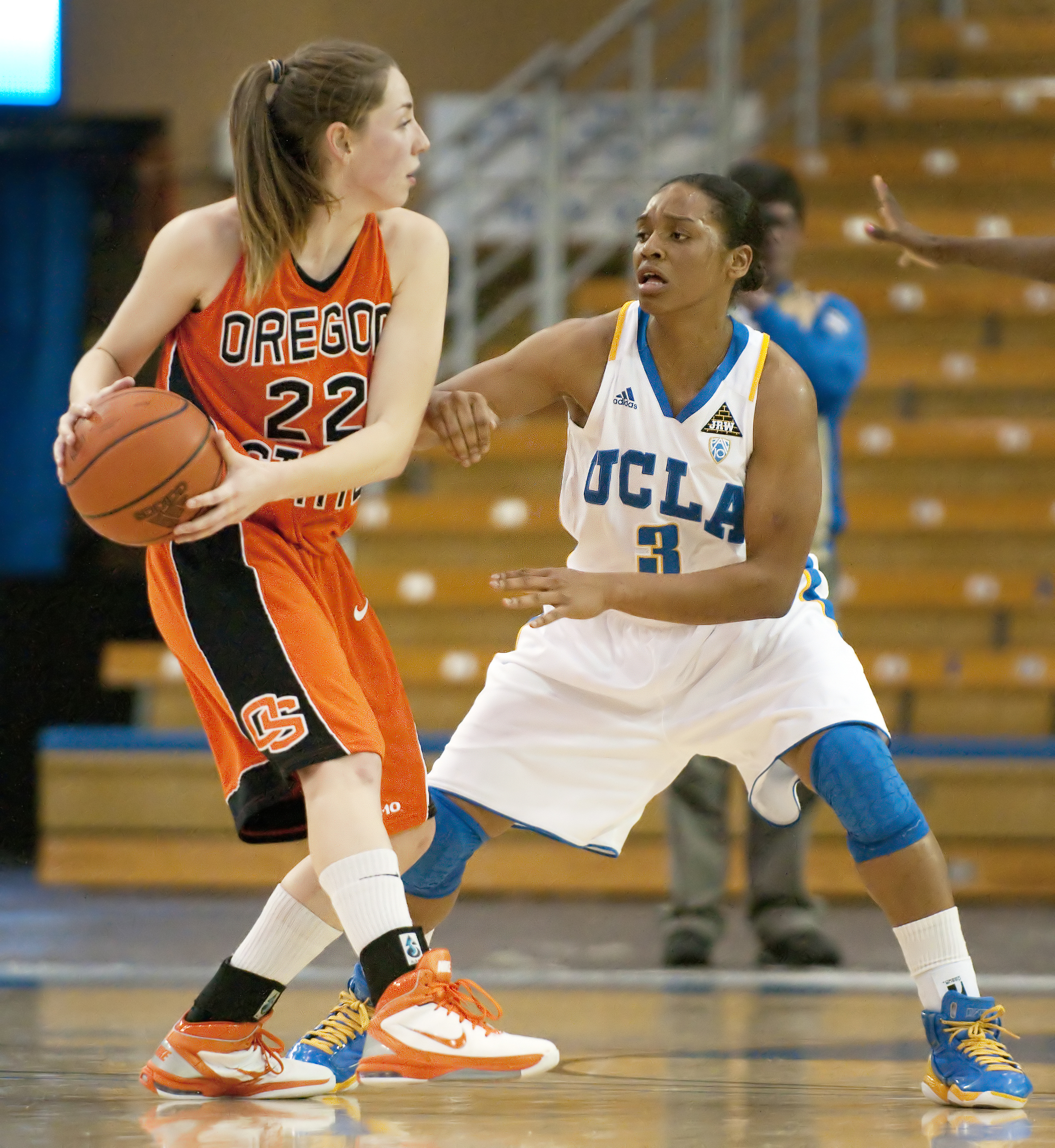 Senior guard Darxia Morris guards a member of the Oregon State offense.
It's something coach Nikki Caldwell calls "organized chaos."
Senior guard Darxia Morris describes it as "aggressive."
And so far, everyone else in the Pac-10 conference can call it stifling.
The "it" in question is the full-court press defense used by the UCLA women's basketball team, and it is becoming the trademark of a group that, before the season began, was in search of an identity.
Caldwell, now in her third year at the helm in Westwood, comes from a background where defense reigns supreme. As a former player and assistant coach of the perennial women's college basketball powerhouse that is the University of Tennessee, she saw firsthand how defense can win championships. Caldwell was a player on the Lady Vols team that captured the 1991 NCAA Division I title.
"Coming from a program where I played 94 feet, defended 94 feet as a player and coaching at Tennessee … (full-court pressure) has just always been a philosophy I've believed in," Caldwell said.
Bringing a new mindset anchored upon defense to a school with as much history on the hardwood as UCLA was not an easy task, but Caldwell saw potential in what she inherited.
"Right when our staff got here, we implemented full-court pressure because we had players who were, and are, athletic and pressed in high school and got after people," Caldwell said.
In her first two years at UCLA, Caldwell coached her way to a 44-21 record. This year, the No. 8 Bruins' record stands at 15-1 and 5-0 in Pac-10 play. It's a steady progression toward becoming a better team, and it looks like the defensive scheme is starting to pay off.
"When she first got here, we didn't press that much. When she got here we didn't know, like "" 94 feet the whole game?" Morris said of her coach. "Me being a senior and getting into a different system … it takes a while, but now it's just an ongoing thing. I'm used to it. I'm not going to even ask what defense we're in because I already know what she's going to say."
When the coaching staff and players say "94 feet," that's exactly what they mean. The Bruins put pressure on the ball starting with the opposing team's inbounds pass and don't take their feet off the gas until they force a turnover, a shot goes up or the shot clock expires.
The Bruins run several variations of the full court press, but the one that causes the most problems for opposing teams, and the formation they usually start a game with, is what they call the "22."
The purpose of the 22 is to take time off the clock and disrupt any kind of offensive tempo the opponents might be trying to build.
"What we do is deny the guards to kind of force them to the corner so we can easily trap them and basically put pressure on the guards up front so they can't get up the court real fast and get into their plays," Morris said.
The other type of full-court formation the Bruins utilize is designed to get steals and is much more aggressive. It's called the "12" and looks like a diamond formation, with three players up top pressuring and two more Bruins picking up those who stray toward the frontcourt. It's more of a risk, considering a long, accurate pass can lead to an easy layup or a two-on-one situation.
"It is a gambling defense," Caldwell said. "We can open the court up if we miss an assignment, but at the same time when we are on point with where our coverage is, it can be very effective."
How effective, one might ask?
The Bruins are No. 3 in the nation and No. 1 in the Pac-10 in steals per game, averaging 14.8.
And they are ranked No. 17 in the nation and No. 1 in the Pac-10 in scoring defense, holding teams to just 53.3 points per game.
The full-court press seems like a perfect fit for this relatively small Bruin team "" only two players stand taller than six-foot-one-inch: senior forward Christina Nzekwe and freshman center Corinne Costa "" but what the Bruins lack in size, they make up for in athleticism, and their defense plays a big part in igniting their transition game.
"We're very versatile," sophomore forward Markel Walker said. "Anyone can bring the ball up. So once we get it, we're gone."
The Bruins do not have a prolific scorer or highlight-reel player. What they do have is a game built on fundamentals, starting with defending the ball.
"It gives us an identity," Caldwell said. "When you play us and you face the Bruins, you've got to know that pressure is coming whether it's full court or half court. But we're going to bring heat to the ball."
"People are underestimating us because we're Pac-10," Morris added. "People think the Pac-10 is weak, that it's not as strong as the Big East and ACC. But us showing that we can press full court shows that we can hang with any school."