Falafel-filling a culinary dream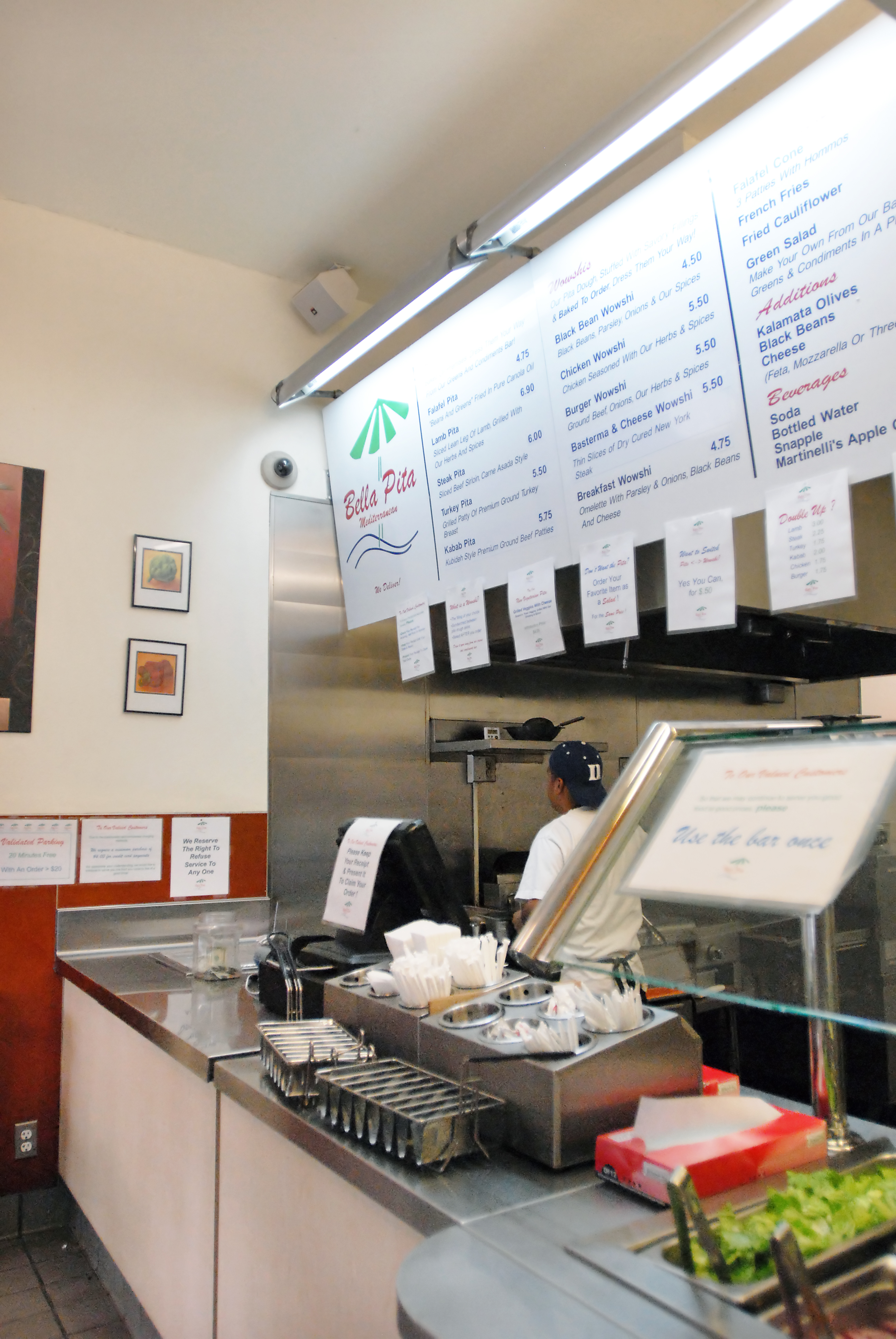 Westwood favorite Bella Pita is a Mediterranean restaurant owned by UCLA Professor Medy Sanadidi.
Correction: In the original version of this article, Los Angeles was misspelled.
Although UCLA Professor Medy Sanadidi dedicated his education to pursuing computer science, he always held onto another dream "" to open his own restaurant.
"Me and my family are "˜foodies.' My father, who was a lawyer in Alexandria, Egypt, as well as his sister, my aunt, were noted home cooks. Myself, my son and daughter have always enjoyed dabbling in food and cooking," Sanadidi said. "It was probably always in the back of my mind."
His dream became a reality in March 2007, when Bella Pita opened its first location on Gayley Avenue with the goal of serving healthy, budget-friendly Mediterranean food to Westwood residents and UCLA students.
"The idea became attractive when I realized I could do this project with my son, Ezedin," said Sanadidi, who graduated from UCLA in 1982. "He has gained experience in restaurants, and I wanted to set up such a project with him."
Raised in Egypt, Sanadidi knew he wanted to serve Mediterranean food in his restaurant, and eventually created a menu of pita sandwiches, falafel and "wowshi", a loaf baked with meats, vegetables and dough, inspired by the recipes he grew up with.
Since its debut, Bella Pita has opened another location in West Los Angeles that is also run by Sanadidi and his wife.
Yet Sanadidi said he thinks most of his students do not know about the restaurant.
A former graduate student, Anand Mehta, said he had worked in Sanadidi's lab and only found out once he visited the eatery.
"I spent all of (last) summer working with him and some lab members, and there was a visiting student from Egypt." said Robert Lim, another of Sanadidi's former students. "It was the student's last day, so we wanted to go out and send him off, and (Sanadidi) suggested his restaurant "" I thought it was just his favorite place, but sure enough, we walked down to Westwood and (Sanadidi) ordered food for us."
Lim, who now works off-campus, said he now often eats at his professor's restaurant, not only because of his relationship with Sanadidi, but because of the uniqueness of the food.
"It's one of regular places I go to with my coworkers," Lim said. "It's a fast food place, but it's quality fast food "" they actually make the food there. He's definitely found a niche with the Mediterranean food."
For Sanadidi, the restaurant is an outlet for one of his lifelong passions; although he continues to teach and do research at UCLA, Sanadidi said he takes satisfaction in seeing regulars enjoy his recipes and hopes to expand the company to a third location in downtown Los Angeles.
"I love the "˜love' that we get from many of our customers," he said. "It is really so rewarding to see the appreciation and the excitement of many of our customers regarding our food … knowing that it is also healthful."