UCLA students undress to de-stress in Wednesday's Undie Run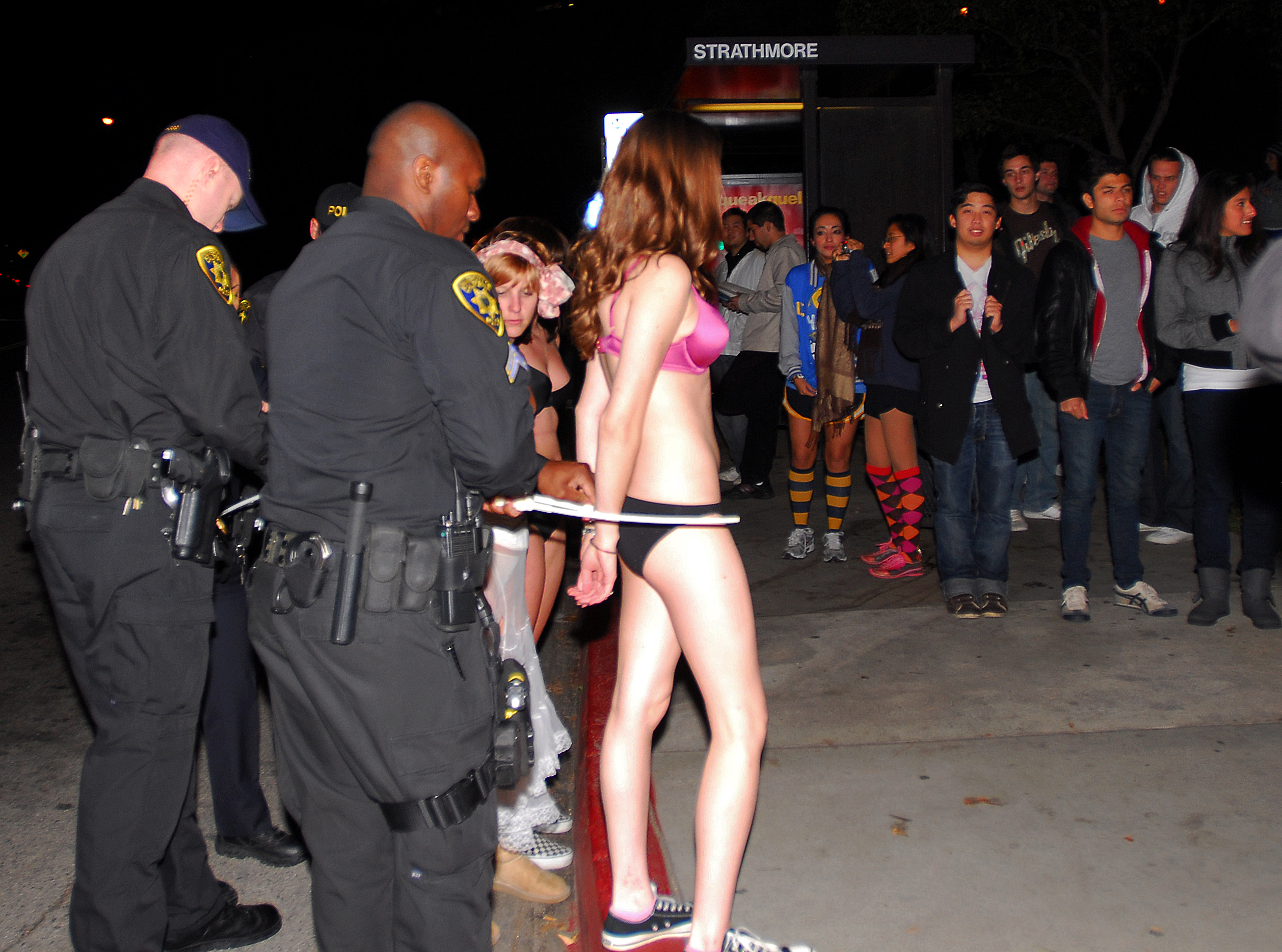 Daily Bruin File Photo
Approximately 2,000 are expected to participate in Wednesday night's Undie Run. Last fall's run led to the arrests of a number of students.
About 2,000 students are expected to participate in this quarter's underground Undie Run, which will occur Wednesday at midnight.
Despite the presence of university police and students affairs officers, students will be meeting at the corner of Strathmore and Gayley avenues to run around popular campus spots, including the Inverted Fountain and the Bruin statue, said Matthew Austin, the organizer of the event and a fourth-year communication studies student.
The estimated number of people attending is based on the RSVPs on the event's Facebook page.
"Police forces will be deployed in large numbers in and around UCLA to ensure that nobody breaks the law or gets hurt," said university police spokeswoman Nancy Greenstein.
She added that people who are involved in illegal activities, including jaywalking and underage drinking, will be arrested or given tickets.
A number of students have been arrested in previous Undie Run events for jaywalking and underage drinking.
"Any student involved in an activity that is illegal or goes against the student code of conduct will be subject to campus disciplinary sanctions, which would range from a warning or probation to even suspension," said Robert Naples, associate vice chancellor and dean of students.
The first Undie Run took place in spring 2002 as an alternative to the Midnight Yell, which involved students yelling loudly for a minute at midnight during finals week to relieve exam stress.
In 1999, during the Midnight Yell, some students threw burning furniture out of their dorm windows. Los Angeles riot police arrested 19 students, and the university banned the yell, said Brad Greenberg, a law student who was one of the first 13 Undie Run participants in spring 2002.
"They were trying to tell us what we could and couldn't do during finals. … We ran from our rooms to Glenrock Avenue in our skimpy shorts, singing and having fun," Greenberg said.
The event rapidly became popular, increasing from 13 students in 2002 to thousands in recent years. However, there have also been a number of non-UCLA participants, which led to violence and damage to property, Naples said. This led the university to ban the run last fall.
"We do not support the event. It brings student safety into question, primarily because of the involvement of non-UCLA people who are not concerned about our students or neighborhood," Naples said.
As a result, the run is now a quieter, unofficial student gathering.
Austin said he was one of 17 students who were arrested and locked up for about three hours during last fall's Undie Run. Most of the arrests were made for jaywalking, he added.
Greenberg said banning Undie Run is ultimately pointless because the event was created in response to another banned student tradition, Midnight Yell.
"I am not very happy about them banning (Undie Run) simply because of the presence of outsiders," he said. "(Outsiders) should be allowed; the whole idea behind the concept is that nobody can tell anybody what they can or cannot do."
The route of the run has been changed several times to evade the administration, Greenberg added.
"The event is going to be great fun. The only thing is that people shouldn't jaywalk or get drunk," Austin said. "We had a great time last quarter, we hope to have one this time too."