ROTC follows Don't Ask, Don't Tell despite UC's policy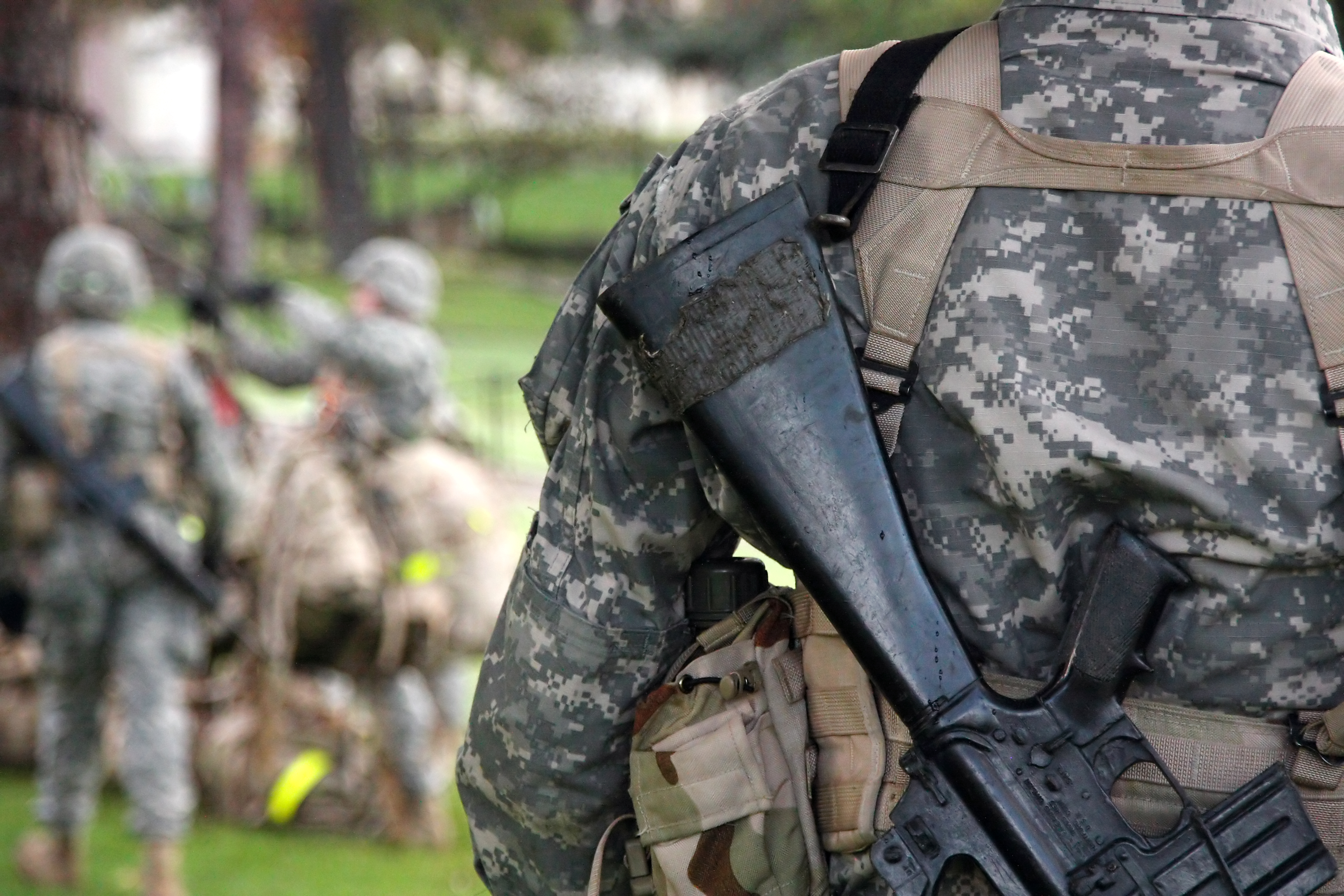 Members of ROTC practice from 6 a.m. to 7 a.m. three days a week.
Lying to his master sergeant, a former cadet in UC Berkeley's Reserve Officers' Training Corps remembers when he described the white ribbon on his jacket, which was tied in a knot for gay marriage, as a symbol for peace.
Although the cadet said he believes most of his fellow cadets suspected he was gay and did not care, the ROTC policy of Don't Ask, Don't Tell was still an irritation.
"I really hated that moment, because I really don't like lying," the cadet said. "I hated that the policy made me lie in order to stay in the program."
For students in university ROTC programs, including UCLA's ROTC, the Don't Ask, Don't Tell policy is as relevant in their daily lives as it is in the lives of soldiers serving abroad.
A UCLA cadet, who asked to remain anonymous, said there are no openly gay students in UCLA's ROTC. Upon entering the program, students are required to sign a contract that says they are not homosexual and will not participate in homosexual activities.
Outside of the program, gay cadets have to be careful about who they are seen with, since visual proof of homosexuality, such as holding hands or being on a date, is grounds for dismissal.
"I am with someone right now, and even though I am out of the program, I am reluctant to be seen publicly displaying our relationship," the Berkeley cadet said. "I like my cadets and I like my officers, and I don't want to be judged negatively on my orientation."
Within the program, keeping a secret about one's homosexuality can create confidence issues between fellow cadets.
"It damages relationships and camaraderie," the UCLA cadet said. "If you don't know your buddy 100 percent, it's hard to trust them."
Though the Berkeley cadet understands the military's decision to have the policy in place to protect unit cohesion, he said Don't Ask, Don't Tell is still a form of discrimination.
UCLA and the entire UC system prohibit discrimination on the basis of sexual orientation.
"We don't allow organizations to be discriminatory. There are on occasion selective criteria for honorary societies, but all members of the campus community are eligible to participate in general," said Kenn Heller, associate director for the Center for Student Programming. While this policy covers admission, access and treatment in university programs and activities, one program is exempt: ROTC.
ROTC can enforce Don't Ask, Don't Tell, despite contradicting the school's nondiscrimination policy, because it is a military program working within the college.
"The current policy is that Don't Ask, Don't Tell is in place," said Captain Simon Kim, an enrollment officer for UCLA's ROTC. "As students and as faculty, we are going to support whatever the military … and Congress supports."
Currently, neither the UCLA administration nor the UC Office of the President have an answer to how the two different policies can exist on campus.
The conflict between policies has only recently come to the UC's attention, said UC spokesman Peter King.
"To be quite honest, we are looking at it to see how the policies align," King said. "There are legal questions. Is (ROTC) a military program on campus or is it a military department in the college?"
Despite the conflict, the numerous programs on campus committed to the nondiscrimination of the Lesbian, Gay, Bisexual and Transgender community convey the school's message of nondiscrimination, said Pamela Thomason, UCLA's sexual harassment coordinator.
As far as Thomason knows, no complaint has ever arisen at UCLA concerning the nondiscrimination policy and the ROTC's policy of Don't Ask, Don't Tell.
But some schools, including Harvard and Stanford, have refused to allow ROTC programs on their campuses largely because of the nondiscrimination conflict.
In response, the Solomon Amendment was introduced in 1995 and ruled constitutional in 2006. Under the amendment, higher education institutions can be denied federal funds if they do not provide equal access to military recruiters, including ROTC.
Although UC schools would risk losing funding if they did not have ROTC programs, King said providing education to the future leaders of America is the reason UC campuses have ROTC programs.
Recently, the suggested repeal of Don't Ask, Don't Tell has created debates about the reintroduction of ROTC in schools that currently refuse to host it.
"It will be interesting for us to see … whether or not those same universities will open their doors to ROTC," Kim said.
For now, Don't Ask, Don't Tell remains in place, despite consensus among cadets that it should not be a factor for ROTC admittance.
"It is a brand new generation, and we are all sort of in agreement on it," the UCLA cadet said. "As long as you can do your job "" and do it effectively "" (sexual orientation) shouldn't be a problem."