Smart guy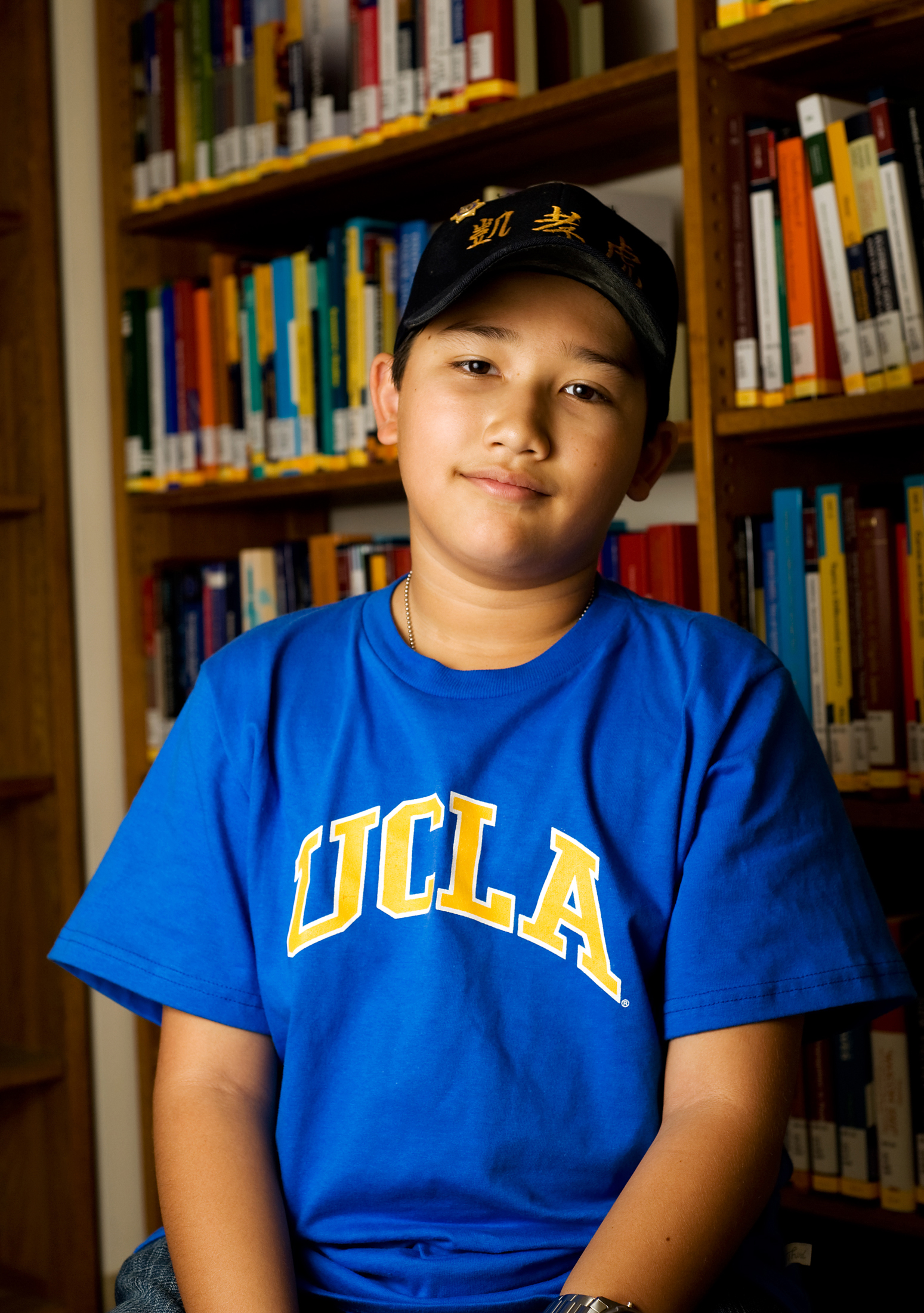 Moshe Kai Cavalin, who is 11 years old, began his career at UCLA last week as a third-year studying mathematics.
The day Moshe Kai Cavalin moved into UCLA's off-campus housing, his parents moved in with him.
Too young to live in the dorms, Cavalin, just shy of 12 years old, began classes at UCLA last week as a third-year mathematics student.
"(Off-campus housing) is mostly graduate students and their kids. For me it's the opposite," Cavalin laughed. "I'm bringing my parents."
Cavalin began learning how to read and do math from his parents when he was 3.
After several rejections from public schools that worried he would be a distraction to older classmates, Cavalin's parents, Shu Chien and Yosef Cavalin, continued home-schooling their son until he surpassed their knowledge.
"He was quick to pick up things. When he was bored, he asked for his father's books," Chien said. "He didn't talk when he was little, so we didn't know if he understood the meaning of words.
Now he talks nonstop."
At 8 years old, Cavalin entered East Los Angeles College as a part-time student, a year-long probationary period of sorts by the school to test his skill and attention span.
While he quietly waited among the chatter for his first college course to start, Cavalin's professor, who thought the young boy was saving a seat for his mother, told him to go get her as the class was about to begin.
"I told him, "˜No it's me taking the class,'" Cavalin said.
Shocked by the boy's age, Cavalin's professor tested his knowledge until he was satisfied with the string of correct responses he received.
"It started out (other students) were thinking I'm a superman.
No, I'm not a superman … out of this world. I just work hard, that's all I do," he said.
Last June, Cavalin graduated as the youngest student in the United States to hold an associate's degree "" summa cum laude with a 4.0 GPA.
"He's a really good kid. I feel weird calling him a kid. … He's more than willing to help out in all his courses," said Alexander Carlos, a friend of Cavalin's from ELAC and a third-year applied mathematics and economics student at UCLA. "Everyone in class is always … blown away by his age. They think "˜Wow, if he can do it, I can do it.' It's inspirational."
From a young age, Cavalin's parents encouraged him to develop both sides of the brain, science and art. In addition to academic achievements, the Regent's Scholar has also won numerous awards as a martial artist and pianist, and added swimming and scuba diving to his repertoire.
"Make a plan and put your heart on that plan," Cavalin said.
He said this philosophy, along with hard work, is what has led him to success. It is something he hopes to inspire other students with in a book he is writing for parents and their children add about how to succeed in school.
As Cavalin and Chien walked away from the Court of Sciences, Cavalin playfully chatted alongside his mother. A Chinese belief says a mother's traits while she is pregnant are also passed on to the child, Chien said, adding that people often tell her it was because she was studying international business while pregnant that her son is so advanced.
"Mom, did you like burgers too?" Cavalin asked her excitedly, quickening his pace to catch up. "Pizza?"
Cavalin said he hopes to continue his education in astrophysics, maybe at UCLA, where he encourages his mother, who plans on pursuing her Ph.D. when her son is a bit older, to do the same.
"I'm nervous and excited (to be at UCLA). I'm going to have more people to experience my hard times with and study with and chat with, but my father says be careful because most people here have dates. … After I get my Ph.D. I'll worry about a girlfriend and stuff."
Despite his seemingly endless achievements, Cavalin maintains he is just a regular kid.
"I like to do math problems in my free time," Cavalin laughed.
"No, I'm kidding. … Many people think I'm a genius, but I'm not. There are roughly 6.7 billion people in the world. Everyone is smart in his or her own way."