Rowe steps into big shoes as new starter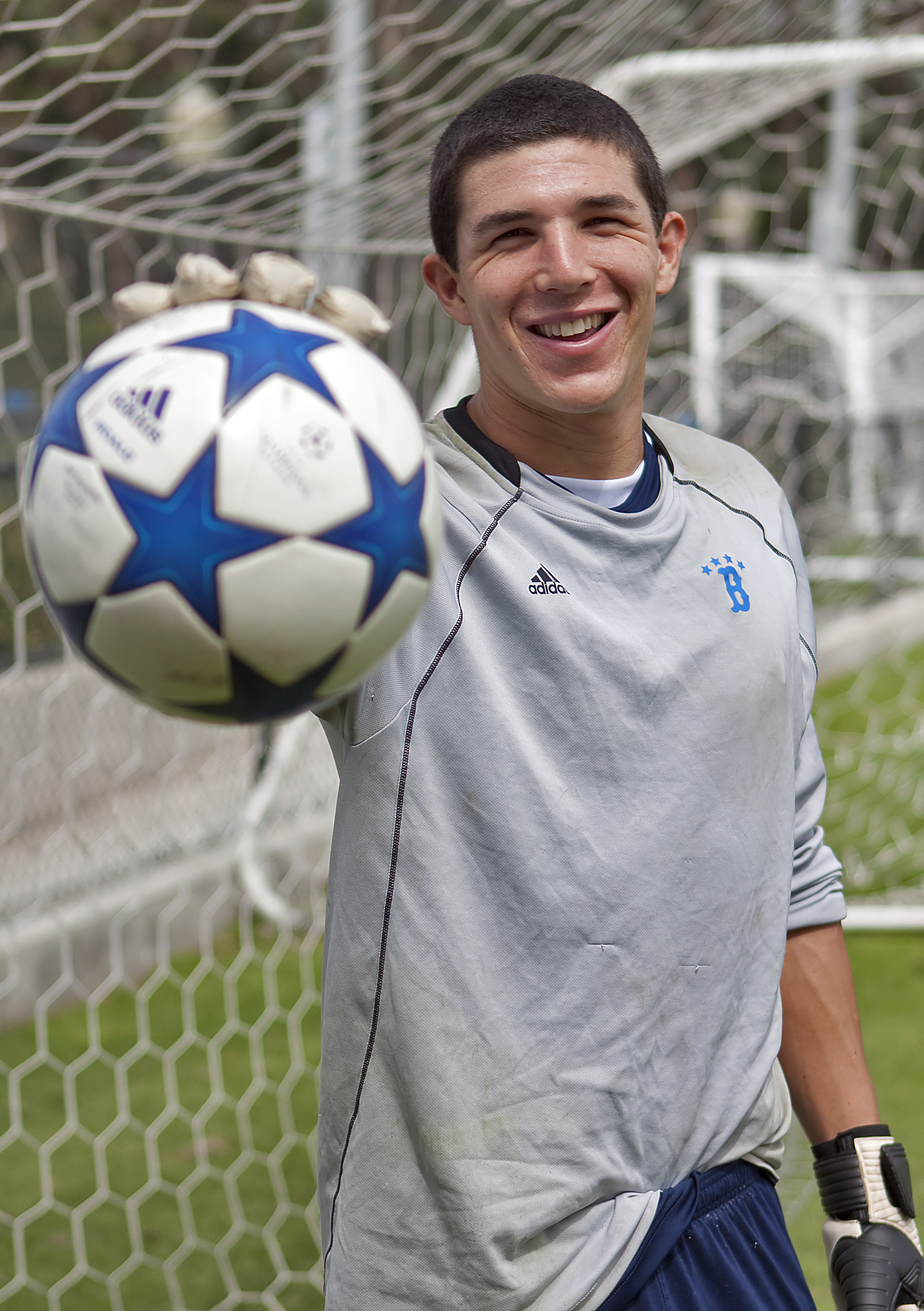 Redshirt junior goalkeeper Brian Rowe is now a starter for the UCLA men's soccer team and has already made an impact both on and off the field. Rowe takes over for Brian Perk, who was a three-year starter at UCLA.
Losing eight players would be difficult to overcome for any team, but when one of those players was the starting goalkeeper for three years, the task of filling his position becomes even more crucial.
With Brian Perk's departure to Major League Soccer last spring, the starting goalkeeper spot for the UCLA men's soccer team was up for grabs, and after a summer of contention, redshirt junior Brian Rowe emerged the successor.
Six games into the season, it is already clear that Rowe is quickly acclimating to his newfound role with the team.
"He's done fantastic so far," senior goalkeeper Kevin Weiner said. "We had one rough game, but every other game he's come up with huge saves and really kept us in a lot of games."
Despite competing against each other for the starting spot, Weiner made it clear that there is no love lost between him and Rowe, and that their friendship off the field only strengthens their play on the pitch.
"Brian and I were matched together our freshman year, and we've been roommates since then, so he's definitely my closest friend on the team," Weiner said. "Absolutely, we push each other. He saw me working hard to get to his level and that pushes him to work harder."
Rowe's work ethic and strong play this season has helped him to gain his teammates' respect and trust in his guarding the net.
"I know it's been a long time waiting for him (to start), so he's taking advantage of his opportunity and playing really well," sophomore midfielder Ryan Hollingshead said. "We all feel really confident with him back there."
For Rowe, committing to play at UCLA was not a tough decision to make, despite knowing that he would not be getting playing time right away.
"I knew coming in that there was a keeper or two ahead of me, so I definitely sat the first two years putting in the work, because it was great for my game and gave me a lot of experience," Rowe said. "Being able to train with (Perk), one of the best college goalkeepers in the country, definitely helped me out. The history of the program and all the keepers they've produced from here played a huge part in my decision."
As Perk's understudy for the past three years, Rowe not only gained the tools needed to become a starting goalkeeper, but also the confidence to fill the role and get the job done. He played in seven games last season while Perk was playing for the under 20 U.S. national team and went undefeated, allowing just five goals during that span.
"We're renowned for having great goalkeepers, so obviously having to sit on the bench for a few years is tough for anybody," junior midfielder Andy Rose said. "In a position where only one guy can play and with the likes of Brian Perk before him, it was always going to be tough, but he's come in and really taken the No. 1 spot and ran with it."
For now though, Rowe is content with putting in his best effort, game by game, and gradually making a name for himself on the field.
"In the back of my head, there's a little bit of pressure there, so I've just got to keep proving that I'm good enough to play in this spot," he said. "I try not to think about it and just play my game and focus."
With a shortage of seniors on the team this season, the Bruins are also looking toward Rowe to step into more of a leadership role.
But while Perk was well-known for being one of the more vocal players on the team, Rowe is just the opposite.
"You kind of go from one extreme with Perk being very loud to (Rowe) being quieter," Rose said. "It's just a different kind of leadership role, equally as good when we play. We have plenty of loud guys in the back, so it's not that big of a deal. He leads more by example."
However reserved Rowe may be, his composed demeanor during games hasn't taken anything away from how the team operates. Instead, it has only helped strengthen the chemistry with his teammates, particularly the underclassmen.
"I definitely feel that with a lot of freshmen, we need to step up and show them the ropes," Rowe said. "I think they've gotten used to me (being quieter), so they kind of look up to me to let them know where they're supposed to be. I definitely don't get on the players as much, but I know they understand which mistakes they made and how to fix them, so I try to just keep them motivated and make sure they're doing the right thing."
As Rowe adjusts to his newfound position as both leader and starter, he has put the pressures of upholding the goalkeeping legacy on hold and has instead enjoyed what this season has to offer, one week at a time.
"I'm just looking forward to each week, game by game, and taking it all in," Rowe said. "I know our team has a lot of potential; we just have to figure out how to better our game."