UCLA student Arianna Afsar crowned Miss California 2010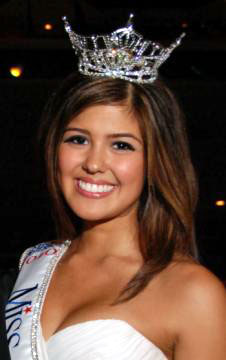 Second-year Arianna Afsar is the 2010 Miss California winner.
Two thousand pairs of eyes watched with anxiety as Arianna Afsar, a UCLA student, stood as one of two women waiting for the two words they had been anticipating "" Miss California.
"I was completely shocked "" I was not expecting it," Afsar, a second-year undecided life science student, said.
On July 10 in Fresno, Afsar was chosen out of approximately 55 women as Miss California, the state's representative in the 90th Miss America pageant.
"I literally was thinking 'Oh wow, I got first runner-up,' not even thinking that it was going to be me," she said.
Although it was Afsar's first time competing for Miss California, she had previously been crowned Miss San Diego's Outstanding Teen 2005 and Miss California's Outstanding Teen 2005, and she was first runner-up in Miss America's Outstanding Teen 2006.
"I wanted to do the Miss pageant because as an outstanding teen, (the title) had afforded me so many opportunities," Afsar said.
And now, along with the Miss California title, Afsar has earned more than $30,000 in scholarships, said Bob Arnhym, president and CEO of the Miss California Organization.
The Miss America pageant had awarded more than $45 million last year at the local and state level, Arnhym said.
The Miss California competition consists of four preliminary stages "" a private interview with a panel of judges, a talent performance, a swimwear portion to measure physical fitness and an evening gown session to demonstrate poise and confidence.
The top 12 scorers compete in the final round, which then reduces the group to five women depending on the quality of their answers to on-stage questions.
"Raw beauty is not enough," Arnhym said. "(Miss California) has to be physically fit, bright and a good communicator, and she has to be talented."
According to Kabir Nigam, Afsar's duet partner in Spring Sing, Afsar fits the bill perfectly.
"No one deserves the title more than her," Nigam, a second-year psychobiology student, said.
As Miss California, Afsar carries three central responsibilities: to make various appearances at public events; to support the national platform, Children's Miracle Network; and to support her own platform, Adopt-a-Grandfriend.
"I started Adopt-a-Grandfriend as a club in Westview High School after visiting my grandma at her senior home a few times, and I have been involved in it ever since," Afsar said.
Afsar visits and performs in senior homes on a regular basis, fostering relationships with elders that could both encourage more community involvement and sharing knowledge with the younger generation.
"She is an incredibly successful, very smart, well-spoken girl," said Russell Angelico, musical director of Scattertones, a UCLA coed a cappella group of which Afsar is a member. "For her merits, I wouldn't have expected anything less."
As for her vocal talent, Afsar had numerous experiences performing on stage, including American Idol's season eight in 2009 where she ended up in the top 36.
"(Through 'American Idol,') I was able to get a glimpse of the entertainment industry," Afsar said. "(I was able to) learn about myself as an artist."
As a member of Scattertones, which recently released an album titled "Wherever You Stand," Afsar is featured as a soloist on the track "Almost Had it All."
Miss California, however, is a stepping stone for Afsar toward an even greater goal "" Miss America, which will air from Nevada on Jan. 15 on ABC.
In preparation for the national competition, Afsar will have a personal physical trainer to stay in top physical condition and work with a voice coach to be competitive in talent.
She will also study contemporary, often female, issues for the interviews.
"It's very awesome to have all this wonderful support (in) preparing for Miss America (and) to have all these people volunteering their time to benefit me," Afsar said.