Recently seen on "Glee," dancer Karen Chuang balances academics with her dance career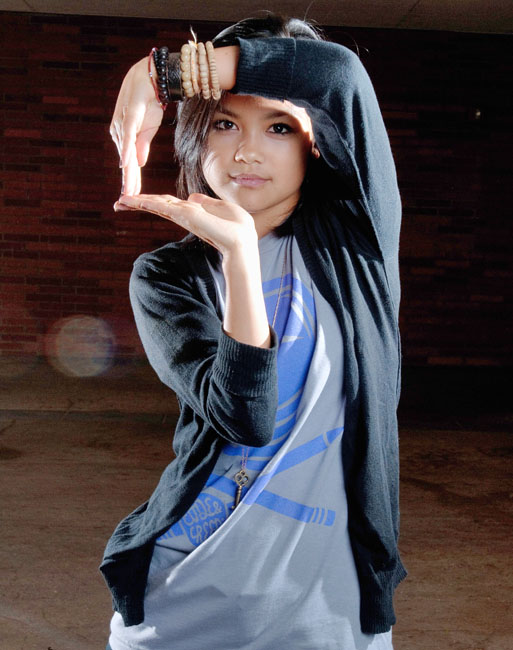 Third-year business economics and world arts and cultures student Karen Chuang performed in the June 1 episode of Glee. Chuang performed as a backup dancer for Vocal Adrenaline, the rival show choir of New Directions.
If you caught the "Funk" episode of Glee, which aired June 1, you saw Karen Chuang, third-year business economics and world arts and cultures student, dancing a routine to Queen's "Another One Bites the Dust" as part of the rival team Vocal Adrenaline.
"It all happened during spring break. We rehearsed one day from 9 until 5. We learned the dance, and then we had a shoot day from 7 until 4. We shot that dance dozens of times," Chuang said.
Chuang got the role without even having to audition. Glee choreographers Brooke Lipton and Zach Woodlee contacted Chuang's agent, Shayna Brouillard, for a replacement dancer for Vocal Adrenaline.
"I suggested Karen and they thought she had a great look, so she was hired right from her picture," said Brouillard, who has been officially representing Chuang since January but has worked with her since 2008.
Lipton was Chuang's dance teacher a couple of years ago, and the two have kept in touch since then.
"She trusted that I would do well with the dancing part," Chuang said.
Chuang was also asked to dance with Vocal Adrenaline at Regionals for the Glee finale and for the Glee tour at the Staples Center, but she was unable to make either because of school conflicts.
"They're filming a lot of next season's episodes over the summer and hopefully I'll get called and be able to dance on it," Chuang said.
Chuang has been dancing since she was 6, beginning with combo classes. She became more involved with contemporary dance in high school.
Her parents were very supportive, always taking her to dance conventions and classes.
"Their mentality was, as long as I enjoyed doing it and I really wanted to keep going with it, they would support me," Chuang said.
One of Chuang's teachers is "So You Think You Can Dance?" choreographer Sonya Tayeh, and Chuang has also danced at the same studio as Katee Shean, who was a finalist in the fourth season of the show.
Chuang got her start in the dance industry with the Nickelodeon TV series "Dance on Sunset," which ran for a season in 2008. Last spring quarter, she went to Korea to film a music video with Korean pop star Ava.
She has also hosted "Disney 365″ on the Disney Channel.
"They're little segments, kind of like a 'Movie Surfers' type of thing but more catered toward Disney products," Chuang said.
Along with her impressive dance resume, Chuang is involved in NSU Modern, Nikkei Student Union's hip-hop team. Chuang was a coordinator for the team last year, along with UCLA alumnus Gregory Gee.
"Karen has a unique style and sense of moving. She is able to hit things with sharpness and precision, yet at the same time keep it smooth and rounded," Gee said.
Chuang's residence in Los Angeles has been beneficial to pursuing a dance career as many choreographers are based here, making it easy for her to take classes from some of the best ones.
Despite having supportive parents and the opportunities she has found in Los Angeles, Chuang sometimes finds the dance industry to be discouraging.
"There are so many talented dancers qualified for the jobs that are offered. When it comes down to it, it has a lot to do with your look," Chuang said. "People think I'm 5 years younger than I am. It's the reason why I've lost a lot of jobs."
One job she lost for this reason was a chance to dance on Britney Spears' promotional tour.
"I rehearsed with her and the manager said I didn't look mature enough," Chuang said.
Along with this discouraging aspect, the entire audition process can run four or five hours, including being stuck in Los Angeles traffic. Chuang also takes many dance classes in the Hollywood area, including hip-hop, modern and ballet, outside of school time. When she does not have time for dance classes, she tries to run often to keep up her endurance.
"Karen has managed to find a balance between her schooling and her dance career, which is something that many dancers of her caliber struggle with," Brouillard said.
Despite the possibility of a bright future in dance, Chuang takes her studies seriously, has recently applied to the dance concentration of world arts and cultures and is considering becoming a dance professor.
"I might also try to combine business economics and dance and maybe own a dance business, or somehow incorporate the two into one job," Chuang said.
Chuang plans on continuing auditions this summer.
"Karen has a very long career ahead of her in the dance industry," Brouillard said. "Whether she chooses to work commercially, in television or film, or if she wants to get into company work, she is capable of succeeding on many levels."