Coach retires but never truly leaves UCLA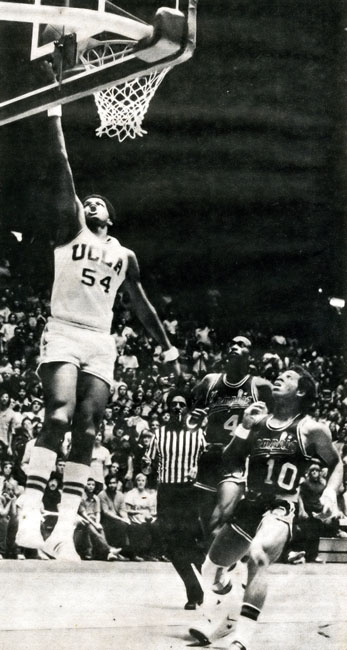 1975 – In a game against Memphis State early in the 1974-1975 season, Marques Johnson reaches for a layup. The Bruins won that game 114-94. They lost only three games that season, en route to their 10th NCAA Championship.
It wasn't your typical NCAA tournament.
For one, the 1975 field included 32 teams for the first time, up from 25 in the previous year. Conferences were now allowed to send more than one team to the dance. The Final Four took place in San Diego, the last time it would be held in California. And UCLA did not enter as the defending champion.
Having won seven consecutive titles from 1967 to 1973, the Bruins under John Wooden suddenly found themselves in a drought: two calendar years without a banner.
But a squad that featured four new starters put together a Final Four run that culminated in an epic, come-from-behind, how-did-they-do-that, 75-74 overtime win in the semifinals against a Louisville team coached by former Wooden apprentice Denny Crum. Needless to say, a celebratory whirlwind struck UCLA's postgame locker room.
"It was just over-the-top exuberance of beating a Louisville team in a hard-fought, gut-wrenching game that I wasn't quite sure we would be able to win," said Marques Johnson, a sophomore on the team and one of its most valuable contributors.
"We were just on this emotional high, and Coach comes in and kind of quiets things down and makes the announcement that this is it, he's giving it up."
At long last, the Wizard of Westwood declared his intention to lay down the wand; Wooden was going to retire at the end of the tournament. The revelation couldn't have come at a stranger time for the team as it turned its attention to a matchup with Kentucky in the title game.
"Everybody was quiet, it was kind of a psychological shock," said Raymond Townsend, a freshman on that year's team. "Nobody knew exactly how to react."
The group of players that were unabashedly committed to the man had just one more game to play under his guidance.
Then again, what group of pupils would be better equipped to maintain a clear mind?
"The one thing that Coach Wooden was always good at was making sure that we maintained that laser-like focus in whatever we did," Johnson said. "There's no way we're going to let Coach go out not being champion. We would have had to drop dead on the floor that Monday night for Kentucky to beat us."
No fatalities were necessary; the Bruins defeated the Wildcats 92-85 to send Wooden off with his 10th and final championship, one that didn't have a superstar name like Kareem Abdul-Jabbar or Bill Walton attached to it. It was another feather in the proverbial cap, another superlative. How else can one describe someone who was already viewed as a transcendent leader and unmatched winner?
"He was an intense dude," Johnson said. "I think that's one of the dichotomies of Coach Wooden that people don't understand, that he was this fiery competitor."
Competing was not the only activity that Wooden utilized his longtime coaching platform for.
"If you asked Coach what he did for a living, he would say he was a teacher, not a basketball coach," Crum said in a statement. "He was such a perfectionist and his attention to detail was genius. He never wanted to overlook anything."
Although its iconic leader had stepped down, a basketball program cannot just retire. The show, somehow, would have to go on, and it was up to players like Johnson, Townsend, Richard Washington and Andre McCarter to ensure a smooth transition.
"(The transition) was tough," acknowledged Townsend, who said he broke down when he heard the news of Wooden's passing. "When he left, a legend left."
As the players would soon understand "" not that it was an unexpected realization "" there was no escaping John Wooden. Not the name, not the lessons, not the legacy. At the end of his senior year in 1977, Johnson was awarded the inaugural John R. Wooden Award, which recognized college basketball's most outstanding player. The award, like its namesake, bore an incredible significance.
"One of my good friends said to me, "˜You can be the first winner of the John Wooden Award. That puts you at a level no one else can say,'" Johnson recalled before adding. "It was definitely the highlight of my basketball career."
Two years after his retirement and final championship, Wooden's name was still arguably the most important in college basketball. Aside from perhaps Johnson, no man was more intimately associated with the award than Richard "Duke" Llewellyn.
Llewellyn was an executive at the Los Angeles Athletic Club for more than half a century, and the award named after the legendary UCLA coach was his brainchild. But as connected as he was to the John R. Wooden Award, Llewellyn "" like Johnson and so many others "" was just as close to John Wooden the man, who was six years his senior. The two shared a friendship that reportedly lasted for more than sixty years, and a chapter of their tale ended together: both men passed away on June 4, 2010.
For Johnson, perhaps the John R. Wooden Award served as a physical manifestation of the coach's enduring legacy. As he remained close to the UCLA program "" he is now a TV color commentator and his sons Kris and Josiah both were Bruins "" Johnson began to realize that the announcement made that Final Four weekend in 1975 was little more than wordplay. He may have been retiring, but John Wooden wasn't going anywhere.
"At some point it just clicks, and you start living a life that reflects some of the values that he passed on to you, almost by osmosis," Johnson said. "All of a sudden you look up and you say, hey, I'm getting more and more like Coach Wooden every day."