LASIK procedure improves sight in a day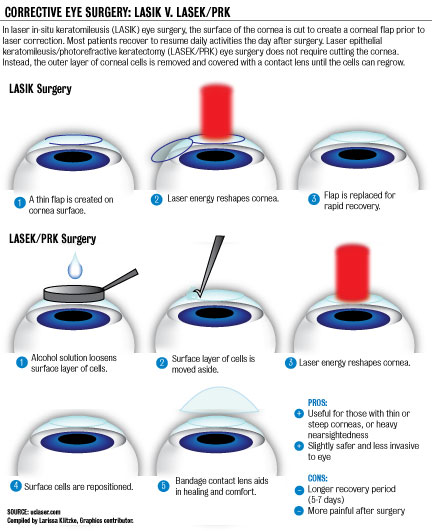 When Danny Bender awoke the morning after undergoing refractive surgery to improve his eyesight, things around him suddenly came into focus.
"I woke up and opened my eyes, and everything was clear," Bender said. "I just had to lay low that day and couldn't get in the water the next week or two."
A 21-year-old student at El Camino College in Torrance, Bender is an avid surfer, swimmer and water polo player. Because of the drying effects of chlorine on his eyes and the risk of losing his contact lenses while surfing, Bender underwent laser in-situ keratomileusis, commonly referred to as LASIK eye surgery, to avoid the hassle of purchasing and wearing contact lenses.
"Before, when I was surfing, I couldn't really see the sets. I couldn't really judge the waves, and it's hard especially for people in water sports who need to see things and what's going on around them," Bender said. "(LASIK) is kind of life-changing."
Bender is one of thousands who have undergone LASIK eye surgery, the most popular refractive procedure today for correcting refractive errors such as nearsightedness, farsightedness, and astigmatism, according to the website of the UCLA Laser Refractive Center at Jules Stein Eye Institute.
Traditional refractive eye surgery is performed in two stages. In the first stage of surgery, the surgeon uses a hand-held blade to cut a corneal flap so that a laser can be employed to reshape the cornea during the second stage of the surgery.
As an innovative first-phase procedure introduced within the last five years, the IntraLase method replaces the manual blade with a laser light to allow the surgeon to create the corneal flap with more precise and predictable cuts. Once the cornea is reshaped by the laser procedure, the flap is returned to its original position. Patients can then resume their normal activities the day after surgery, usually with very little discomfort.
"We've done surgery on lots of UCLA students," said Dr. Rex Hamilton, director of the UCLA Laser Refractive Center and assistant professor of ophthalmology. "The main issue for students is to make sure that their prescription is stable and unchanging."
Because the eyesight of young adults can change over the course of a few months or years, and tend to progress toward nearsightedness with age, LASIK is recommended for college-age individuals with a prescription that has been stable for at least a year, Hamilton said.
To expose the public to refractive eye surgery options for correcting a variety of vision problems, the center offers monthly informational seminars on campus. UCLA ophthalmologists address information regarding different general and refractive surgery procedures for the eye.
"The goal of (the information session) is just to give a general presentation of different diseases that can affect the eye," said Dr. Timmy Kovoor, a cornea fellow at the UCLA Laser Refractive Center who will be conducting the session on Thursday.
The monthly seminars, which are organized by Hamilton, Kovoor and Dr. Olivia Lee, another fellow at the center, are free to the public and offer free screening consultations for vision correction surgery. To accommodate the wide range of ages of those attending, from college students to the local community, the faculty ophthalmologists address the anatomy of the eyes and how they become susceptible to changes with age.
"Some people are not good candidates for LASIK. Not a lot of people realize that," Lee said. "We educate patients about … which of those problems would be susceptible with laser surgery."
While college-age individuals like Bender seek vision correction for the sake of eliminating reliance on prescription glasses or contact lenses, individuals approaching their 50s begin to experience biological changes in the eye, such as cataracts, that negate the effectiveness of LASIK.
"For people who have a very high prescription or are very nearsighted, sometimes they are not eligible for LASIK because it would be too much of a procedure," Kovoor said.
Age-related cataracts are a clouding of the eye's natural lens that obstructs the passage of light into the eye. Because cataract surgery replaces the opaque lens in the cornea with a clear lens, cataract surgery is a more relevant surgical procedure than corrective LASIK for a patient with cataracts and poor eyesight, Hamilton said.
"At some point we can't do LASIK anymore because we're removing tissue from cornea," Hamilton said. "There's not enough tissue in the cornea to do LASIK safely."
Regardless of the patient's age or needs, the monthly forum acts as an accessible mode of discussion and inquiry for potential patients to explore options for refractive surgery.
"I would suggest they come in (from) any level. Anybody who needs to wear glasses, it's worth investigating (corrective surgery options)," Hamilton said. "It's very, very successful "" upwards of 90 percent."