The future of the UCLA baseball program rests in the hands of its three talented freshman hitters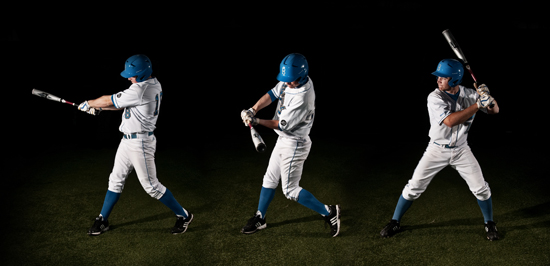 Cody Regis, Beau Amaral and Cody Keefer have emerged as UCLA baseball's go-to left-handers in just their freshman seasons.
Any mention of the UCLA baseball team's big three should immediately lead to a conversation about the stellar weekend rotation of Gerrit Cole, Trevor Bauer and Rob Rasmussen.
That sort of attention is merited: the three arms have combined to go 23-7 this season.
An inspection beyond the mound, though, reveals that another big three is looming.
Thanks in large part to the contributions of Beau Amaral, Cody Keefer and Cody Regis "" all freshmen, and all left-handed at the plate "" UCLA's lineup has a balance of young and old that a tightrope walker would be proud of.
"Those guys are very advanced for their age," sixth-year coach John Savage said. "I think they've proven that."
Amaral, Keefer and Regis have been staples in Savage's lineup "" and for good reason. The trio has hit a combined .325 (135-for-416) with seven home runs and 81 runs batted in.
Last year, UCLA was older and predominantly right-handed in the batter's box, with veterans Casey Haerther, Cody Decker and Gabe Cohen cemented in the heart of the order.
Fearing that the Bruins were vulnerable to right-handed pitchers, second-year hitting coach Rick Vanderhook decided to target left-handed batters when he hit the recruiting trail.
Safe to say, it has paid off.
"A right-hander that gets in a groove and pounds his breaking ball can't do it to a left-hander," Vanderhook said. "It takes them out of their comfort level a little bit."
Sounds simple enough: No. 10 ranked UCLA has countered with a slew of left-handed batters.
Amaral understands his value.
"We're able to face a lot of righties," he said.
The three may share similarities, but each brings something different that makes the Bruins go.
The natural
Beau Amaral has the bloodlines working for him.
As the son of former 10-year major league veteran Rich Amaral "" who played in the bigs from 1991-2000 after starring at UCLA in the early '80s "" Beau's carefree demeanor suggests that he's been there, done that.
Perhaps that's why it looks as if he's playing so effortlessly. Perhaps that's why there's not an ounce of panic inside of him.
"He's smooth," Regis said. "Everything he does, he makes it look like it's really easy "" from fielding to throwing to running to swinging "" everything flows."
Amaral's walk to the plate can be mistaken for a casual stroll at the park "" the bat picking up dust as it drags behind him, his cleats barely getting off the grass. But don't let it fool you "" Amaral's apparent indifference doesn't mean that he lets the game come to him, no matter how harmless he may appear.
"Amaral wants to swing the bat," Savage said. "He wants to go up there and swing."
So much so that the Huntington Beach native has walked just 12 times in 171 plate appearances and is hitting a team-best .361.
He recently reeled off a 15-game hitting streak and was named the Pac-10 Player of the week.
"If I'm leading off, I try to jump on it early," Amaral said.
Amaral is as impressive with the glove as he is with the bat "" as evidenced by redshirt senior Blair Dunlap's full-time move to designated hitter. Dunlap had been a two-year starter at center field before Amaral arrived on campus.
But the most striking thing about Amaral, according to Vanderhook, is his ability to stay even-keeled. The 5-foot-10-inch leadoff hitter doesn't get too excited when he knocks in a run and doesn't get too down when he strikes out with the bases loaded.
"The more you stay on the same level and don't get too excited or too down on yourself, you'll have a chance to succeed," Vanderhook said.
Of course, it doesn't hurt to be smooth either.
A good set of eyes
As Cody Keefer walks to the batter's box, rapper Lil Wayne's voice echoes through the sound system at Jackie Robinson Stadium.
"I got ice in my veins, blood in my eyes."
"Pain in my heart, love in my mind."
By the time Keefer digs in, Wayne's "Drop the World" has faded and the opposing pitcher has zeroed in on his target.
Funny thing is, Keefer may have a better idea of where that target lies.
"It's kind of a joke," said Vanderhook, shaking his head but maintaining a smile. "He goes up there and takes a strike and we're like, OK we've got (the pitcher) right where we want (him)."
The catcher's mitt pops. The umpire calls strike one. The second pitch also crosses over the plate and the umpire has no choice, strike two.
Meanwhile, Keefer has yet to take the bat off his shoulder.
Vanderhook, coach of 25 years, has never seen anything like it. He's tried to help Keefer become more aggressive, but why mess with something that works? The freshman has found a perfect balance between patience and aggressiveness.
"The guy has no panic whatsoever," Savage said. "There's no fear. It's strike one, strike two "" but the guy is so comfortable that you almost don't want to talk to him. I don't know what to say."
Keefer's take-first tendencies would make renowned on-base percentage preacher Billy Beane drool, but also make some coaches lose sleep.
"We really haven't pushed him to do anything different than what he does," Vanderhook said, still shaking his head. "He's got a good set of eyes for a young hitter."
Amaral, Keefer's roommate, thinks it's just part of his nature.
"He takes a while at pretty much everything," Amaral said.
Keefer leads the squad with 32 walks "" just four less than Amaral and Regis have combined for in 120 more at-bats.
But Keefer knows how to swing the bat too, his .318 average and his tie for third-best with Regis with 31 runs batted in serving as evidence.
"I'm really looking at the pitch that I want," Keefer said. "If I don't get it, it'll put me in the hole sometimes. It's been working so far."
"Joking around we tell him we get bored," Regis said. "But you've got to love what he does."
UCLA fans loved what he did this past Sunday against crosstown rival USC. With the Bruins down a run "" and down to their last out "" Keefer swung a mighty stick, lining a walk-off two-run blast to send those in attendance into a frenzy.
Ice in his veins, blood in his eyes.
The ugly truth
UCLA's other Cody "" Cody Regis "" remembers sweating bullets as he stepped into the box for his first collegiate at-bat on opening night.
"I was nervous," he said with a wide grin.
What happened next sure didn't prove it. Regis put the bat on the ball, lacing a sharp liner that seemed to destined for the Eucalyptus trees beyond the left-field fence but instead found the glove of a leaping outfielder at the wall.
Vanderhook liked what he saw and greeted Regis with applause when he returned to the dugout.
"He's not the prettiest guy when he gets in the box, but he's a strong freshman," Vanderhook said. "He's built pretty good "" it doesn't look like it "" but he's a strong human being."
Regis is a coach's dream: contact, discipline and power, all rolled into a 6-foot-2-inch frame. A 215-pound masher playing a nimble hot corner.
"I've always been a defensive player with a high average," said Regis, who is the youngest of the three left-handed batters. "At the plate I try to focus middle-away, staying opposite field. But if I get that inside pitch, I'm cheating and turning on it."
Case in point: a laser beam double to left field followed by another to the other gap a few innings later. Boom, the Regis special.
The Glendora native has hit .289, starting in 35 of the team's 42 games. More than a third of his hits (13-of-35) have been doubles.
"He sprays it all over the field," Vanderhook said. "Right now, he's got some gap power, but I think as age comes, he's got a chance to hit a lot of home runs at this yard."
Like Regis, much of the talk regarding UCLA's freshmen centers around their potential. Amaral, Keefer and Regis are already making an impact.
The scary thing? Savage and Vanderhook are just as high on fellow freshmen Jeff Gelalich, Dennis Holt and Trevor Brown.
The youth movement is promising for a team that looks to be amongst the nation's best for years to come.
"One day, it will be their turn," Vanderhook said. "Right now, all they have to do is do their job."